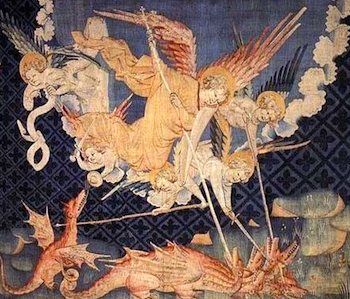 Astonishing tapestries, vivid colors, compelling stories. Yes, France counts many such riches within its cultural patrimony.  For an especially compelling immersion in two dramatically different yet strikingly resonant series of tapestries hop on a morning TGV from Gare Montparnasse in Paris to Angers for a spirited day trip.
Angers is set in the verdant heart of the Loire Valley and is surely also worth visiting for numerous other cultural, gastronomic or wine-related reasons.  We concentrated on the splendid "Apocalypse Tapestries" and the stunning collection of contemporary celestial tapestries made by tapestry artist Jean Lurçat. Together, these collections of tapestries of high quality and clarion luminosity make for a memorably spiritual day trip, whatever your faith or lack of faith may be.
My journey to once-again experience the Apocalypse Tapestries this past spring was a homecoming of sorts. In response to a striking sermon on the Book of Revelations at my Congregational Church in Boston I re-envisioned my normal Paris culinary and cultural "box." In my Proustian moment I recalled a visit to the Château in Angers well over a decade ago that proved to be one of those completely unexpected travel experiences where one is surprised, amazed and moved. And I decided to go back.
I gathered up a small group of fellow congregants for a "Paris Through Eyes of Faith" tour, to also include St. Denis, Chartres, Reims and Angers.  We wanted to immerse ourselves in the spirited mind of the Middle Ages and the iconic cathedrals and Biblical images that form contemporary Christian faith.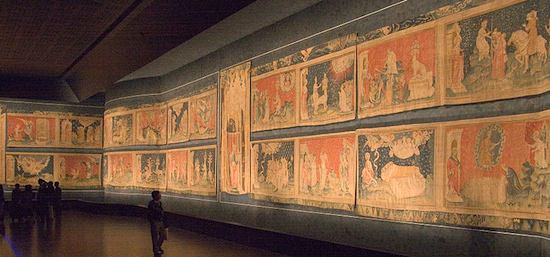 A decade ago the tapestries, all thirty plus panels of full-size fourteenth-century works in remarkable condition, detail and color, were housed in exhibition space in the thirteenth-century Château d'Angers located in the heart of Angers. They still are, but the redesigned space has been much improved and a good interpretive center and gift shop have been added making the experience even easier to savor.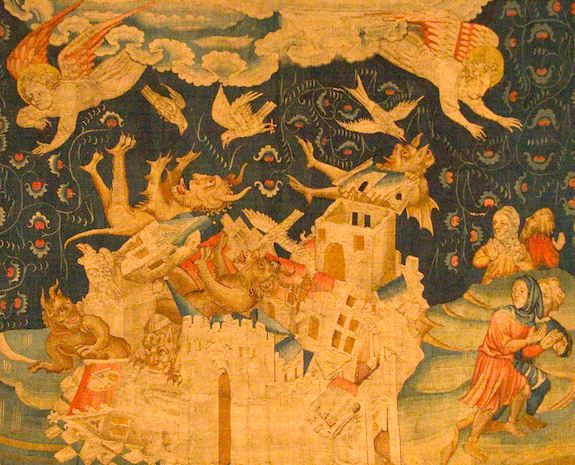 The entire Book of Revelations springs vividly to light in these tapestries, each 'narrated' by the Apostle John, an emotive figure set off to the side viewing the unfolding scenes of damnation and ultimate redemption. These tapestries are said to be the world's most important ensemble of medieval tapestries. This is the largest tapestry (in toto) ever realized, exceptional in its narrative power, the quality of its drawings, weaving, and outstanding details. It carries poetic, mystical and historical significance, telling a vivid story to viewers of any age.  A treasure indeed. And a miracle that these tapestries have survived centuries and revolutions intact.
The second delight of this visit to Angers was our afternoon spent viewing the "Chant du Monde," the luminous contemporary tapestries of Jean Lurçat. Lurçat, a twentieth-century French artist, was singularly struck by the beauty and narrative power of the Apocalypse Tapestries. He set out to design and execute a series of his own tapestries that would deal with contemporary celestial themes, including nuclear holocaust and the ultimate triumph of mankind's ability to heal, love and live in peace.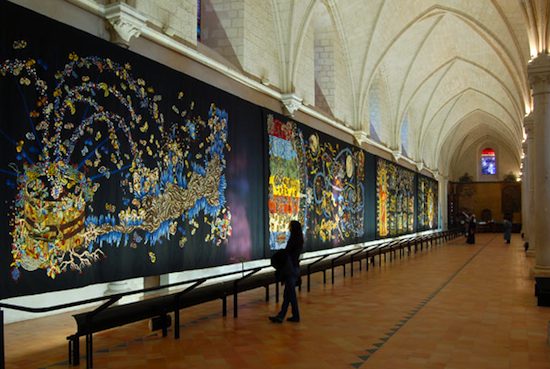 Lurçat's works are complimentary to the ancient tapestry in the Château, creatively envisioned and based his enduring hope for the condition of modern mankind. And of course, they stand on their own as modern allegorical treasures. Lurçat masterfully adapted historic techniques to create utterly contemporary thematic designs for his tapestries. They are strikingly beautiful and will likely remain vivid in your mind's-eye for years to come!
The Lurçat tapestries are shown in a lovely, historic building once home to a twelvth-century hospital.  A place of healing then and now.
If you go to Angers, these sites are easily reached by foot, by bus, or the spiffy new tram system.  The Loire River flows through the center of this pleasant town and Angers has numerous good bistros and cafés. We had an enjoyable lunch at the sympathique bistro La Canaille, 8, boulevard Arago, just a few blocks from the Jean Lurçat tapestries.
Our highly recommended Angers-based private guide, Hedwig Verdure, was important to fully understanding the treasures we were experiencing and she was a delight to tour with.  The Angers Tourist Office is a helpful resource for further information on Angers and the surrounding wine country.  There are several direct TGV trains daily to Angers from Gare Montparnasse in Paris.
PRACTICAL INFORMATION:
Video tour of Château d'Angers
Hedwig Verdure, private guide
Angers Official Tourist Office
Rail Paris to Angers via SNCF
2, promenade du Bout-du-Monde, 49100 Angers
Entry: €8 adult
Seasonal hours: May-September, open daily 9:30am-6:30pm. October-April, open daily 10am-5:30pm. Closed January 1, May 1, November 1, November 11 and December 25. Last entrance 45 min before closing.
Accessibility: some parts are wheelchair accessible—check site, French national monuments are increasingly handicapped accessible
4, boulevard Arago, 49100 Angers
Entry: €4 adult permanent collection  €3 for special exhibitions
Seasonal hours: June-September, open daily 10am-6:30pm; October-May, open Tuesday-Sunday 10am-12pm & 2-6pm
PHOTO CREDITS:
Apocalypse tapestry detail. Photo: Adolphe William Bouguereau
La tapisserie de l'Apocalypse, Kimon Berlin, @gribeco , Wikipedia France
La chute de Babylone (The Fall of Babylon) @gribeco
Conquete de l'espace by Lurçat courtesy of Musée Jean-Lurçat
Sally Peabody is a Paris specialist who leads Your Great Days in Paris, small group cultural and culinary tours in France, the Pays Basque, Istanbul and Turkey. Please click on her name to read about her next "France Through Eyes of Faith" tour in March, 2012 and to read her past reviews published in BonjourParis.
Shop direct at Amazon.com (and merci for using our direct link—your support allows us to publish BonjourParis)
and check our Francophiles Favorites loaded with French-themed items for travelers and Francophiles. Choose your category at the right edge, then click the category's last page number to browse the latest listings.
Short-cut to our 100 TOP SELLING ITEMS

(please wait for widget to load—updated daily)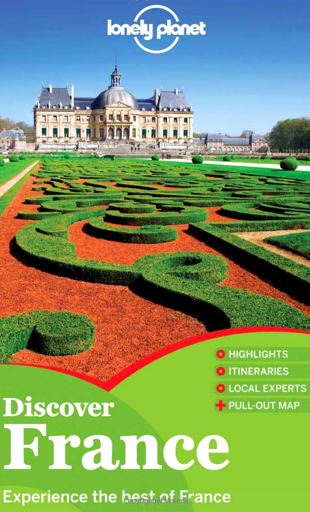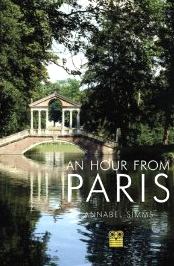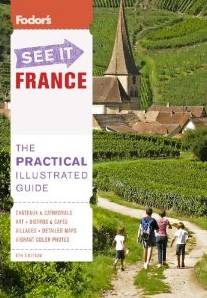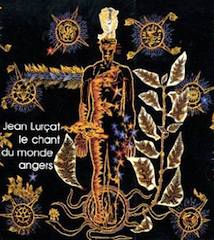 Lonely Planet Discover France (Full Color Country Travel Guide) [Summer 2011]
An Hour From Paris [20 destinations in the fascinating yet little-known countryside around Paris]
Fodor's See It France, 4th edition [August 2011]
Jean Lurçat le chant du monde angers [Siraudeau / Fine Arts Museums of San Francisco, 1988] English-language catalog of an exhibition held at The Fine Arts Museums of San Francisco, California Palace of the Legion of Honor, 20 October-31 December 1988.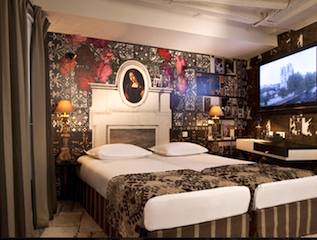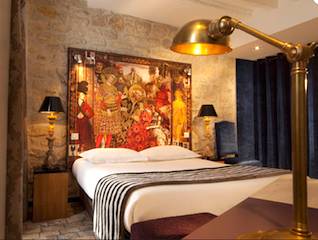 Hôtel Notre-Dame is a 3-star hotel lavishly renovated by fashion designer Christian Lacroix in 2010, with velvet, tapestry & high-design accents throughout. Rooms at this design hotel on the Seine in the heart of Paris have stunning views of Notre-Dame Cathedral & the Seine or the inner courtyard. Free Wi-Fi, AC, flat-screen TV, safe & modern bathrooms in each room. Near the famous Left Bank landmarks Shakespeare & Co bookshop, St. Germain-des-Prés & Latin Quarter w/bridges to the Right Bank at your feet. Métro & RER w/airport service are a minute's walk away. Past guest reviews rate this hotel 8.2 of 10.0 on Booking.com.
*** Eligible for the Booking.com best price guarantee.

Be smart!
Bookmark this link to the BonjourParis—Booking.com site & use it every time so your preferences are stored & deals are updated when you return. Book, shop around & if you find a better rate for the same deal, contact Booking.com for your BEST PRICE MATCH GUARANTEE.

Paris Shuttle is a leading provider of Paris airport transfers…save up to 30% by booking your airport transfers in advance online.