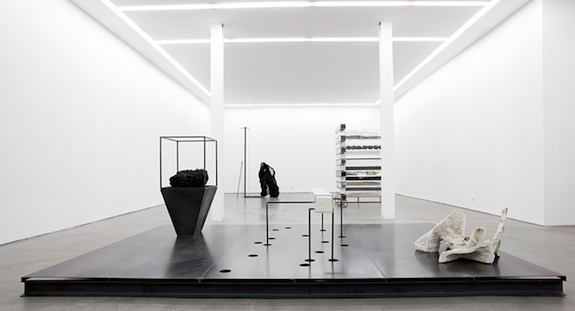 Nick Van Woert's "Anatomy" installation at Yvon Lambert Gallery, Paris, 2011. Photo courtesy of Yvon Lambert Gallery.
With an average of 5.7 million people per year visiting the Louvre and 3 million going to the Musée d'Orsay, it can be easy to see Paris as a place to visit for the history rather than the future of art. Cities such as London, Berlin and New York are seen as centers for contemporary art. Yet, despite bursting at the seams with new art, Paris doesn't have the same reputation. The contemporary art scene in Paris is well and truly established; you just need to know where to look.
The contemporary art market is one of the very few industries thriving in the current financial storm. Nobody knows why collectors continue to invest in art, but it's a trend that is increasing, especially in Paris where a number of new art spaces have opened in the last two years. In 2010 the international giant Gagosian Gallery opened its doors in Paris, along with the Gaîté Lyrique, a government-run community center focused on the digital arts. Another gallery that got everybody talking was LE BAL in the Paris 18th, although discussion was focused more on its café's delicious brunch menu than the art on display.
So where to start? Exploring contemporary art in Paris can be divided into three main categories: white spaces, public galleries and events.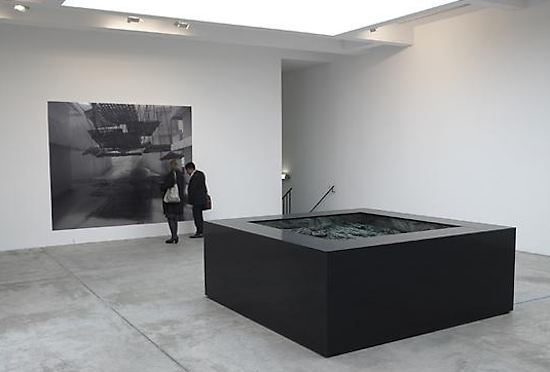 Cristina Iglesias exhibition at Marion Goodman Gallery, Paris. Photo courtesy of Marion Goodman Gallery.
White spaces
Like McDonald's restaurants, contemporary art galleries look the same all over the world. They have white walls, minimal but effective lighting, and an attendant in the corner wearing thick-rimmed glasses and staring at a MacBook Pro. Repetitive, yes, but it's a formula that works well and sells artwork. These white cubes are usually private galleries that either work as dealers for the artists or which rent their space to art dealers for displays. They are normally free to visit and vernissages (exhibition opening parties) are often held with wine and canapés to attract potential clients.
Despite its name, La Maison Rouge is a huge white space located just five minutes' walk from place de la Bastille. Although a private gallery, it charges an entrance fee, but visitors certainly get their money's worth as it is the place to be if you want to see controversial, thought-provoking exhibitions featuring the most sought-after international artists. Its current exhibition, entitled Mémoires du Futur, features the collection of Thomas Olbricht, who places contemporary art alongside work from centuries before that influenced it. [View the artist's statement presented in video at the link above.]
In the Paris 3rd on the other side of the Bastille you can view the newest art in Paris for free at Galerie Perrotin, Yvon Lambert and the Marion Goodman Gallery. All three galleries have similar settings, with closed doors set back from the main street. Don't be intimidated by the security measures—the design creates an oasis of calm at each. Close by, rue des Coutures-Saint Gervais and rue de Thorigny are almost completely made up of galleries. Vernissages seem to be synchronized, setting the ideal scene for the gallery equivalent of speed dating. For more information about galleries in the areas and vernissage dates, check the Association des Galeries (Parisian Art Galleries Society).
Another area with a high concentration of galleries is Saint-Germain-des-Prés in the Paris 6th. Rue de Seine is like a condensed cross-section of Parisian life with cafés, boutiques and galleries such as the Galerie de l'Europe which regularly holds short-run shows by big-name artists. It was inevitable that this area would turn into a hub for contemporary art with the prestigious École nationale supérieure des beaux-arts in the neighborhood, which also exhibits students' works. Lists of galleries and calendars of exhibition openings can be found on the website for Les galeries de Saint-Germain-des-Prés.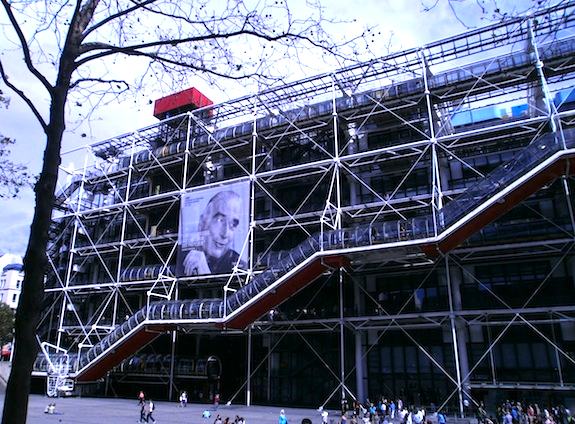 Centre Pompidou in Paris. Photo: Lindsey Marsh
Public galleries
An impressive public investment has been made in contemporary art in Paris and surrounding areas, most notably at Centre Pompidou. Although its permanent collection focuses mainly on twentieth-century art, the museum often hosts temporary exhibitions and events in its ground-floor gallery and Galerie Sud (South Gallery) presents fresh art.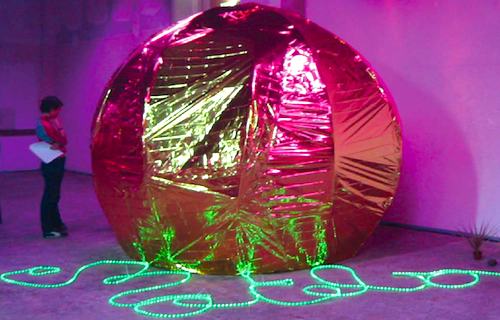 Palais de Tokyo vernissage at Las Flamingos 2002. Photo: Christelle Lheureux
Down by Pont de l'Alma in the Paris 16th, next-door neighbors Palais de Tokyo and Musée d'Art Moderne de la Ville de Paris should not be missed, if only for their amazing views of the Seine and Eiffel Tower. The Palais de Tokyo is at the cutting edge of new art and its exhibitions never fail to please. Its shop also has a huge selection of art books and magazines; and you may choose to stop at its low-priced cafeteria Tokyo Self or a stylish and more expensive restaurant, Tokyo Eat.
The Musée d'Art Moderne de la Ville de Paris shows older art, but it also holds contemporary exhibitions of living artists, such as the controversial Larry Clark show in 2010, which divided opinions as it contained pornographic images of teenagers. However, the gritty subject matter did not stop the endless line of visitors for the entire duration of the exhibition.
Two galleries located a little further afield but definitely worth the trek are the galleries at Parc de la Villette and the Musée d'art contemporain du Val-de-Marne or MAC/VAL, as it is known. Parc de la Villette is focused on music but its gallery space attracted a lot of attention for last year's solo exhibition of work by hyper-realist sculptor Duane Hanson and its current video art group show L'Oeil sur les rues (Eyes on the Street).
MAC/VAL is a temple of contemporary art based in the southern Paris suburb of Val-de-Marne. Its collection includes a large amount of French artists and has a huge space for temporary exhibitions. It's worth spending at least half a day there so you can take a free tour around the collection, walk in the sculpture garden and relax in the casual restaurant with great food at a low price.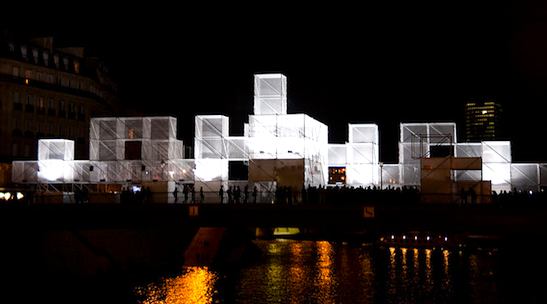 Nuit Blanche 2010 light show on Pont St-Louis. Photo: flavouz
Major Paris art events
Paris has so many art places to visit that it's possible art could dominate an art fan's visit. If you seek a crash course in contemporary art, visit during one of many contemporary annual art events in Paris, such as MAC2000 on November 24-27. The event showcases the newest talent and gives them the opportunity to meet art collectors and dealers.
Other major annual Paris art events include Paris Photo, a three-day photography event scheduled for November 15-18, 2012, and FIAC, an annual October international expo attended by the most prestigious private galleries from all over the world.
However, the most important date to put in your diary usually happens the first Saturday of October when the City of Paris presents Nuit Blanche. This is an all-night event with a packed program of art-themed events that happen throughout the city. If you make it to dawn you can collect your free breakfast at Hôtel de Ville.
The best way to see how Paris artists live and work in their studios is to attend one of the many "Portes Ouvertes" in Paris when the artists of an area open their doors to the public. The main areas these events take place in are Montreuil, Bastille, Ménilmontant and Belleville. They are a valuable opportunity to meet the artists, see them in action and perhaps even buy their work. These events are normally well advertised around the area and you can check the City of Paris website for the calendar. Two organizations that support French visual arts, Fondation d'Entreprise Ricard and FRAAP, also publicize upcoming events on their websites. To feel even more part of the art community check out 104 CentQuatre in the Paris 19th, Frigo in the Paris 13th and legal artists' squat colony, 59Rivoli in the Paris 1st. These modern live-work-exhibition studios push the boundaries of what an art gallery should be.
PHOTO CREDITS: intro small photo, Palais de Tokyo vernissage at Las Flamingos 2002. Photo: Christelle Lheureux; Nick Van Woert's "Anatomy" installation at Yvon Lambert Gallery, Paris, 2011. Photo courtesy of Yvon Lambert Gallery; Marion Goodman Gallery, Paris. Photo courtesy of Marion Goodman Gallery; Centre Pompidou. Photo: Lindsey Marsh; and Nuit Blanche 2010 light show on Pont St-Louis. Photo: flavouz.
Lindsey Marsh is the BonjourParis arts editor at large. Please click on her name to learn more about her and to view her past stories published here.
Subscribe for free and never miss a story. Weekly newsletter has bonus content for subscribers only plus search our library with 7,200+ France travel and Paris events/activities stories.
Featured selections:
Stuff Parisians Like: Discovering the Quoi in the Je Ne Sais Quoi. July 2011. By Olivier Magny of Ô Château wine bar
The Bistros, Brasseries, and Wine Bars of Paris: Everyday Recipes from the Real Paris
The Best Wine Bars & Shops of Paris: Fifty Charming and Notable Cavistes
Open Road's Best of Paris 3E. September, 2011. By Andy Herbach, bestselling author of Open Road's 'Eating & Drinking' menu-translator guides to Paris

Direct airport transfer service
PARIS SHUTTLE is a leading Paris airport transfer service. Book your airport transfers in advance online for direct to-your-door service and check the current discount available to BonjourParis readers who book using our link.