BUZZ: Le 39V, Christophe Michalak at Plaza Athenee, Sassotondo, Tiffany and Co. Cake
Le 39V, Paris 8th
Since Frédéric Vardon launched 39V, last year, it's been a must-go Paris addy. Located on top of a handsome Haussmann style building, just by the Sony store, off the Champs-Élysées, the Hermès, Vuitton and Goyard set certainly appreciate his cuisine.
"I was with Monsieur Ducasse fourteen years, before that chez Morot-Gaudry, then at Trou Gascon, Alain Dutournier and Alain Chapel," he explained one evening last week, popping out of his magnificent glass and steel kitchen where many toques were heads-down preparing "Saveurs d'Automne," the new season's menu. He also explained that, as soon as service was over, he was heading off to Normandie to catch up with his suppliers, including a new cheesemaker he'd heard out.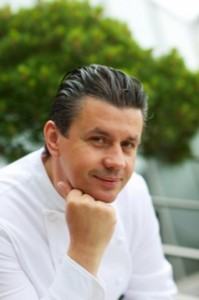 Recently chef was invited to Beirut's Hotel Phoenicia, where he created 7-course dinners at the Eau De Vie restaurant for 3 nights.
"It was very exciting. The Lebanese people have really had a hard time and were very appreciative of my work," he said.
At 39V, salle service is elegant and unhurried. You've got time to check out the chic crowd and admire the kitchen garden where you sip aperitifs when it gets warmer.
The cute sommelière will suggest wines to match your budget, say, Monsieur Monnier's Bourgogne Chardonnay (39€) or the red Gigondas, Domaine des Espiers by the glass (12€) or carafe 34€. Her wine list makes lip-smacking reading.
From the generous four-course menu "Saveurs d'Automne" choose Velouté de potiron muscade, crème mousse truffée. Gnocchi de pommes de terre, smothered with truffe "tuber uncinatum" jambon blanc ibérique de Bellota. Volaille de Monsieur Tauzin "Marengo" (écrevisses, champignons blancs, velouté pour saucer).
Finish with the classic Soufflé Grand-Marnier. Or choose from the à la carte menu—depending on the hunt, there is game: "à plumes et à poils cooked with an astringent mix of seasonal roasted vegetables and fruits.
The ladies who do may just want a 39V Caesar Salad at the bar, the toy-boy can have the Tartare de boeuf taillé au couteau, pommes allumettes "pour les amateurs". Give him a bit of energy for the afternoon/evening, n'est-ce pas?
Tél: 01 56 62 39 05
39, avenue George V on the 6th floor, Paris 8th
Entrance by lift at 17, rue Quentin Bauchart, Paris 8th
Métro: George V
Shut Sat-Sun
Valet Parking at night
Menu Saveurs d'Automne 85€
Lunch menu 40-50€
Average spend À La Carte 55/80€ + wine
Christophe Michalak's pâtisseries at Plaza Athénée, Paris 8th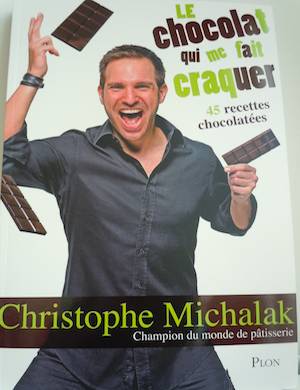 The Plaza Athénée's Galerie des Gobelins is where "the ladies who do" take tea. With a few friends, or in a discreet corner with the "Ashton." And frankly, darling, who needs him when you can get all your satisfaction from Christophe Michalak's delicious pâtisseries without taking your clothes off ? Michalak's cool: the "champion du monde de la pâtisserie 2005" (World Cup of Pastry competition) lives for pastry and has travelled the world looking for fresh ideas.
"I love American cookies, they know how to make them with big chunks of chocolate."
In LA he discovered Sprinkles Cupcakes, which are "ze only ones . . . the texture is superb and they use seasonal fruits." In London he mainlines summer pudding and Claridge's scones, in Italy it's Panetonne that fulfils his fantasy.
"I was born with a sweet tooth," he admits.
"So how do you stay in shape?"
"A lot of sport," he grins. "C'est un beau métier!"
La Galerie des Gobelins, Plaza Athénée
Tél: 01 5367 6600
27, avenue Montaigne, Paris 8th
Métro: Franklin D Roosevelt
Open: 8am-1:30am daily
Michalak's book (in French) "Le chocolat qui me fait craquer, 45 recettes chocolatées."
Sassotondo, Paris 11th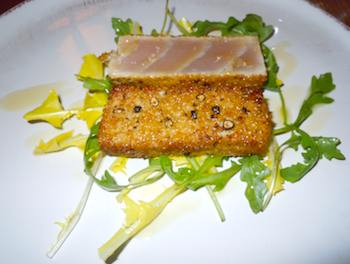 Popped in to Sassotondo for a Tuscany fix the other night. Seems lots of people had the same idea and there were quite a few waiting for the thick chestnut wood tables. So make sure to book fo Pisa-born chef Michele Dalla Valle's delicious Tonno in crosta di limone e tarassaco [see photo to right]. Penne aux champignons des bois, risotto au pigeon rôti or Suprême de pintade et haricots blancs. Finish with a rib-sticking chunk of Gorgonzola piccante Lombardo and Torta della Nonna, the traditional Tuscan dessert made with pine nuts.
Pastas are homemade with 100% organic wheat, breadsticks warm from the oven. For wines just choose from your favourite region, they're all excellent. Sassotondo means "rolling stone," named for owner Frederic Hubig's admiration for Mick & Co. Here they'll deffo get satisfaction.
Sassotondo (no website)
Tél: 01 4355 5700
40, rue Jean-Pierre Timbaud, Paris 11th
Métro: Parmentier/République
Open: 7pm-midnight, Wednesday-Sunday; Shut Tuesday
Menus: from 18-40€ + À La Carte
Three courses about 36€ + wine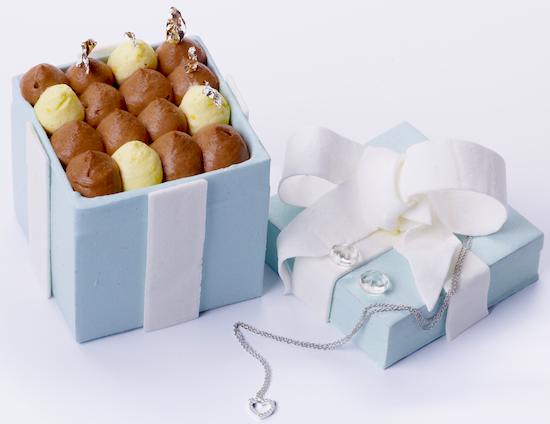 Tiffany cake at Park Hyatt Paris-Vendôme, Paris 2nd
How romantic is a Tiffany cake? Here it is, thought up by chef pâtissier Pier-Marie Le Moigno, packaged in the signature blue box to bring out your inner Holly Golightly. Find it in the beautiful Zen "Lounge" at the Park Hyatt Paris-Vendôme. Then, swing by the Tiffany & Co® boutique on 6, rue de la Paix, Paris 1st.
Tél: 01 5871 1234
5, rue de la Paix, Paris 2nd
From €14
Margaret Kemp is a Cordon Bleu graduate who spent a year traveling the world, working and watching in the kitchens of top chefs from Sydney, Australia via Bangkok, Hong Kong, California, New York and France. She reports for BonjourParis on the latest European trends, restaurants and hot spots. Please click on her name to see her weekly stories dating back to 2003 . . . et merci, Margaret.
Want to be inspired by more French foodie experiences and enjoy classic French food, wine and recipes? Head to our sister website, Taste of France, here.
---
---