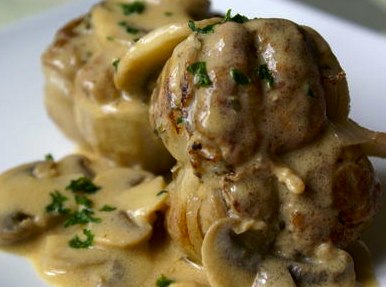 In spite of a tired, poorly equipped kitchen in Paris, I am continually amazed at the output it manages. Credit is due primarily to my butcher across the street, who is aware of my paltry batterie de cuisine and who can advise and console as he hands over a wonderfully semi-prepared main course, this in time to rescue any of my last-minute invitations, or even well-ordained organized ones for that matter.
When first moving to this family-friendly neighborhood in the 17th, I worried over even attempting to finagle the butcher's kingdom, with its plethora of pink meats, plump chickens, grizzled rounds, and dubious yet yummy-looking entrails, let alone commence discussions as intricate and time-honored as recipe sharing with this thin bearded man and his piercing black eyes, a grin that evinces with a jack-in-the-box sort of suddenness. But gradually, and under duress from lack of home-cooked repasts, I ventured forth to his counter, zeroing in on anything stuffed and ready to insert in my microwave with its "oven" setting or requiring minimal preparations, given my dime-store aluminum pans that Julia Child would shake her head over. One day the current sad kitchen will be transformed, and along with it will arrive a better batterie, but until other priorities are addressed (replaced hot water heater? tiling around the shower? better radiators?), it's the Walmart equivalent of kitchen wares for me.
In this quest for ready-made, however, I've managed to successfully serve baked stuffed almost anything—veal, lamb, ham, turkey and even duck. I've enjoyed time and again his magical roasted half chickens and the magret de canard (the soft sweet breasts) that can be spiced or simple and takes minutes in my "oven." Take his paupiettes de veau, veal rounds lightly stuffed with prunes and tied together with strips of bacon that, after one memorable dine, a French friend admitted were the best she's ever had. How is it that we think we need the fancy gas stove, the brand-name oven, the best of iron crockery and so on? Not that I'd be dissuaded from attempting ownership of any of these aids to cooking, but there is a flip side to simplicity that hearkens to a basic fine dine in spite of yourself and, again, all roads point to the boucherie.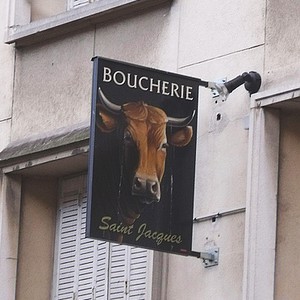 So, it's with a certain reluctance at revealing my secret, along with an acquired fearlessness, that I venture to advise others on their stays here in Paris. Be you visitor or long-term resident, do not forsake getting to know your butcher! They can save you in ways you'll savor in your fondest memories of France. If you don't speak French, point. If you do, ask and ask and ask. There is a strain of butcher all over the city who loves to share recipes and advise regarding the beast or poultry part he's just imparted into your hands. It's some sort of order of the profession, this added benevolence that almost insists on sending you on your way not only with something wrapped in that white paper but accompanying words of wisdom for preparation, timing, and presentation too.
In their way, they thus partake in the meal with you, at least in a sort of once-removed fashion. My butcher figures in nearly every conversation at table, especially when one of his preparations takes center stage. And so I wonder from time to time about ever fixing up this kitchen. Why, really, when I have my savior of the soirée just across the street?
Most of the year at the Marché des Batignolles, Paris 17e, you can find lovely rounded veal rounds the size of handballs, stuffed with either dried apricots or with prunes, and tied with sliced bacon. Buy these!!! Below is the recipe imparted to me by my butcher.
Paupiettes de Veau (Veal Rounds) in a Mushroom Cream Sauce
In a cocotte (quality cooking pot, usually cast iron) fry up shallots in butter over moderate heat. Place the paupiettes in the cocotte and brown gently. Then lower the heat, cover, and slowly cook for 40-50 minutes, checking periodically for tenderness. Remove paupiettes and place aside, covered.
To the mixture in the cocotte, add a bit of water and some white wine and stir until the juices are well mixed and liquid has concentrated somewhat.
Separately, cook sliced fresh mushrooms in butter until they've browned slightly. Strain.
Put mushrooms in with the wine liquid and stir for a minute or two. Then add a few dollops of crème fraîche and stir for another few minutes until slightly thickened, adding crème fraîche to taste. Season.
If not serving right away, return paupiettes to the cocotte with the mushroom cream sauce and keep warm. If dining right away, pour sauce over paupiettes and serve.
Accompany with white rice and a green vegetable, salad with cheese afterwards. Wine, a rosé or light red.
Photo credit:  ©ell brown
Kathleen Burke is a writer and lover of France who lives in Paris and Massachusetts.

Subscribe for
FREE

weekly newsletters with subscriber-only content.
BonjourParis has been a leading France travel and French lifestyle site since 1995.
Readers' Favorites: Top 100 Books, imports & more at our Amazon store


These books list the best Paris food shops & markets. Just click on an image for details.
Thank you for using our link to Amazon.com…we appreciate your support of our site.