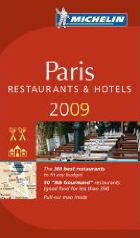 In the last days of August, my friend and I walked around midtown New York lamenting the fall fashions that now filled the store windows, a sign that summer was indeed over. Why weren't we excited about the new fall styles? Was it really because of summer's end or was it the absolute dowdiness of the fashions? Dull palates, matronly fabrics, secretarial pool styles. "What a snooze!" my friend JJ proclaimed eloquently. She's not the only one taking a nap. My neighbor, Annie, an ultra-chic staffer at Allure magazine concurred: "I normally look forward to my fall shopping spree, but nothing excites me this season."   Fall Fashion Forecast—This Season a Snooze.   Zzzzzzzzzzzzzzzzzzzzzz. But what's this? Paris is playing "Reveille." Wake up, fashion fans, fall is fun again! Luxe silks, deconstructed wools, ethnic influences, metallic finishes effervesce in Paris store windows. Fabrics and garments combine in offbeat ways—heavy wool jacket + delicate satin skirt + suede boots + cotton tee shirt—tied together only by a monochromatic color scheme. And speaking of color, the soft, muted tones of last fall have been replaced by lush purples, deep reds, vibrant blues, rich mustards, opulent greens and chocolate browns. Monochromatic does not have to mean boring when ruffled cuffs, jabot necklines, metallic embroidery and bedazzled accessories abound. The styles are très décore, très femme, très, très. The French are loving excess—not just in decoration, or in the cut of the clothes, but also in how they put it all together. Layering is done daringly (skirt-over-pants theme still big), and accessorizing has a no-holds-barred philosophy. It's playful, exuberant, an explosion of joie-de-vivre. Are you awake yet?  Sonnez les matines. Din, din, don!   THE TRENDS From glorious to gaudy, voici, l'automne parisien.   LADY VICTORIA Enter the dainty Victorian Lady. Little tailored jackets
and delicate, lacey blouses were paired with puffy skirts and boots for a touch of 1878. The look is very feminine. Don't be surprised if the bun makes a comeback.   KILTING ME SOFTLY This is more than the parochial school kilt-and-oxford-shirt ensemble. This season's Scottish look is right out of Braveheart—tribal and over-the-top. I even saw a head-to-toe red plaid number complete with a little matching tammy (with pompom atop!). Bagpipes optional.   EQUUS-R-US Get on your high horse ladies, riding boots are in. (And just when I gave away two pair to charity!) Wear them with jeans, skirts or the full I'm-not-an-equestrian-but-I-play-one-on-TV ensemble. Riding crop mandatory.   LE WILD WEST CITY Speaking of boots, the French love the cowboy boot. I saw every variation: Shoe boot, stiletto, two- and three-tone, leather, snake and fabric. (Bought a pair in pink denim & rhinestone myself!) La parisienne says "yeehah" to a cowboy hat in metallic straw. The look: Off-the-shoulder tee over a multi-tiered skirt, oversized belt, slouchy cowboy boots and hat. Add chunky bangle bracelets, dangly earrings—et voilà—Paris, France becomes Paris, Texas. Yippy cayay, mademoiselles.   PATCH ME UP Gold embroidered patches showed up at the Prêt à Porter last spring and I gasped in horror that this trend might catch on. It has—from the prep school patch-on-breast-pocket look to military jackets smothered in a sea of emblems. All that's missing is the metallic glove and Jheri curl. Just beat it!   INUIT CHIC Eskimos are inspiring designers this season. I saw plenty of mannequins wrapped up in skins and fur. We're not talking about your mother's fur coat—these have haphazard hemlines with pelts pieced together roughly at the House of Nanook. Hats like huge fur balls smothered mannequin heads and meshed with massive fur collars, leaving only ski-gogglesque specs exposed to view. Is this fashion's attempt to sneak fur back into our lives under the guise of "native" influences? Is that somehow more PC? I dunno girls; maybe the natives of the tundra need to wear the stuff, but natives of Paris or New York? I say stick with the faux versions available this season at a fraction of the price.   SUITS ME PERFECTLY For you working girls or ladies' who lunch, the suit is back. The lines: Tailored but feminine. The fabric: Dark wool pinstriped crepe (for a hint of the masculine). The Parisians wear theirs with playful accessories. Wear yours with shoes or boots, shirt or camisole, skirt or pants—whatever—just get one this season and mix it up.   THAT '70s TREND The 1970s seem to hold a fascination for yet another season. This summer it was platform shoes; this fall it's the wedge heel. But there's more: From the ethnic-inspired looks of the early '70s to the floppy cap of the disco era, I saw it all reprised for this season. Case in point: The cable-knit sweater coat. Wear it with a silky bias-cut skirt, wedge-heeled suede boots, chunky beaded necklace and floppy hat (or head scarf, Rhoda style). And there's more good news, '70s fans! It seems they finally found a use for all that leftover quasi-Indian embroidered trim from 1970. Oui! It's showed up on skirts, jackets, hats and more—very Ukrainian folk festival. The gaucho has made a full-blown comeback and I saw something that looked suspiciously like the "earth shoe." A few more highlights: Loud-patterned Huk a Poo-esque shirts, novelty pendant necklaces and the good ol' macramé belt. Now, about that floppy disco cap (yes, the same one resurrected in the early '90s), do you have the courage to wear it this season? You might if you saw the beige and brown suede version I…
SUBSCRIBE
ALREADY SUBSCRIBED?
BECOME A BONJOUR PARIS MEMBER

Gain full access to our collection of over 5,000 articles and bring the City of Light into your life. Just 60 USD per year.

Find out why you should become a member here.

Sign in

Fill in your credentials below.
In the last days of August, my friend and I walked around midtown New York lamenting the fall fashions that now filled the store windows, a sign that summer was indeed over. Why weren't we excited about the new fall styles? Was it really because of summer's end or was it the absolute dowdiness of the fashions? Dull palates, matronly fabrics, secretarial pool styles. "What a snooze!" my friend JJ proclaimed eloquently. She's not the only one taking a nap. My neighbor, Annie, an ultra-chic staffer at Allure magazine concurred: "I normally look forward to my fall shopping spree, but nothing excites me this season."
Fall Fashion Forecast—This Season a Snooze.
Zzzzzzzzzzzzzzzzzzzzzz. But what's this? Paris is playing "Reveille." Wake up, fashion fans, fall is fun again! Luxe silks, deconstructed wools, ethnic influences, metallic finishes effervesce in Paris store windows. Fabrics and garments combine in offbeat ways—heavy wool jacket + delicate satin skirt + suede boots + cotton tee shirt—tied together only by a monochromatic color scheme. And speaking of color, the soft, muted tones of last fall have been replaced by lush purples, deep reds, vibrant blues, rich mustards, opulent greens and chocolate browns. Monochromatic does not have to mean boring when ruffled cuffs, jabot necklines, metallic embroidery and bedazzled accessories abound. The styles are très décore, très femme, très, très. The French are loving excess—not just in decoration, or in the cut of the clothes, but also in how they put it all together. Layering is done daringly (skirt-over-pants theme still big), and accessorizing has a no-holds-barred philosophy. It's playful, exuberant, an explosion of joie-de-vivre. Are you awake yet?  Sonnez les matines. Din, din, don!
THE TRENDS

From glorious to gaudy, voici, l'automne parisien.
LADY VICTORIA
Enter the dainty Victorian Lady. Little tailored jackets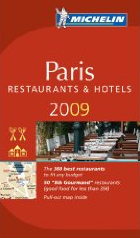 and delicate, lacey blouses were paired with puffy skirts and boots for a touch of 1878. The look is very feminine. Don't be surprised if the bun makes a comeback.
KILTING ME SOFTLY
This is more than the parochial school kilt-and-oxford-shirt ensemble. This

season's Scottish look is right out of Braveheart—tribal and over-the-top. I even saw a head-to-toe red plaid number complete with a little matching tammy (with pompom atop!). Bagpipes optional.
EQUUS-R-US
Get on your high horse ladies, riding boots are in. (And just when I gave away two pair to charity!) Wear them with jeans, skirts or the full I'm-not-an-equestrian-but-I-play-one-on-TV ensemble. Riding crop mandatory.
LE WILD WEST CITY
Speaking of boots, the French love the cowboy boot. I saw every variation: Shoe boot, stiletto, two- and three-tone, leather, snake and fabric. (Bought a pair in pink denim & rhinestone myself!) La parisienne says "yeehah" to a cowboy hat in metallic straw. The look: Off-the-shoulder tee over a multi-tiered skirt, oversized belt, slouchy cowboy boots and hat. Add chunky bangle bracelets, dangly earrings—et voilà—Paris, France becomes Paris, Texas. Yippy cayay, mademoiselles.
PATCH ME UP
Gold embroidered patches showed up at the Prêt à Porter last spring and I gasped in horror that this trend might catch on. It has—from the prep school patch-on-breast-pocket look to military jackets smothered in a sea of emblems. All that's missing is the metallic glove and Jheri curl. Just beat it!
INUIT CHIC
Eskimos are inspiring designers this season. I saw plenty of mannequins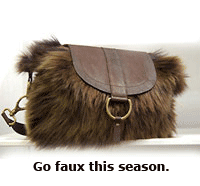 wrapped up in skins and fur. We're not talking about your mother's fur coat—these have haphazard hemlines with pelts pieced together roughly at the House of Nanook. Hats like huge fur balls smothered mannequin heads and meshed with massive fur collars, leaving only ski-gogglesque specs exposed to view. Is this fashion's attempt to sneak fur back into our lives under the guise of "native" influences? Is that somehow more PC? I dunno girls; maybe the natives of the tundra need to wear the stuff, but natives of Paris or New York? I say stick with the faux versions available this season at a fraction of the price.
SUITS ME PERFECTLY
For you working girls or ladies' who lunch, the suit is back. The lines: Tailored but feminine. The fabric: Dark wool pinstriped crepe (for a hint of the masculine). The Parisians wear theirs with playful accessories. Wear yours with shoes or boots, shirt or camisole, skirt or pants—whatever—just get one this season and mix it up.
THAT '70s TREND
The 1970s seem to hold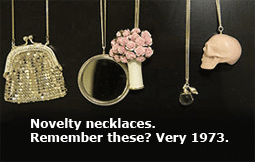 a fascination for yet another season. This summer it was platform shoes; this fall it's the wedge heel. But there's more: From the ethnic-inspired looks of the early '70s to the floppy cap of the disco era, I saw it all reprised for this season. Case in point: The cable-knit sweater coat. Wear it with a silky bias-cut skirt, wedge-heeled suede boots, chunky beaded necklace and floppy hat (or head scarf, Rhoda style). And there's more good news, '70s fans! It seems they finally found a use for all that leftover quasi-Indian embroidered trim from 1970. Oui! It's showed up on skirts, jackets, hats and more—very Ukrainian folk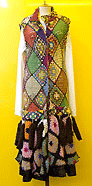 festival. The gaucho has made a full-blown comeback and I saw something that looked suspiciously like the "earth shoe." A few more highlights: Loud-patterned Huk a Poo-esque shirts, novelty pendant necklaces and the good ol' macramé belt. Now, about that floppy disco cap (yes, the same one resurrected in the early '90s), do you have the courage to wear it this season? You might if you saw the beige and brown suede version I spied in the Boulevard St. Germain. Dyn-O-mite!
---
STATESIDE SHOPPING GUIDE
Bored by the fashions in your area but can't afford a shopping trip to Paris? I found many of the trends at these stores:
H&M
hm.com
Anthropologie
anthropologie.com
Intermix
http://www.intermix-ny.com
Barney's and Barney's Co-op
Barneys.com
Barney's Co-op, 236 W. 18th St., NYC. Tel: 212-593-7800
Barney's Co-op, 116 Wooster St., NYC. Tel: 212-965-9964
---
---
---