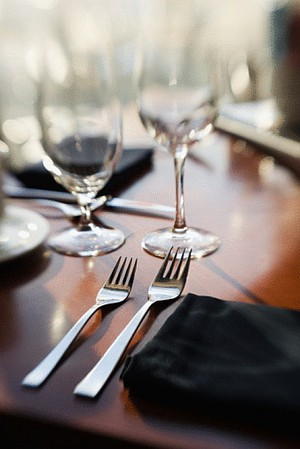 I'm sure Simon and Garfunkel never meant "Old Friends" to refer to restaurants one once was familiar with and loved and have now returned to, but the lyrics came to mind after my recent trips to three old friends in Paris – The Tour d'Argent, Chez Georges & La Régalade.
I'll start with the newest, La Régalade (the original) in the 14th.  My old pal Paga, who induced me to buy our place here, introduced us to it eons ago and while Colette always found its tables too jammed together, we or at least I continued to frequent it until 2004 when Yves Camdeborde decamped for the bright lights, big city and Bruno Doucet took over.  At first he kept Yves' magical winning formula and I thought did it even better than the master.
But six months later I noted he was trying to find his own voice or style and I found the food confusing, neither classic Camdeborde nor innovative Doucet.  When he opened an offshoot on the Rue St Honoré in the heart of Bobo Touristland I was curious but not enough to go until reports started to come in, one from a chef I really respect and two eaters I think equally highly of.  Indeed the new place was great.
So I sort of latched on to it, but another cyberpal suggested someone go to the old original and see if it was easier to get in, less full of visitors and a bit more relaxed.  So, who else but the two of us.  And by Golly, we both thought the former #2, Pierre Olivier, was terrific, maintaining the Doucet/Camdeborde essence while putting a slight spin on it.  As we entered he looked around – the same, pate and bread and cornichons – the same, but many more items to sample (at unfortunately many more supplemental prices) but we walked away very happy boys.  Another old friend re-encountered.
Chez Georges has a warm spot in my heart because Colette and I ate there during our first few days after buying and renovating our pied à terre. I remember it well.  In those days nothing was air-conditioned and it was hot.  At the table next to us, a few inches away, a couple I would now call young but then thought were really old were finishing their lunch and overheard us speaking English.  "Excuse me," one of them said, "we couldn't help overhearing you, how did you find this restaurant?" revealing a few moments later that it was their favorite in Paris and since they now lived in Marne la Vallée (pre Disney this was) they came in to shop every so often and always ate here.  I stammered something about the guidebooks and Gault-Millau and they seemed puzzled that "their" place was known outside their crowd.
Well, old Chez Georges kept on chugging on and every so often I would pass it (one of Colette's favorite bakeries is a few meters away), look at the menu, gasp at the prices and move on.  But a couple of weeks ago, Francois Simon noted that it was under new management and that gave me the perfect excuse for a revisit. And you know, it was pretty damn good.  My friend Richard and I truly enjoyed our oeufs mayo, salade frisée, succulent sweetbreads with tasty morels and baba.
Our bill was a pretty pricey 134 E with a chilled red Loire but no bottled water and two coffees (funnily enough, a single coffee is 4 E but a double only 5 E).  At the end I asked my friend and co-conspirator in food testing, who writes a summary/intro of each review with its good and bad points, what minus he had seen – "Nothing."  Me neither.  An old friend rediscovered.
The Tour d'Argent was either the first or second Paris restaurant I ever ate at as a young student (I'm excluding Viet Namese joints, then ubiquitous on the Left Bank, and the university canteen we frequented at the Ecole Centrale on the Right Bank).  I remember entering La Tour as if it was yesterday: we got on our finest (which, after three weeks on bikes, was none too elegant), were greeted at the door by the voiturier and ushered up the elevator to the 6th floor where even the most cynical of us at 18, headed off to Ivy League schools, dropped our jaws.  Wow!
Even at 9 p.m. one could see Notre Dame, the Tour St-Jacques and the Eiffel Tower without lighting – blissfully there was no Tour Montparnasse or Centre Pompidou in 1953.  The staff was awesome, the welcome chaleureux, the pressing of the ducks most memorable, especially for adolescent boys – the dribbled blood was terrific – and the entire experience was just what we needed.
Colette and I paid a revisit in the late 1970s at the beginning of the Gault-Millau revolution and were impressed but soon got sidetracked by the drastic changes in French cuisine.
So it was with great anticipation that I went with a much younger colleague who had never been.  She was very impressed; I'm afraid I found the price-quality rapport bad and the amount of food and calories too much for someone no longer 18.  The 3-inch 500-pound wine carte was impressive but outré.  The food, mind you, retains its consistency; it will always be an old friend, but I'm afraid it's an old friend who will remain remembered but not revisited.
The old friends are :
Le Tour d'Argent
15-17, quai de la Tournelle in the 5th (Metro: Cardinal LeMoine, Maubert-Mutualité)
T: 01.43.54.23.31
Closed Sundays and Mondays
Lunch menu 65 €, a la carte 200 €.
Chez Georges
1 rue du Mail in the 2nd (Metro: Sentier I suppose)
T: 01.42.60.07.11
Closed weekends and holidays,
A la carte 60-80 E.
La Régalade (the original)
49, avenue Jean Moulin, 14th (Metro : Porte d'Orléans)
T: 01 45 45 68 58
Closed Sundays and Mondays
Lunch menu = 32, but lots of supplements, à la carte 30-40 €.
©by John Talbott 2010
Take trips, not chances. For peace of mind each and every time you travel, enroll for MedjetAssist evacuation services.