October 2010 Paris Events
October in Paris offers more than just a unique place to spend Halloween. The trees will start to change colour and with this the fall season follows as you walk along the Seine in the rustling leaves.  You can warm up a bit indoors as you stroll from point A to point B checking out all of the great offerings the City of Light has for you this month! Opera, Ballet and Theatre Performance Palais Garnier –
www.operagarnier.fr
Roland Petit– Choreographer Roland Petit, through October 9th Three ballets highlighting the Tour de Force of French choreographer, Roland Petit. L'Italiana in Algeri – Conductor Maurizio Benini, through October 8th The Italian Girl in Algiers, said to be written by Rossini at age 21, is considered a comedic and light opera. Pacquita – Choreographer Pierre Lacotte, opens October 18th This ballet is set in Napoleonic Spain and tells the story of Pacquita, a young girl raised by gypsies only to realise she is of noble birth in the end and able to marry the man of her dreams. Opéra Bastille –
www.operagarnier.fr
Der Fliegende Holländer, Conductor Peter Schneider, through October 9th The Flying Dutchman is Wagner's first masterpiece based upon the folklore of a ghost ship doomed to sail the seas forever.  An opera in three acts, Wagner was inspired to write this opera after a particularly stormy sea crossing. Eugene Onegin, Conductor Vasily Petrenko, through October 11th This opera is a well-known example of lyric opera, based on the novel in verse by Alexander Pushkin, with music by Tchaikovsky. Il Trittico, Conductor Philippe Jordan, opens October 4th Puccini's rarely performed masterpiece comes to life on stage. Il Trittico is an opera in three acts. Le Nozzie de Figaro, Conductor Philippe Jordan (A) / Dan Ettinger (B) The Marriage of Figaro is an opera buffa (comedic opera) in four acts and one of Mozart's most successful works. Art Exhibitions The Louvre –
www.museedulouvre.fr
Contemporary Art – William Ketridge at the Louvre, through October 11th Antoine Watteau and the Art of Engraving, through October 11th Joseph Kosuth, Neither Appearance Nor Illusion, through December 31st   Musée d'Orsay –
www.musee-orsay.fr
Everyone is a Collector, through November 30th Jean Léon Gérôme, opens October 19th   Grand Palais –
www.grandpalais.fr
Claude Monet, Les Galéries Nationales du Grand Palais, through January 2011 Alliances Marines, Le Palais de la Découverte, through January 2011 Musée du Quai Branly –
www.quaibranly.fr
Fleuve Congo, through October 3rd Le Fabrique des Images, through July 17th 2011 Musée Marmottan –
www.marmottan.com
Monet son Musée, opens October 7th   Centre Georges Pompidou –
www.centrepompidou.fr
Gabriel Orozco, through January 3rd Saadane Afif, through January 3rd Arman, through January 10th L'Aventure des Objets, through January 10th   Musée des Arts Decoratifs –
www.lesartsdecoratifs.fr
History of Ideal Contemporary Fashion, Volume 1: 70-80, through October 10th Animail, through November 30th   Musée Jacquemart-André –
www.musee-jacquemart-andre.com
Rubins, Poussin et les Peintres du XVII Siècle, through January 24th 2011   La Maison Rouge –
www.lamaisonrouge.org
Les Recherches d'un Chien, opens October 23rd   Petit Palais-Musée des Beaux-Arts de la Ville de Paris –
www.petitpalais.paris.fr
Reporters sans Frontières, through February 27th   Centre Nationale du Costume de Scène –
www.cncs.fr
Vestiaire de Divas de Maria Callas à Dalida, through December 31st   Muséum National d'Histoire Naturelle –
www.mnhn.fr
Invisible, Zoom sur le Plancton, through January 2nd 2011 Dans l'Ombres des Dinosaures, through February 14th 2011 Foundation Cartier –
www.foundation.cartier.com
Moebius-Transe-Forme, opens October 12th through March 13th 2011 Musée Guimet –
www.guimet.fr
Rashid Rana, Perpétuel Paradoxe, through November 15th Chen Zhen, through December 13th Costume d'Enfants, Miroir des Grands, opens October 20th through January 24th 2011 Au Jardin de Krishna Riboud, opens October 20th through January 24th 2011 Musée d'Histoire Natural  du Havre –
www.mnhn.fr
Chauves-souris – through October 24th Très Toucher & Touche Atout, through October 24th   Music Venues – Highlights of October Salle Pleyel –
www.sallepleyel.fr
2   Henri Texier and Friends 4   Orientarias – Rima Tawil 5   Elina Garanca / Latvian National Symphony Orchestra 6, 7, 13   Orchestre de Paris 8, 15   Orchestre Philharmonique de Radio France 10   Ballet Royal du Cambodge 16, 17   Eric Le Sage 17   Orchestre Colonne 18   Orchestre Gulbenkian 19   Orchestre National d'Ile de France 20   Lucerne Festival Orchestre 22    Concert Lyrique Exceptionnel 23    Orchestre Révolutionnaire et Romantique 26   Thomas Quasthoff 28    Youssou Ndour 29    McCoy Tyner Quartet 30    Goran Bregovic   L'Olympia –
www.olympiahall.com
1-3   Franck Dubosc 4   Nolwenn Leroy 5-10  Franck Dubosc 11   Jeff Beck 12-17   Franck Dubosc 19-23   Eddy Mitchell 24, 25   Katie Melua 26-30   Eddy Mitchell 31   Ray Davies   Bercy –
www.bercy.fr
12   Santana 16   ZZ Top 18   Supertramp 20, 21   Christophe Mae 22, 23    Lady Gaga 25   Linkin Park 27   Michael Bublé 28   Supertramp 30    Starfloor   La Maroquinerie –
www.lamaroquinerie.fr
4   Black Mountain 5   Needtobreathe 6   Brune + Jerome van Den Hole 7   Misteur Valaire 9   Stevy Mahy 11   The Black Box Revelation 12   Mystery Jets 13   Shout Out Louds 14   Sly Johnson 15   Asaf Av idan & The Mojos 16   Red Sparrows, Head of Wantastique, Monno & Gnaw 18   Babx 24   I am Kloot 25   Knut, Shining, Crankset & Comity 26   Agnès Bihl 27   The Tellers, Eté67 & Dez Mona 28   Lali Puna 29   Daby Touré vs Okou 30   Lab 31   Archie Bronson Outfit   Le Zénith –
www.zenith-paris.com
3   Daddy Yankee 5   Orange Rockcorps 9   Felix Wazeka 10   Joe Cocker 11   Kool and the Gang 12   AHA 13   Hocus Pocus 14   Steve Miller Band 15   Eiffel 17   Keith Sweat & Joe 18   Jacques Higelin 22   Chon Ke Choun   Casino de Paris –
www.casinodeparis.fr
STOMP, through October 17th Rock the Ballet, October 19th – 31st   Elysées-Montmartre –
www.elyseesmontmartre.com
8   The Cat Empire 9   Pendulum Live 10   Anathema 27   Black Milk 28   Epica 30   Imperial Never Say Die Festival   La Cigale –
www.lacigale.fr
Cabaret Flameka, through October 3rd 4   Fiction Plane 5   Carmen Consoli 7   Of Montreal 8   Joe Jackson 13   The Swell Season 14   John Mayall 15    Beat Assailant 16   Beast – Skip the Use 18-20    Le Compte de Bouldera 22   Serge Jorge and Almaz 25, 26   Joe Satriani 27   Joyce Jonathan 28   Anne Ducros 29   Sharon Jones 30   Crystal Castles     Paris Events in October Nuit Blanche –
www.nuitblanche.paris.fr
2 The City of Light does not sleep during Nuit Blanche, an annual all-night festival where many museums and shows are open all night. Grand Palais –
www.grandpalais.fr
9 Second Electro Night at the Grand Palais – join the expected 8,000 people for a night of dance on the conceptual dance floor. New York Artist Vincent Gagliostro –
www.gagliostro.com
21 October through 22nd November – New York artist Vincent Gagliostro exhibits…
SUBSCRIBE
ALREADY SUBSCRIBED?
BECOME A BONJOUR PARIS MEMBER

Gain full access to our collection of over 5,000 articles and bring the City of Light into your life. Just 60 USD per year.

Find out why you should become a member here.

Sign in

Fill in your credentials below.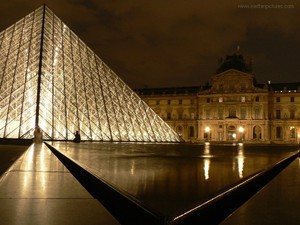 October in Paris offers more than just a unique place to spend Halloween. The trees will start to change colour and with this the fall season follows as you walk along the Seine in the rustling leaves.  You can warm up a bit indoors as you stroll from point A to point B checking out all of the great offerings the City of Light has for you this month!
Opera, Ballet and Theatre Performance
Palais Garnier – www.operagarnier.fr
Roland Petit– Choreographer Roland Petit, through October 9th
Three ballets highlighting the Tour de Force of French choreographer, Roland Petit.
L'Italiana in Algeri – Conductor Maurizio Benini, through October 8th
The Italian Girl in Algiers, said to be written by Rossini at age 21, is considered a comedic and light opera.
Pacquita – Choreographer Pierre Lacotte, opens October 18th
This ballet is set in Napoleonic Spain and tells the story of Pacquita, a young girl raised by gypsies only to realise she is of noble birth in the end and able to marry the man of her dreams.
Opéra Bastille – www.operagarnier.fr
Der Fliegende Holländer, Conductor Peter Schneider, through October 9th
The Flying Dutchman is Wagner's first masterpiece based upon the folklore of a ghost ship doomed to sail the seas forever.  An opera in three acts, Wagner was inspired to write this opera after a particularly stormy sea crossing.
Eugene Onegin, Conductor Vasily Petrenko, through October 11th
This opera is a well-known example of lyric opera, based on the novel in verse by Alexander Pushkin, with music by Tchaikovsky.
Il Trittico, Conductor Philippe Jordan, opens October 4th
Puccini's rarely performed masterpiece comes to life on stage. Il Trittico is an opera in three acts.
Le Nozzie de Figaro, Conductor Philippe Jordan (A) / Dan Ettinger (B)
The Marriage of Figaro is an opera buffa (comedic opera) in four acts and one of Mozart's most successful works.
Art Exhibitions
The Louvre – www.museedulouvre.fr
Contemporary Art – William Ketridge at the Louvre, through October 11th
Antoine Watteau and the Art of Engraving, through October 11th
Joseph Kosuth, Neither Appearance Nor Illusion, through December 31st
Musée d'Orsay – www.musee-orsay.fr
Everyone is a Collector, through November 30th
Jean Léon Gérôme, opens October 19th
Grand Palais – www.grandpalais.fr
Claude Monet, Les Galéries Nationales du Grand Palais, through January 2011
Alliances Marines, Le Palais de la Découverte, through January 2011
Musée du Quai Branly – www.quaibranly.fr
Fleuve Congo, through October 3rd
Le Fabrique des Images, through July 17th 2011
Musée Marmottan – www.marmottan.com
Monet son Musée, opens October 7th
Centre Georges Pompidou – www.centrepompidou.fr
Gabriel Orozco, through January 3rd
Saadane Afif, through January 3rd
Arman, through January 10th
L'Aventure des Objets, through January 10th
Musée des Arts Decoratifs – www.lesartsdecoratifs.fr
History of Ideal Contemporary Fashion, Volume 1: 70-80, through October 10th
Animail, through November 30th
Musée Jacquemart-André – www.musee-jacquemart-andre.com
Rubins, Poussin et les Peintres du XVII Siècle, through January 24th 2011
La Maison Rouge – www.lamaisonrouge.org
Les Recherches d'un Chien, opens October 23rd
Petit Palais-Musée des Beaux-Arts de la Ville de Paris – www.petitpalais.paris.fr
Reporters sans Frontières, through February 27th
Centre Nationale du Costume de Scène – www.cncs.fr
Vestiaire de Divas de Maria Callas à Dalida, through December 31st
Muséum National d'Histoire Naturelle – www.mnhn.fr
Invisible, Zoom sur le Plancton, through January 2nd 2011
Dans l'Ombres des Dinosaures, through February 14th 2011
Foundation Cartier – www.foundation.cartier.com
Moebius-Transe-Forme, opens October 12th through March 13th 2011
Musée Guimet – www.guimet.fr
Rashid Rana, Perpétuel Paradoxe, through November 15th
Chen Zhen, through December 13th
Costume d'Enfants, Miroir des Grands, opens October 20th through January 24th 2011
Au Jardin de Krishna Riboud, opens October 20th through January 24th 2011
Musée d'Histoire Natural  du Havre – www.mnhn.fr
Chauves-souris – through October 24th
Très Toucher & Touche Atout, through October 24th
Music Venues – Highlights of October
Salle Pleyel – www.sallepleyel.fr
2   Henri Texier and Friends
4   Orientarias – Rima Tawil
5   Elina Garanca / Latvian National Symphony Orchestra
6, 7, 13   Orchestre de Paris
8, 15   Orchestre Philharmonique de Radio France
10   Ballet Royal du Cambodge
16, 17   Eric Le Sage
17   Orchestre Colonne
18   Orchestre Gulbenkian
19   Orchestre National d'Ile de France
20   Lucerne Festival Orchestre
22    Concert Lyrique Exceptionnel
23    Orchestre Révolutionnaire et Romantique
26   Thomas Quasthoff
28    Youssou Ndour
29    McCoy Tyner Quartet
30    Goran Bregovic
L'Olympia – www.olympiahall.com
1-3   Franck Dubosc
4   Nolwenn Leroy
5-10  Franck Dubosc
11   Jeff Beck
12-17   Franck Dubosc
19-23   Eddy Mitchell
24, 25   Katie Melua
26-30   Eddy Mitchell
31   Ray Davies
Bercy – www.bercy.fr
12   Santana
16   ZZ Top
18   Supertramp
20, 21   Christophe Mae
22, 23    Lady Gaga
25   Linkin Park
27   Michael Bublé
28   Supertramp
30    Starfloor
La Maroquinerie – www.lamaroquinerie.fr
4   Black Mountain
5   Needtobreathe
6   Brune + Jerome van Den Hole
7   Misteur Valaire
9   Stevy Mahy
11   The Black Box Revelation
12   Mystery Jets
13   Shout Out Louds
14   Sly Johnson
15   Asaf Av idan & The Mojos
16   Red Sparrows, Head of Wantastique, Monno & Gnaw
18   Babx
24   I am Kloot
25   Knut, Shining, Crankset & Comity
26   Agnès Bihl
27   The Tellers, Eté67 & Dez Mona
28   Lali Puna
29   Daby Touré vs Okou
30   Lab
31   Archie Bronson Outfit
Le Zénith – www.zenith-paris.com
3   Daddy Yankee
5   Orange Rockcorps
9   Felix Wazeka
10   Joe Cocker
11   Kool and the Gang
12   AHA
13   Hocus Pocus
14   Steve Miller Band
15   Eiffel
17   Keith Sweat & Joe
18   Jacques Higelin
22   Chon Ke Choun
Casino de Paris – www.casinodeparis.fr
STOMP, through October 17th
Rock the Ballet, October 19th – 31st
Elysées-Montmartre – www.elyseesmontmartre.com
8   The Cat Empire
9   Pendulum Live
10   Anathema
27   Black Milk
28   Epica
30   Imperial Never Say Die Festival
La Cigale – www.lacigale.fr
Cabaret Flameka, through October 3rd
4   Fiction Plane
5   Carmen Consoli
7   Of Montreal
8   Joe Jackson
13   The Swell Season
14   John Mayall
15    Beat Assailant
16   Beast – Skip the Use
18-20    Le Compte de Bouldera
22   Serge Jorge and Almaz
25, 26   Joe Satriani
27   Joyce Jonathan
28   Anne Ducros
29   Sharon Jones
30   Crystal Castles
Paris Events in October
Nuit Blanche – www.nuitblanche.paris.fr
2 The City of Light does not sleep during Nuit Blanche, an annual all-night festival where many museums and shows are open all night.
Grand Palais – www.grandpalais.fr
9 Second Electro Night at the Grand Palais – join the expected 8,000 people for a night of dance on the conceptual dance floor.
New York Artist Vincent Gagliostro – www.gagliostro.com
21 October through 22nd November – New York artist Vincent Gagliostro exhibits his new installation at Galerie NeC at 20, rue des Coutures Saint-Gervais – 3rd arrondissment
American Library in Paris – www.americanlibraryinparis.org
6 Evening with an Author, Jonathan Fenby
13 Evening with an Author, Melinda Bau
20 Evening with an Author, Thomas Kennedy
Village Voice Bookshop – www.villagevoicebookshop.com
14 C.K. Williams reads from Wait
15 Susan Vreeland reads from Luncheon of the Boating Party
Shakespeare and Company – www.shakespeareandcompany.com
3 Leigh Hobbs signs his book Mr. Chicken Goes to Paris
18 British journalists Ed Howker and Shiv Malik discuss The Jilted Generation
21 Premier screening of Fabrizio Polpettini's short film The Houses There Wear Verandahs Out of Shyness
25 Thomas Kennedy reads from In the Company of Angels
29 WORD – the first open mic/slam/improvisation upstairs
Jazz Concert – Grand Foyer du Chatelet – www.chatelet-theatre.com
29 Bobo Moreno Trio, Blue Lotus Trio, Tricia Evy and Xavier Richardeau – 7:30pm
Lisa Buros
Your Paris Experience – www.yourparisexperience.com
If you know of other special events in Paris, or if you would like to have your event featured in this monthly column, please send an email to Lisa at:  [email protected].
Your Paris Experience is pleased to offer the Premium Members of BonjourParis.com offer a 10% discount on the public price of all services.
Mosaico World is a customer-friendly international ticketing service that enables you to book tickets for upcoming events in the City of Light and all around the world.
More in Art, Bonjour Paris, culture, Museum, Nightlife, Paris, sports
---
---