Isabelle Kellogg, the Diamond Diva at Biennale des Antiquaires
"Honey, I could look at rocks all day long," sighs Isabelle Kellogg of Kellogg and Partners. It's a Sunday afternoon in Paris and the backdrop could be Manet's classic masterpiece Le Déjeuner sur l'herbe. Today, rather than lounging with a picnic, le beau monde is entering Le Grand Palais with its glass-topped roof spotlighting the most exquisite museum-quality antiques and paintings for sale in Paris. Held every two years in the City of Light, The Biennale des Antiquaires is a heavy-hitter in the antiques world, competing with similar shows in Maastricht and Palm Beach. And according to Kellogg, a veteran attending the fair this September 15-22, 2010, "This year couture jewelry almost stole the show." While a casual observer at the Biennale would clearly agree with Isabelle, Kellogg's statement packs a powerful punch. When Kellogg speaks of diamonds, people listen. As a writer and stylist who specializes in luxury jewelry, watches and fashion accessories, Kellogg runs a successful public relations firm geared towards luxury travel and hospitality. Her background with in-house positions at both Chopard and De Beers adds to her cachet while she spends her days jet-setting around the globe taking behind-the-scenes tours at diamond houses, meeting with watchmakers in Switzerland, and admiring mega-carat gemstones at the ateliers of some of the world's most renowned jewelers. As she bats her eyes at a bauble from Van Cleef & Arpels, Kellogg explains, "It takes the couture jewelry houses more than two years to create, source, and execute these magnificent pieces. A gemstone is not a gemstone, especially when you consider that no two gemstones are the same and finding two or a dozen of similar quality, cut and clarity, is no easy task for houses like Van Cleef and Piaget."     It doesn't take a giant leap to equate couture jewelry with the antiques, decorative and fine art from the 18th and 19th century that make up the Biennale show.  Seven jewelry houses–Cartier, Chanel, Dior, Harry Winston, Louis Vuitton, Piaget and Van Cleef & Arpels–are on site at the fair, proving that investing in art, antiques and jewelry go hand-in-hand.  Kellogg continues with a conspiratorial look, "These are the antiques of tomorrow." "No house is a match for the virtuoso of Van Cleef & Arpels, a Place Vendôme fixture since the early 1920s," explains Kellogg. "With an atelier devoted to creating confections like tassels, leaves, and ballerinas, Van Cleef & Arpels has weathered more storms than any other house in its league. This Biennale, the collection is inspired by the literary works of Jules Verne, a series of fantasy voyages to the depths of the ocean, to the center of the earth, and up into the sky. The booth and the jewelry were sensational and reflected 'Les Voyages Extraordinaires' with every scintillating gem." As Kellogg moves onto Piaget, known more for its fine watch manufacturing, she explains, "Piaget is now a global player in the world of high jewelry, specializing in diamonds. At the pinnacle of the watch industry with in-house movements, it was Piaget that manufactured the world's thinnest movement in the world. Turning its expertise to high jewelry, Piaget has concocted rings depicting cupcakes and cocktails (the mojito and the cosmo), looking every bit as artistic and delicious as the real things." At Chanel, a couture powerhouse for fashion and beauty, Isabelle looks perfectly the part as she casually caresses a plume. "Coco had a thing for feathers, and Chanel's couture jewelry division plays up the theme with delicacy and diamonds in a collection that took 14 months to create. Another French fashion giant, Louis Vuitton, entered the show just this year though its 'haute joaillerie' line debuted in 2004. They're offering a solid collection of stunners, discreetly incorporating the iconic 'flower' motif from its logo, bien sûr." Speaking of fashion giants, one mustn't forget Dior. "Their exaggerated, rock star gems defy gravity and grace," states Kellogg with a flutter of her hand, her own jewels catching in the light, "but Dior is equally impactful with using whimsical motifs that are theatrical." She indicates a skull with diamonds and serpent hoop earrings as she concludes her tour of the 25th Biennale des Antiquaires at Le Grand Palais.  While acknowledging that couture jewelry was the highlight of the Biennale des Antiquaires in her eyes, Isabelle still paused to consider the fair's other non-jewelry-related vendors. "Stalwarts like Steinmetz, Axel Vervoordt and Ariadne were loaded with their signature pieces, including Kraemer, who recreated the Oval Office, filling it with priceless 18th century antiques.  Equally interesting were galleries like Gisele Croës (Asian art), Yves and Victor Gastou (20th century decorative arts), and Féau, a magnificent gallery of French and elaborate boisserie wood paneling–it makes you want to run out and buy one of their picture-perfect châteaux."  And with one last glance over her shoulder before stepping out the doors of the Biennale des Antiquaires at Le Grand Palais and into her Parisian boyfriend's vintage 1940s British silver-gray Triumph waiting curbside to whisk her away to the Café Flore for une coupe de champagne, Isabelle Kellogg swoons, "Who needs a semester of art history when you can simply visit the fair?  Galerie Schmit's pavilion filled with a golden collection of master European painters is the equivalent of a full semester of art history in an afternoon. One picture-perfect Parisian afternoon."   Toma Clark Haines is The Antiques Diva™, author of the blog The
Antiques Diva
http://www.antiquesdiva.blogspot.com/
and Chief Executive Diva of
The Antiques Diva™
Company, offering European Antique Shopping Tours and a simply sensational Online Brocante offering antiques and vintage with free shipping on every purchase. The Antiques Diva™ is the In-House Antiques Expert for Bonjour Paris. Bonjour Paris
Premium Members
will receive a 10% discount with the Antiques Diva™ Tours. And for any type of help…
SUBSCRIBE
ALREADY SUBSCRIBED?
BECOME A BONJOUR PARIS MEMBER

Gain full access to our collection of over 5,000 articles and bring the City of Light into your life. Just 60 USD per year.

Find out why you should become a member here.

Sign in

Fill in your credentials below.
"Honey, I could look at rocks all day long," sighs Isabelle Kellogg of Kellogg and Partners. It's a Sunday afternoon in Paris and the backdrop could be Manet's classic masterpiece Le Déjeuner sur l'herbe. Today, rather than lounging with a picnic, le beau monde is entering Le Grand Palais with its glass-topped roof spotlighting the most exquisite museum-quality antiques and paintings for sale in Paris.
Held every two years in the City of Light, The Biennale des Antiquaires is a heavy-hitter in the antiques world, competing with similar shows in Maastricht and Palm Beach. And according to Kellogg, a veteran attending the fair this September 15-22, 2010, "This year couture jewelry almost stole the show." While a casual observer at the Biennale would clearly agree with Isabelle, Kellogg's statement packs a powerful punch. When Kellogg speaks of diamonds, people listen. As a writer and stylist who specializes in luxury jewelry, watches and fashion accessories, Kellogg runs a successful public relations firm geared towards luxury travel and hospitality. Her background with in-house positions at both Chopard and De Beers adds to her cachet while she spends her days jet-setting around the globe taking behind-the-scenes tours at diamond houses, meeting with watchmakers in Switzerland, and admiring mega-carat gemstones at the ateliers of some of the world's most renowned jewelers.
As she bats her eyes at a bauble from Van Cleef & Arpels, Kellogg explains, "It takes the couture jewelry houses more than two years to create, source, and execute these magnificent pieces. A gemstone is not a gemstone, especially when you consider that no two gemstones are the same and finding two or a dozen of similar quality, cut and clarity, is no easy task for houses like Van Cleef and Piaget."    
It doesn't take a giant leap to equate couture jewelry with the antiques, decorative and fine art from the 18th and 19th century that make up the Biennale show.  Seven jewelry houses–Cartier, Chanel, Dior, Harry Winston, Louis Vuitton, Piaget and Van Cleef & Arpels–are on site at the fair, proving that investing in art, antiques and jewelry go hand-in-hand.  Kellogg continues with a conspiratorial look, "These are the antiques of tomorrow."

"No house is a match for the virtuoso of Van Cleef & Arpels, a Place Vendôme fixture since the early 1920s," explains Kellogg. "With an atelier devoted to creating confections like tassels, leaves, and ballerinas, Van Cleef & Arpels has weathered more storms than any other house in its league. This Biennale, the collection is inspired by the literary works of Jules Verne, a series of fantasy voyages to the depths of the ocean, to the center of the earth, and up into the sky. The booth and the jewelry were sensational and reflected 'Les Voyages Extraordinaires' with every scintillating gem."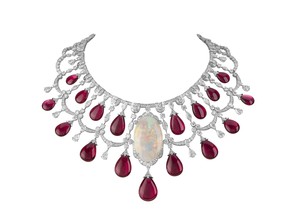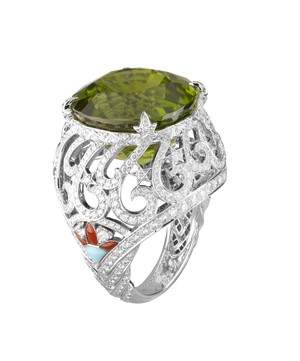 As Kellogg moves onto Piaget, known more for its fine watch manufacturing, she explains, "Piaget is now a global player in the world of high jewelry, specializing in diamonds. At the pinnacle of the watch industry with in-house movements, it was Piaget that manufactured the world's thinnest movement in the world. Turning its expertise to high jewelry, Piaget has concocted rings depicting cupcakes and cocktails (the mojito and the cosmo), looking every bit as artistic and delicious as the real things."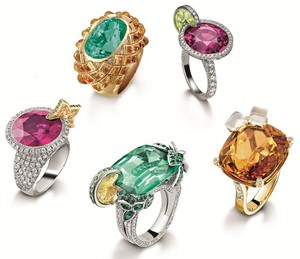 At Chanel, a couture powerhouse for fashion and beauty, Isabelle looks perfectly the part as she casually caresses a plume. "Coco had a thing for feathers, and Chanel's couture jewelry division plays up the theme with delicacy and diamonds in a collection that took 14 months to create. Another French fashion giant, Louis Vuitton, entered the show just this year though its 'haute joaillerie' line debuted in 2004. They're offering a solid collection of stunners, discreetly incorporating the iconic 'flower' motif from its logo, bien sûr."
Speaking of fashion giants, one mustn't forget Dior. "Their exaggerated, rock star gems defy gravity and grace," states Kellogg with a flutter of her hand, her own jewels catching in the light, "but Dior is equally impactful with using whimsical motifs that are theatrical." She indicates a skull with diamonds and serpent hoop earrings as she concludes her tour of the 25th Biennale des Antiquaires at Le Grand Palais. 
While acknowledging that couture jewelry was the highlight of the Biennale des Antiquaires in her eyes, Isabelle still paused to consider the fair's other non-jewelry-related vendors. "Stalwarts like Steinmetz, Axel Vervoordt and Ariadne were loaded with their signature pieces, including Kraemer, who recreated the Oval Office, filling it with priceless 18th century antiques.  Equally interesting were galleries like Gisele Croës (Asian art), Yves and Victor Gastou (20th century decorative arts), and Féau, a magnificent gallery of French and elaborate boisserie wood paneling–it makes you want to run out and buy one of their picture-perfect châteaux."  And with one last glance over her shoulder before stepping out the doors of the Biennale des Antiquaires at Le Grand Palais and into her Parisian boyfriend's vintage 1940s British silver-gray Triumph waiting curbside to whisk her away to the Café Flore for une coupe de champagne, Isabelle Kellogg swoons, "Who needs a semester of art history when you can simply visit the fair?  Galerie Schmit's pavilion filled with a golden collection of master European painters is the equivalent of a full semester of art history in an afternoon. One picture-perfect Parisian afternoon."
Toma Clark Haines is The Antiques Diva™, author of the blog The Antiques Diva http://www.antiquesdiva.blogspot.com/ and Chief Executive Diva of The Antiques Diva™ Company, offering European Antique Shopping Tours and a simply sensational Online Brocante offering antiques and vintage with free shipping on every purchase.
The Antiques Diva™ is the In-House Antiques Expert for Bonjour Paris. Bonjour Paris Premium Members will receive a 10% discount with the Antiques Diva™ Tours.
And for any type of help contact Experience Paris – Bonjour Paris's newest travel partner can arrange unique experiences in Paris and throughout France. When you contact Larry, please say, "Karen sent you" and use the code BJ001.
More in Bonjour Paris, Paris, Shopping
---
---