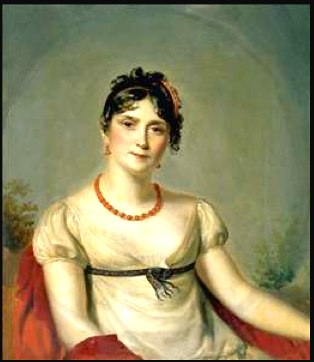 Her name was Marie-Rose de Tascher de la Pageroie, and she was the daughter of a plantation owner from the Caribbean island of Martinique. She married Vicomte Alexandre de Beauharnais. We know that her husband died on the guillotine during the Reign of Terror and that Rose married Napoleon Bonaparte in 1796. The bride was eight years older than her husband, and they were divorced in 1809 when Josephine, as she was now called, could not give Napoleon the heir to the crown. She lived out her days at Malmaison while Napoleon married eighteen-year-old Marie-Louise of Austria, the niece of Marie-Antoinette. Marie-Louise did give Napoleon an heir, but he died in his teens.
Josephine is relegated to history as the divorced wife of Napoleon, but there is more.
Rose, who Napoleon renamed, had two children, Hortense & Eugène, with her first husband. She too had been sentenced to the guillotine but was saved when Robespierre was executed. It is interesting to note that Alexandre, Josephine's first husband, had been President of the Assembly in 1791 and Chief of Staff and Commander in Chief of the Rhine army in 1793. By then, he and Josephine had separated. She lived in Fontainbleau with her father-in-law. After she was freed from Carmes Prison in Paris (1794) as someone opposed to the Revolution, she was destitute and used friends to survive. She angled her way into the inner circle of influential Frenchmen, including Barras.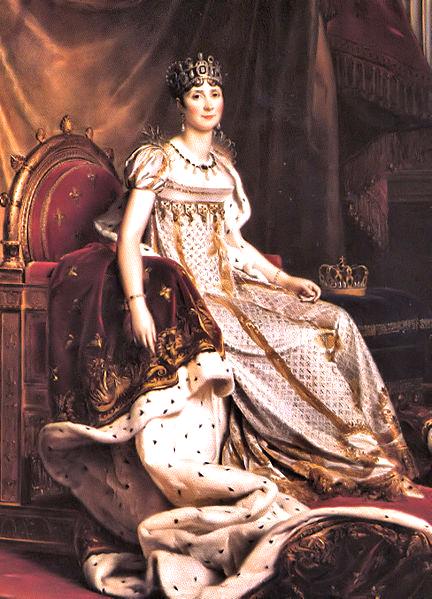 It was Barras, the Commander of the Army of the Interior, who introduced Napoleon to Josephine and gave him Command of the French Army in Italy as a wedding gift. By this stage, Napoleon had commanded the troops of Paris and had distinguished himself at the Battle of Toulon in 1793. He was taken with Josephine at first sight. It mattered not that she was the ex-wife of a guillotined general. He thought her more than beautiful, and she was tenderly attached to him. While he lacked humor and many of the social graces, he offered her position and stability. They married at a civil ceremony in Paris in 1796. However, Josephine fell from a balcony that collapsed in 1799 and sustained injuries that made child-bearing impossible.
In 1800 she moved from Paris to Malmaison, a house with exotic gardens eight miles from Paris. She devoted much of her life to botany, cultivating the gardens of Malmaison, a house that had been built on a one-time leper colony. It would become one of the great show houses of the time with a dairy, 2000 Merino sheep, zebras, monkeys, black swans, kangaroos, llamas, gnus and gazelles. There were formal gardens, a Temple of Love, towers, stables and a Cour d'Honneur.
The house boasted a billiard room, ornate crystal, a golden salon, a library with a domed ceiling, chequered floors and marble pillars and 450 paintings. Even the entrance was decorated with cone shaped trees. It was a home fit for an Empress.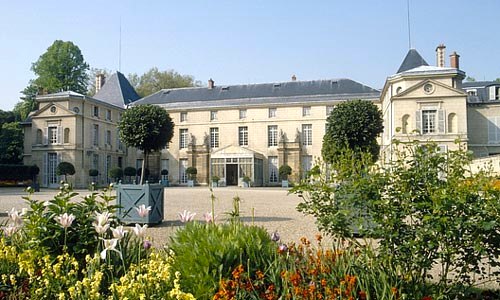 Napoleon abandoned Malmaison to Josephine in 1802 when he moved to the Palace of Saint-Cloud. Then, on Dec 2nd, 1804 Napoleon was crowned Emperor at Notre Dame Cathedral in the presence of the Pope. Napoleon and Josephine, his Empress, had been married the day before in a religious ceremony. But it was not to be a marriage in the true sense. Napoleon was always campaigning and Josephine had her little flings while he was away. Two years later, they were divorced. Napoleon needed an heir of his own. Still, he retained a deep affection for Josephine. The divorce was seen as a "sacrifice for France." Josephine kept her title and her properties at Malmaison and Navarre.
She also kept her income and continued to live in style. She spent three hours a day in her dressing room amid her extensive wardrobe. Some items, never worn, were given to her ladies of the household. She was surrounded by sapphires, opals, emeralds, rubies and diamonds, and wore a pearl tiara, necklaces and earrings befitting an Empress. She dedicated her efforts to her home, her enormous gardens and her life as a 'lady'.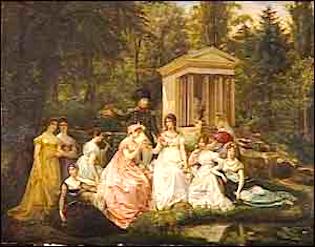 Josephine remained an Empress, with her children ging her nine grandchildren. The lines from Eugene and Hortense continue to Queen Josephine of Sweden, Prince Consort (Auguste) of Portugal and to Louis Napoleon Bonaparte, Emperor Napoleon III of France. In 1814, at 51, she died of a respiratory infection in the arms of her son at Malmaison and was buried in the church cemetery in Rueil. The elaborate circular tomb is inscribed, "To Josephine from Eugene and Hortense."
Arnie Greenberg is a retired professor and French history expert. Please click on his name to see his many stories published by BonjourParis.
Practical Information to visit Château Malmaison:
Musée national du château de Malmaison
Avenue du château de Malmaison, 92500, Reuil-Malmaison
Tél: 01 4129 0555
Entry: €6 (reduced tarifs available)
Hours: Open Wednesday through Monday (closed Tuesdays).
Seasonal hours:
Monday, Wednesday through Friday: 10am-12:30pm and 1:30-5:15pm (last entry 45 minutes before closing)
Saturday & Sunday: 10am-12:30pm and 1:30-5:45pm (last entry 45 minutes before closing)
Monday, Wednesday through Friday: 10am-12:30pm and 1:30-5:45pm (last entry 45 minutes before closing)
Saturday & Sunday: 10am-12:30pm and 1:30-6:15pm (last entry 45 minutes before closing)
RER: Line A, exit Grande Arche de la Défense; catch bus 258 in direction of "Le Château." Exit at the castle; cross the RN13 & Malmaison is 300 meters ahead on your right.
Free parking. (Malmaison is 12km from Paris center)

Subscribe for
FREE

weekly newsletters with subscriber-only content.
BonjourParis has been a leading France travel and French lifestyle site since 1995.
Readers' Favorites: Top 100 Books, imports & more at our Amazon store


Learn more about Josephine and visit the Paris Josephine knew with these selections…please click on an image for details.
Thank you for using our link to Amazon.com…we appreciate your support of our site.