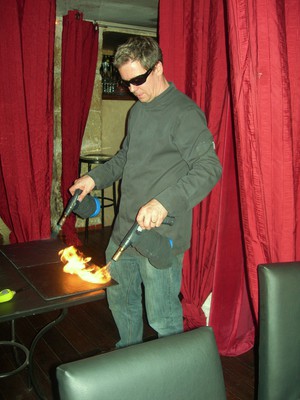 When Edouard Desrousseaux de Vandiéres was small he created imaginary restaurants, "cooking" for family and friends. Believing if you can dream it you can do it, he now has a real restaurant. Tico's owner dedicates his restaurant to the memory of his son Roberto (Tico), killed in a tragic accident. Musée Rodin is a must-visit not only for the "Corps et Décors" expo (through 22 August) but also for the sumptuous gardens and delightful Café Rodin.
The Palais Royal was originally a small theatre, where the first production saw the light in 1641. Today the area is a thriving retail haven with designer boutiques like Marc Jacobs, Didier Ludot Vintage, Ibu Gallery, secret spaces selling music boxes, hand-made gloves, perfume, antiques.
In the middle, between the theatres of Comédie Franҫaise and Palais Royal, there's Mystery Cuisine, restaurant as theatre, located in an ancient cave à vins with space for only 14 diners. Edouard Desrousseaux de Vandiéres and his companion Thu-Ha put on a show that reflects their unique brand of "Cuisine Fusion, Vietnamienne et Franҫaise Parsemée de Perles Moleculaires".
Begin with a cocktail created by Edouard which has youth-giving ingredients, a mix of aloe-vera, perles de Chardonnay and honey. "It may dissolve wrinkles", he thinks. Or sip a Mojito, made with two types of rum, champagne, Angostura, fresh mint and lime. Study the menu but you'll do best to leave it to Edouard and Thu-Ha; you're sitting in Mystery Cuisine, so let the magician of the Palais Royal surprise you.
Everything is served on black slate slabs. You could begin with Foie gras, strawberry, spices and black truffles or lobster soup with coconut cream, radish and truffles. Then choose from three types of hamburgers revisité: Veal, black truffles and Pho Ga (fragrant Vietnamese soup). Duck and asparagus or crayfish, corn salad and black truffles.
Mains arrive after Edouard's blow-torched the dishes wearing protective goggles, "keeps the plates hot right through the course", he maintains. The components, all served together, could be: Lobster ravioli, foie gras, Chantilly cream of asparagus with seaweed and sunflowers. The magicians' spin on traditional Gratin Dauphinoise uses wasabi and finely sliced duck. Each small tasting complements the other, and there are fine French wines to match. Chef doesn't serve bread, a pity because what do you mop up with? Next time I'm taking my own.
For the ladies who do there's crunchy market vegetables. For trenchermen, Filet de boeuf Rossini à la truffe noire, flambé à l'armagnac.
Mystery Cuisine's a zen experience, you're chez Edouard and Thu-Ha; they do everything but eat it for you. Finish with trio of desserts and the mystery man's aphrodisiaque infusion of vodka and fresh fruit purée.
37 bus rue Montpensier 1st
Metro: Palais Royal/Pyramide,
T: 01 40 20 03 02
Menus from 39€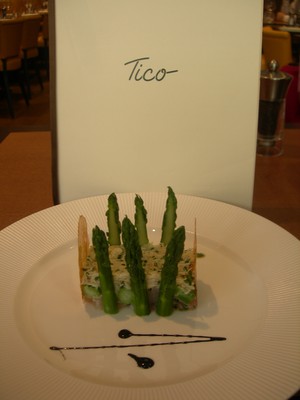 Opened last October, Tico is a lovely address, warm welcome, achingly chic contemporary décor by designer Luis Aleluia (you know him, he did Christian Constants' restaurants). The owner's Raphael Najar and Tico's named for his son, Roberto, who died three years ago.
Located in Choudens, a former music printer, where works by Berlioz and Bizet saw the light of day. Raphael Najar says the minute he saw the space he felt Tico's energy. Najar spared no expense with the décor, even installing a sophisticated lift for clients with mobility problems. The lift stops right by the basement bar and fumoir, where there's art exhibitions, at present Ruben Alterio and often live music attracting a crowd you don't usually see outside St. Tropez, read cool.
Young chef Franҫois Chambonnet's food sings out loud. An ex-Michel Rostang, Bristol boy he's got the touch. From Monday to Friday Chambonnet does a market fresh lunch menu at 35€. His signatures are starters such as Tourteau de crabe et avocat, daurade ceviche, with bar, espadon, pamplemousse rose and fresh coriander. Follow with le "Tico Burger" , Saint-Jacques à la plancha, galettes de pommes de terre aux algues nori. And to finish, Milles Feuilles de dulce de leche sorbet goyave. If you're passing around 6.30 in the evening there's a "menu snacking", available until 2 in the morning. Or just pop in and look at the stunning artwork – bet you stay for dinner.
Tico,
95 rue du Faubourg Saint Honore 8
Metro: St-Philippe-de-Roule,
T: 01 47 42 64 10
Open 7/7
Average Spend
Lunch Formula 35€ – A La Carte about 50€ + wine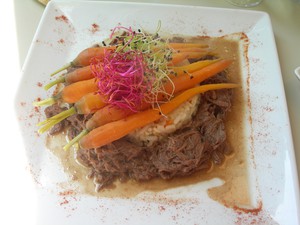 The Rodin Museum, gardens and cafe. Rush there – it's a breath of fresh air. It's real name is Hôtel Biron, once a low-rent gaff for artists where Isadora Duncan gave dance lessons, Henri Matisse had a studio and Jean Cocteau held a salon. In 1908 Rodin began working here, commuting from his home in Meudon. In 1910 the state evicted the "squatters" to sell the property. Rodin refused to leave, and by that time he was in a position to negotiate, promising to live in the house, donate his work, archives and collection to the state and create "Le Musée Rodin. Today the museum houses thousands of his sculptures, drawings, photos and objets d'art.
The Burghers of Calais will give you an appetite so nip in to Café Rodin. It's a delightful shady space with a terrace in the middle of the gardens. No burgers but great salads, tartes chaudes and sandwichs (their spelling, not ours). There's a daily, soup and plat du jour, excellent desserts and a tea and infusion menu. Just what you need to rest the feet and the mind while visiting this incredible museum. From the garden you'll see Les Invalides, La Tour Eiffel, what more could you want?
79 rue de Varenne, 7
Metro: Varenne,
Shut Monday
Lunch formulas from 7€70-16.90€
+ A La Carte
Also visit his home at:
Villa des Brillants,
19 avenue Rodin, Meudon,
T: 01 41 14 35 00
RER Line C to Meudon Val-Fleury,
This week: John Galliano, Directeur Artistique de Dior, celebrated his Légion d'Honneur, awarded for servcies to fashion, at La Sociéte, place Saint-Germain-des-Pres with the Arnaults, Sidney Toledano (president of Dior Couture), Kate Moss & co. Apparently they nearly lost the table as President Sarkozy was late for the ceremony. Anyone who's ever waited for a fashion show to begin will be forgiven for saying, "what goes around comes around"; however, John, we're delighted you're knighted.
Take trips, not chances. For peace of mind each and every time you travel, enroll for MedjetAssist evacuation services.
Please post comments and they will be activated by a Bonjour Paris team member.