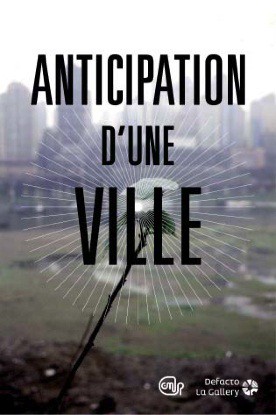 Paris disappointed me when I first arrived 20 years ago because, after being uprooted and transplanted every two years as a child in America and growing up in the suburbs of 11 different states, I wanted to live in the big city—emphasis on "big".
Stepping out of the Gare du Nord as a tourist all those years ago, I felt let down by a capital city I found surprisingly vertically challenged. Soon after relocating to the City of Slight, however, I discovered La Défense with its modern skyscrapers and innovative architecture. There, I compensated for Paris's Haussmannian shortage of height with the loftier aspirations of the up-and-coming business district. But when I expressed an interest in leaving Paris for the bigger city, everyone I spoke to discouraged me by saying La Défense was a nice place to work, but you wouldn't want to live there.
Twenty (very) odd years later, while I've made my peace with Paris's shortcomings and am proud to be Parisian, Patrick Devedjian is working on a plan to lure people out of Paris and into La Défense. Mr Devedjian is a governmental Minister in charge of stimulating the economy as well as President of the Local Council for the Hauts-de-Seine (the French département which includes La Défense), and in this capacity he heads up Defacto, a public organization in charge of managing the district and encouraging Parisians to voyage beyond the beltway and explore everything La Défense has to offer.
The Defacto gallery is the artistic branch of the organization and has inaugurated an exposition: "Anticipation d'une ville" (which, with my mad translating skills, I would translate as something like "Anticipation of a City"). The show consists of works furnished by the CNAP (Centre National des Arts Plastique), another public group responsible for, amongst other things, acquiring, storing and lending artwork for just this kind of thing.
The first impression I had of Defacto La Gallery was similar to the first impression I had of Paris after I'd stepped out of the Gare du Nord: petite. It wasn't just an impression, either, as the portion of the gallery I saw really is two big rooms and the entire contents of the show contained fewer photographs than I have hanging on my apartment walls. Of course, these were better quality, but then again I don't think I did too badly considering what Ikea had to offer. Anyway, the show is small.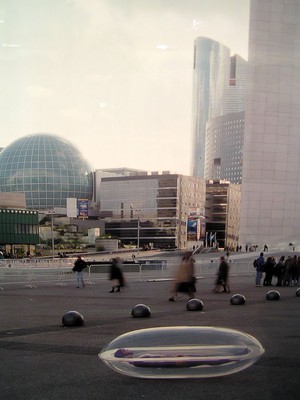 That said, the nine works displayed here are interesting, some more than others, obviously, and range from the traditional (a Robert Doisneau cross-section montage of lives led in an apartment building) to the modern (Ryuta Amae's computer-generated virtual construction site for a new Tower of Babel). Each of them presents a hypothetical view of a city yet to come, some more realistic than others. On display, for example, is the moving photo "New York" by Jean-Christophe Ballot displaying the vestiges of Ground Zero under a dark shroud. The selection as a whole, even if it is a bit limited, covers a nice range, and the entry fee is hard to beat because it's free.
My bottom line would have to be that the expo, on its own, doesn't merit a special trip to La Défense, but it would be a step in the right direction when embarking on a longer walk in the area. Which is the whole purpose of the showing to begin with anyway. As a matter Defacto, the gallery (2, esplanade du Géneral de Gaulle) is located at the extreme eastern end of the Esplanade de la Défense—directly opposite the Métro exit—so you could start a tour here and then work your way up the Esplanade until you reach the Grande Arche.
Where the Defacto Gallery and the CNAP have provided one small reason to come to La Défense, the area itself will provide many reasons to stay.
Anticipation d'une ville, Defacto La Gallery [French site]
Defacto La Gallery, 2 Esplanade du Général de Gaulle, Paris-La Défense / open Monday – Saturday from 10am to 7pm.
Access: Metro Line 1 – Esplanade de La Défense (Exit La Défense 1 and 11) / Parking – sortie Défense 2, parking Iris.
By Paul Prescott (Paris Inspired Website)
All photos ©Paul Prescott
City Segway Tours are great for seeing Paris in a different light. You'll see more, have more fun, and not feel tired at the end of it. These are highly recommended and truly a great thing to do during your stay.
Fat Tire Bike Tours are another great way to see the city. You'll get the company of an expert guide, the use of a super-comfortable bike, great tips and advice about what to do while in town and an exciting, informative and educational experience.