A Moving Experience – Part #3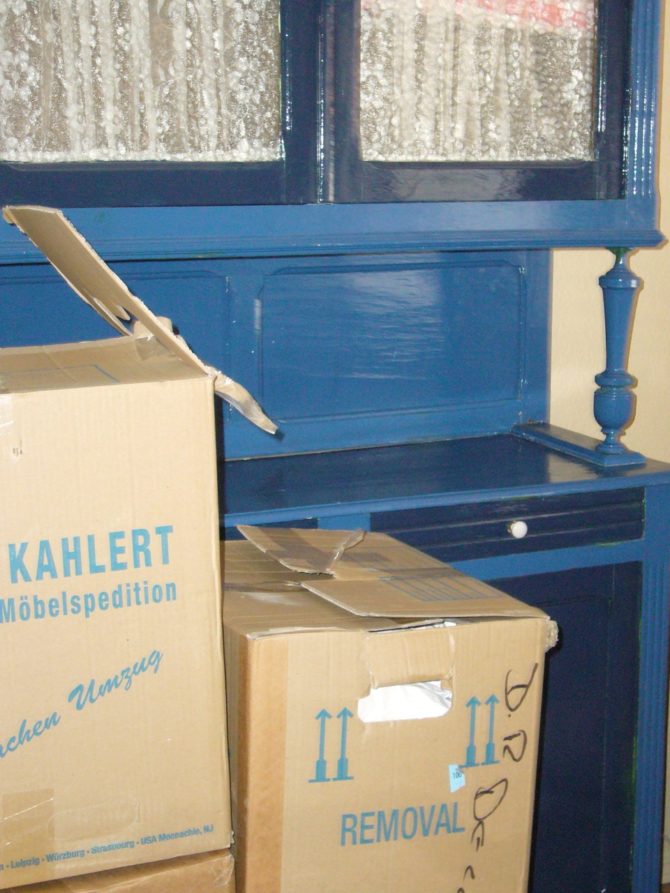 International shipping is a miracle. That anyone gets anything is totally amazing. My furniture left my house in Provence and went to Marseille. From there it went to the port of Anvers and travelled through The Panama Canal to Oakland. From Oakland it went through US Customs and Homeland Security and then went to a warehouse in San Jose. It came to my house  over three months after it left my house in France. God only knows how many people handled the shipment. With much pressure and a fair amount of begging, the relocation firm in San Jose made a date for delivery. Indeed, the freight forwarder in San Diego turned me over to a relocation firm in San Jose. So many cooks, so little broth. Two tall, good-looking guys arrived with a giant truck and began to unload while I checked off the numbers on each piece. Items without numbers (there were about a dozen of these) went into a special part of my garage to be inventoried when the truck was empty. I baked homemade  chocolate chip cookies for these guys; I fed them soft drinks, gave them a bottle of local wine with a lesson on area specialties and added in a $100 cash tip. In exchange, one of them gave me a lot of attitude…and left me high and dry and up Shit Creek without a mattress. Let me make a tangential aside at this point. My beds were two matching Sealy Posturpedic mattresses which were made up  in my Provencale guest room as a king-size bed, using American sheets. French beds, for those who don't have a clue, are not the same size as US beds and therefore take different sheets. My beds came from America and were of a quality superior to any French bed. A set of twins is made up of four pieces: two boxsprings and two mattresses. When we went through the entire inventory, I knew immediately that I was missing a mattress and had three out of four parts to a bed. The remaining mattress was not only useless, but in a replacement situation, I would need to find  an identical twin for  king-making purposes or buy two new mattresses. Meanwhile, back at the tract house, I had been told by the freight forwarders that the relocation firm's movers  would unpack all fragile items and put them on a flat surface, but not put them away in shelves. I was told to check china bins for damage and report damage or loss immediately on the paperwork. Instead, the movers never brought all of the boxes into the house. They left tall towers of boxes of fragile goods stacked in the garage., at a height impossible to reach by any mere mortal. Of the things I did unpack, there were a few broken dishes, including my most valuable piece of ceramic – a  Bjorn Winblad tulipiere that had belonged to my mother and was her most prized possession. When the Handsome Hunks decided they were finished, they presented me with a sheaf of paperwork, including a waiver saying that they had unpacked the dishes. "Why should I sign this?" "Because this is America and we never do everything we say we will because we're on a schedule." So I signed. Spare me from attitude like that. I was immediately sorry that I signed and didn't make them perform their contractual duties, the smart alecky SOBs. I was also tired and resentful and pissed off. When I tried to register the missing and broken pieces of furniture, as instructed by the freight forwarder, I was told that I could only do so with the shipping numbers. These numbers were located on the wrapping paper which has been removed and destroyed. The final straw was the tirade on why these guys would not even attempt to rebuild my French furniture ("The day doesn't have enough hours, lady."). So they left and I cried. Stay tuned for Part 4, the finale. Suzy Gershman is the author of Suzy Gershman's Born to Shop California Wine Country, due through Amazon after September 1.  She has a storage unit in San Antonio, Texas filled with more furniture. Take trips, not chances. For peace of mind each and every time you travel, enroll for
MedjetAssist
evacuation services. If you're coming to France (or for that matter anywhere) you can 
reserve your hotel here.
To rent a car, Bonjour Paris recommends 
Auto Europe
.  
SUBSCRIBE
ALREADY SUBSCRIBED?
BECOME A BONJOUR PARIS MEMBER

Gain full access to our collection of over 5,000 articles and bring the City of Light into your life. Just 60 USD per year.

Find out why you should become a member here.

Sign in

Fill in your credentials below.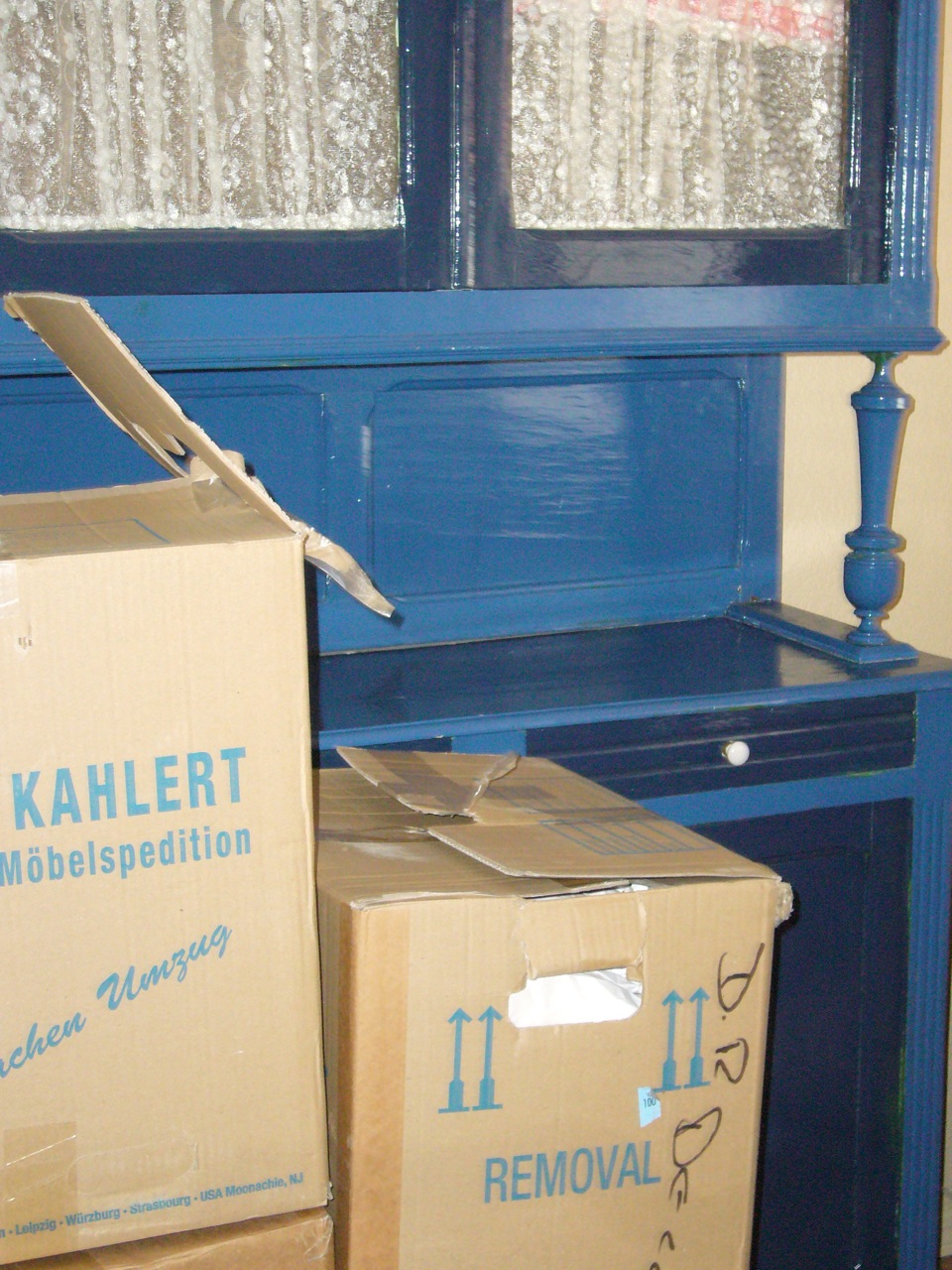 International shipping is a miracle. That anyone gets anything is totally amazing. My furniture left my house in Provence and went to Marseille. From there it went to the port of Anvers and travelled through The Panama Canal to Oakland. From Oakland it went through US Customs and Homeland Security and then went to a warehouse in San Jose. It came to my house  over three months after it left my house in France. God only knows how many people handled the shipment.
With much pressure and a fair amount of begging, the relocation firm in San Jose made a date for delivery. Indeed, the freight forwarder in San Diego turned me over to a relocation firm in San Jose. So many cooks, so little broth.
Two tall, good-looking guys arrived with a giant truck and began to unload while I checked off the numbers on each piece. Items without numbers (there were about a dozen of these) went into a special part of my garage to be inventoried when the truck was empty.
I baked homemade  chocolate chip cookies for these guys; I fed them soft drinks, gave them a bottle of local wine with a lesson on area specialties and added in a $100 cash tip. In exchange, one of them gave me a lot of attitude…and left me high and dry and up Shit Creek without a mattress.
Let me make a tangential aside at this point. My beds were two matching Sealy Posturpedic mattresses which were made up  in my Provencale guest room as a king-size bed, using American sheets.
French beds, for those who don't have a clue, are not the same size as US beds and therefore take different sheets. My beds came from America and were of a quality superior to any French bed. A set of twins is made up of four pieces: two boxsprings and two mattresses.
When we went through the entire inventory, I knew immediately that I was missing a mattress and had three out of four parts to a bed. The remaining mattress was not only useless, but in a replacement situation, I would need to find  an identical twin for  king-making purposes or buy two new mattresses.
Meanwhile, back at the tract house, I had been told by the freight forwarders that the relocation firm's movers  would unpack all fragile items and put them on a flat surface, but not put them away in shelves. I was told to check china bins for damage and report damage or loss immediately on the paperwork.
Instead, the movers never brought all of the boxes into the house. They left tall towers of boxes of fragile goods stacked in the garage., at a height impossible to reach by any mere mortal. Of the things I did unpack, there were a few broken dishes, including my most valuable piece of ceramic – a  Bjorn Winblad tulipiere that had belonged to my mother and was her most prized possession.
When the Handsome Hunks decided they were finished, they presented me with a sheaf of paperwork, including a waiver saying that they had unpacked the dishes.
"Why should I sign this?"
"Because this is America and we never do everything we say we will because we're on a schedule."
So I signed. Spare me from attitude like that.
I was immediately sorry that I signed and didn't make them perform their contractual duties, the smart alecky SOBs. I was also tired and resentful and pissed off.
When I tried to register the missing and broken pieces of furniture, as instructed by the freight forwarder, I was told that I could only do so with the shipping numbers. These numbers were located on the wrapping paper which has been removed and destroyed.
The final straw was the tirade on why these guys would not even attempt to rebuild my French furniture ("The day doesn't have enough hours, lady."). So they left and I cried.
Stay tuned for Part 4, the finale.
Suzy Gershman is the author of Suzy Gershman's Born to Shop California Wine Country, due through Amazon after September 1.  She has a storage unit in San Antonio, Texas filled with more furniture.
Take trips, not chances. For peace of mind each and every time you travel, enroll for MedjetAssist evacuation services. If you're coming to France (or for that matter anywhere) you can reserve your hotel here. To rent a car, Bonjour Paris recommends Auto Europe.
More in Bonjour Paris, Suzy Gershman
---
---