A Moving Experience – Part #1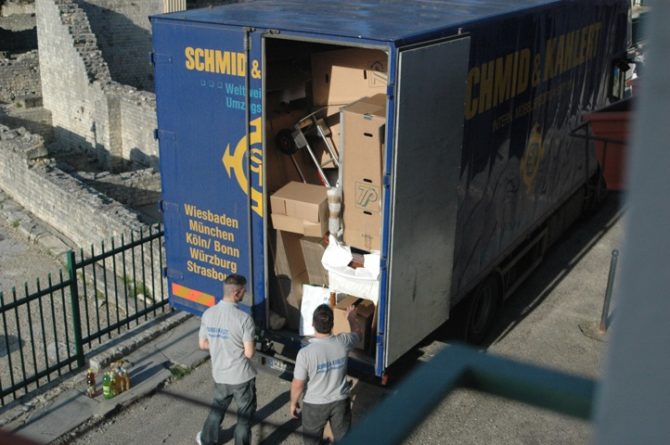 I sold my house in Provence last December to some friends who happened to see that I noted on my
web site
that I was going to put the house up for sale. It never went up for sale. They bought it. The euro-dollar exchange was $1.47. But this is not a story about fluctuating currencies, the bank that lost my money for six weeks while the euro fell further, or even about doing business with friends. We all know about that one, anyway. This story is about what happens when you decide to ship some things from France – be it a few pieces of furniture or a household worth of goods. My side of this story has a catch to it that may not apply to the average shopper or shipper: most of my goods were shipped into France ten years ago from my home in Westport, Connecticut. They are classified as "Returned American Goods". The few pieces of French furniture that I would send, or had previously sent, were antiques over 100 years old – this is also an important consideration per U.S. duties and taxes. Three years ago, I sent some of my things from Paris to San Antonio, having interviewed many shippers in Paris. I chose the firm with the handsome ad in FUSAC, the UK headquarters and the American spokesman. What a relief it was to negotiate in English. Although they packed my goods, most of the dishes arrived in smithereens. The groupage was delayed three times, and in the end it took six months to see my shards again. I would certainly never use them again. I still wince when I think of my destroyed dishes. The next move, two years ago, I used Schmidt & Kahlert, a French firm recommended by my friend Sally. I got estimates from five other movers for the shipping of five cubic meters (mostly furniture). I had devis from all the big names, such as Grospiron (who had done my local moves within Paris and is an excellent firm) and anyone else I found in FUSAC or online. S&K came in with the lowest estimate. The shipment was sent and received; the hand-painted buttery yellow armoire dated 1836 on the back came through without a scratch and was rebuilt without a word or a gripe. The experience was thrilling. After agreeing to the sale of the house before Christmas last year, my first notion was to bring only my family pieces – a few valuable antiques. The purchasers made it clear they didn't want my other furniture and didn't even seem to appreciate it when I agreed to leave some of the beds. They were anxious to paint the walls white and play house, so I was left with the 30-year-old Le Creuset. I began the shipping dance with a new group of carriers, including Schmidt & Kahlert. I soon learned: Whether you bring 5m3 or 15m3, the price is more or less the same – it's the one-time charges that are a bitch; It cost less (significantly less) to send the furniture from France to California than to Texas (go figure); S&K was again the least expensive and my contact there spoke and wrote fluent English. Although some moving companies charge more for high season, S&K would not add on an upcharge since I was a repeat customer. So I signed the bon de commande and booked my move; I booked it three months in advance as I had to have a very specific day of the week due to Market Day in my village in Provence. The contract read that I would pack and unpack the non-fragile items (books, bed linen) and they would pack (and unpack) everything else. Little did I realize what a crucial issue this would become later on… Stay tuned for Part #2. Suzy Gershman is the author of Suzy Gershman's Born to Shop California Wine Country, due through Amazon at the end of August. She has a storage unit in San Antonio, Texas filled with more furniture. Take trips, not chances. For peace of mind each and every time you travel, enroll for
MedjetAssist
evacuation services.    
SUBSCRIBE
ALREADY SUBSCRIBED?
BECOME A BONJOUR PARIS MEMBER

Gain full access to our collection of over 5,000 articles and bring the City of Light into your life. Just 60 USD per year.

Find out why you should become a member here.

Sign in

Fill in your credentials below.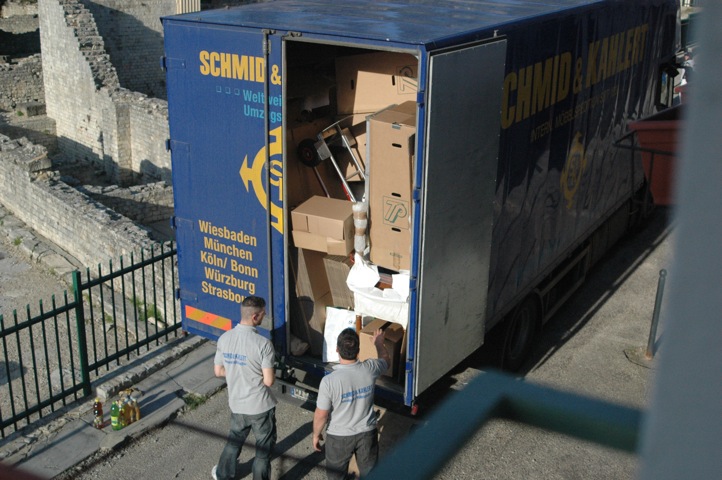 I sold my house in Provence last December to some friends who happened to see that I noted on my web site that I was going to put the house up for sale. It never went up for sale. They bought it. The euro-dollar exchange was $1.47.
But this is not a story about fluctuating currencies, the bank that lost my money for six weeks while the euro fell further, or even about doing business with friends. We all know about that one, anyway.
This story is about what happens when you decide to ship some things from France – be it a few pieces of furniture or a household worth of goods.
My side of this story has a catch to it that may not apply to the average shopper or shipper: most of my goods were shipped into France ten years ago from my home in Westport, Connecticut. They are classified as "Returned American Goods". The few pieces of French furniture that I would send, or had previously sent, were antiques over 100 years old – this is also an important consideration per U.S. duties and taxes.
Three years ago, I sent some of my things from Paris to San Antonio, having interviewed many shippers in Paris. I chose the firm with the handsome ad in FUSAC, the UK headquarters and the American spokesman. What a relief it was to negotiate in English.
Although they packed my goods, most of the dishes arrived in smithereens. The groupage was delayed three times, and in the end it took six months to see my shards again. I would certainly never use them again. I still wince when I think of my destroyed dishes.
The next move, two years ago, I used Schmidt & Kahlert, a French firm recommended by my friend Sally. I got estimates from five other movers for the shipping of five cubic meters (mostly furniture). I had devis from all the big names, such as Grospiron (who had done my local moves within Paris and is an excellent firm) and anyone else I found in FUSAC or online. S&K came in with the lowest estimate. The shipment was sent and received; the hand-painted buttery yellow armoire dated 1836 on the back came through without a scratch and was rebuilt without a word or a gripe. The experience was thrilling.
After agreeing to the sale of the house before Christmas last year, my first notion was to bring only my family pieces – a few valuable antiques. The purchasers made it clear they didn't want my other furniture and didn't even seem to appreciate it when I agreed to leave some of the beds. They were anxious to paint the walls white and play house, so I was left with the 30-year-old Le Creuset. I began the shipping dance with a new group of carriers, including Schmidt & Kahlert.
I soon learned:
Whether you bring 5m3 or 15m3, the price is more or less the same – it's the one-time charges that are a bitch;
It cost less (significantly less) to send the furniture from France to California than to Texas (go figure);
S&K was again the least expensive and my contact there spoke and wrote fluent English.
Although some moving companies charge more for high season, S&K would not add on an upcharge since I was a repeat customer. So I signed the bon de commande and booked my move; I booked it three months in advance as I had to have a very specific day of the week due to Market Day in my village in Provence.
The contract read that I would pack and unpack the non-fragile items (books, bed linen) and they would pack (and unpack) everything else. Little did I realize what a crucial issue this would become later on…
Stay tuned for Part #2.
Suzy Gershman is the author of Suzy Gershman's Born to Shop California Wine Country, due through Amazon at the end of August. She has a storage unit in San Antonio, Texas filled with more furniture.
Take trips, not chances. For peace of mind each and every time you travel, enroll for MedjetAssist evacuation services.
More in Bonjour Paris, out of France, Suzy Gershman
---
---