Mori, Lignac & Le Chardenoux Buzz
You know Massimo Mori the gregarious Venetian, from Armani Caffe, launched 1998 the year Mori became gastronomic consultant to Georgio Armani. And, you also know that since 2005 he's transformed Bon Bourse to Mori's Venice Bar. If you're on St. Vincent you need to know he created the menu for Grace Leo Andrieu's, The Cotton House
www.cottonhouse.net
He's into the personal touch is Mori, becomes your new best friend the minute you walk through the heavy glass door into the Starck designed space. There's a carnival atmosphere, with black masques in silhouette on the Starck lamps, "I adda my touches to Philippe's" he says modestly. Magnificient Murano chandeliers, a lovers alcove seats four, with low slung chandelier and banquettes made of Hermes leather! Lots of mirrors, a long bar displays the night's anti-pasti, champagne. It shrieks glamour, and with the celeb client list, small wonder. "I didn't invent anything, I just want to present a cultural cuisine using only products from the Venice area", explains Mori. "I was born in 1957 a very cold year, bad for the wine good for the truffles", he chuckles. Your mouth begins to water. Begin with a Bellini, made with prosecco (dry sparkling wine, grapes from the Veneto region) and fresh peach juice. Then Madonna is placed on the table, her robe is of the finest translucent raw ham (see photo). Mori's very keen on Caviar de Venise, topped liberally on lots of dishes. "It's very low in salt, prepared according to Cristoforo da Messibugo's 1512 recipe, a true Malossol". From the Cepes menu (until November) eight suggestions, say. carpaccio of cepes, parmesan-Reggiano and Balsamic Vinegar; Mori bans balsamic until it's at least 25 years old! Or creamy cocotte of polenta, or tagliatelles and yes, of course risotto, with cepes and baby lamb. A pumpkin ravioli is memorable, sweet and sour flavours and 50-year balsamic. Don't overlook les truffes blanches d'Alba or thick cut fegato (veal's liver) à la Venitienne, creamy polenta. Just available ("until I getta fed up") Mori's Menu Dom Perignon 2000. Yes, you can sip perfect champagne throughout the evening with a 6-course tasting menu. But be hungry, the dishes are for big appetites. And to finish a cart of home-made ice-creams, with cones. Or tiramisu Venetien, hot coffe saboyan. Spettacolare darling. Apart from the Dom Perignon there are bio Italian wines, served by the glass (white) Gavi de Gavi, with notes of bitter almond (7.50) or splash out on a silky smooth red Sassicaia 250€. Lunch time, Mori's got the touch, moving with the zeitgeist, try "The Menu CAC 40". 40€. "Mori Venice Bar will convince you that The Grand Canal is to be found in the heart of Paris", says Gilles Pudlowski in his Pudlo- Paris Guide. Pudlo elected Mori VB, Restaurant of the Year, 2007-228. Someone please tell them at Fortress Bibendum. Mori Venice Bar, 2 rue du 4 Septembre 2nd (Metro: Bourse) T: 01 44 55 51 55
www.mori-venicebar.com
Lunch Mon-Fri 12h-16hr Dinner 20h-24h – Shut Sunday. Valet Parking Armani Caffe 149 Boulevard Saint-Germain, 6th T: 01 45 48 62 15 Nice one Cyril Lignac just took over Le Chardenoux, one of those handsome sexy bistrots, read, the real Paris. Sitting at an angle on rue Jules Valles, nice terrace for warm weather outside, impressive zinc bar inside, opened in 1905 by the Chardenoux, now a listed building. Not only bistro owners, but also soap-makers, Le savon Chardonneret by Chardenoux kept Paris's bistro zincs gleaming for many years. Fast forward to 2008. Cyril, owner of Le Quinzieme, Cuisine Attitude and TV star of "Oui Chef" and "Oui Chef", the cookery books. "What a chance to continue the traditions of bistro cuisine, but revised and corrected for to-day, I just fell in love with the place, had to have it", grins Cyril. Plat du Jour is 18€. Monday: Bavette à l'echalote Tues: Souris d'agneau de l'Aveyron braisée: Wed:Hachis parmentier de canard: Thurs:Saucisse de pays, Aligot, Fri: Oven roast Daurade royale (fish it's Friday, dear) Sat: Boeuf Bourguignon, Sun: Roast Poulet fermier. Or 11€ Le Traditionel: Terrine de Campagne, "Charcuterie from my friend Ospital" and 6 snails in their shell. Other dishes include soothing Velouté of cepes, Oeuf cocotte, Salade Chardenoux. For mains, tartare of boeuf, with thick golden chips. Cote de Veau de lait from Correze, or boeuf Simmenthal. Cheese is from Marie-Anne Cantin and desserts Baba au Rhum, Profiteroles, Paris-Brest, Apple Tart and Soufflé au chocolat. Wines by Jérome Moreau (ex-Le Bristol) highlight the great regions of France. Nice one Cyril! Le Chardenoux, Cyril Lignac, 1 rue Jules Valles 11th (Metro: Faidherbe/ Charonne) T: 01 43 71 49 52 Open 7/7 Average spend: menus from 24€ A La Carte: about 40€ + wine
SUBSCRIBE
ALREADY SUBSCRIBED?
BECOME A BONJOUR PARIS MEMBER

Gain full access to our collection of over 5,000 articles and bring the City of Light into your life. Just $60 a year.

Find out why you should become a member here.

Sign in

Fill in your credentials below.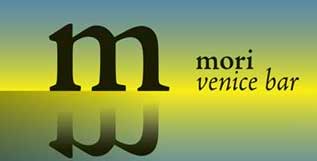 You know Massimo Mori the gregarious Venetian, from Armani Caffe, launched 1998 the year Mori became gastronomic consultant to Georgio Armani. And, you also know that since 2005 he's transformed Bon Bourse to Mori's Venice Bar. If you're on St. Vincent you need to know he created the menu for Grace Leo Andrieu's, The Cotton House www.cottonhouse.net
He's into the personal touch is Mori, becomes your new best friend the minute you walk through the heavy glass door into the Starck designed space. There's a carnival atmosphere, with black masques in silhouette on the Starck lamps, "I adda my touches to Philippe's" he says modestly. Magnificient Murano chandeliers, a lovers alcove seats four, with low slung chandelier and banquettes made of Hermes leather! Lots of mirrors, a long bar displays the night's anti-pasti, champagne. It shrieks glamour, and with the celeb client list, small wonder.
"I didn't invent anything, I just want to present a cultural cuisine using only products from the Venice area", explains Mori. "I was born in 1957 a very cold year, bad for the wine good for the truffles", he chuckles. Your mouth begins to water.
Begin with a Bellini, made with prosecco (dry sparkling wine, grapes from the Veneto region) and fresh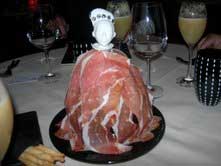 peach juice. Then Madonna is placed on the table, her robe is of the finest translucent raw ham (see photo).
Mori's very keen on Caviar de Venise, topped liberally on lots of dishes. "It's very low in salt, prepared according to Cristoforo da Messibugo's 1512 recipe, a true Malossol".
From the Cepes menu (until November) eight suggestions, say. carpaccio of cepes, parmesan-Reggiano and Balsamic Vinegar; Mori bans balsamic until it's at least 25 years old! Or creamy cocotte of polenta, or tagliatelles and yes, of course risotto, with cepes and baby lamb. A pumpkin ravioli is memorable, sweet and sour flavours and 50-year balsamic. Don't overlook les truffes blanches d'Alba or thick cut fegato (veal's liver) à la Venitienne, creamy polenta.
Just available ("until I getta fed up") Mori's Menu Dom Perignon 2000. Yes, you can sip perfect champagne throughout the evening with a 6-course tasting menu. But be hungry, the dishes are for big appetites. And to finish a cart of home-made ice-creams, with cones. Or tiramisu Venetien, hot coffe saboyan. Spettacolare darling.
Apart from the Dom Perignon there are bio Italian wines, served by the glass (white) Gavi de Gavi, with notes of bitter almond (7.50) or splash out on a silky smooth red Sassicaia 250€. Lunch time, Mori's got the touch, moving with the zeitgeist, try "The Menu CAC 40". 40€.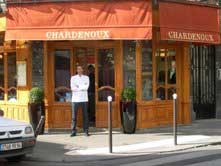 "Mori Venice Bar will convince you that The Grand Canal is to be found in the heart of Paris", says Gilles Pudlowski in his Pudlo- Paris Guide. Pudlo elected Mori VB, Restaurant of the Year, 2007-228. Someone please tell them at Fortress Bibendum.
Mori Venice Bar,
2 rue du 4 Septembre 2nd (Metro: Bourse)
T: 01 44 55 51 55
Lunch Mon-Fri 12h-16hr
Dinner 20h-24h – Shut Sunday.
Valet Parking
Armani Caffe
149 Boulevard Saint-Germain, 6th
T: 01 45 48 62 15
Nice one Cyril Lignac just took over Le Chardenoux, one of those handsome sexy bistrots, read, the real Paris. Sitting at an angle on rue Jules Valles, nice terrace for warm weather outside, impressive zinc bar inside, opened in 1905 by the Chardenoux, now a listed building. Not only bistro owners, but also soap-makers, Le savon Chardonneret by Chardenoux kept Paris's bistro zincs gleaming for many years.
Fast forward to 2008. Cyril, owner of Le Quinzieme, Cuisine Attitude and TV star of "Oui Chef" and "Oui Chef", the cookery books. "What a chance to continue the traditions of bistro cuisine, but revised and corrected for to-day, I just fell in love with the place, had to have it", grins Cyril.
Plat du Jour is 18€. Monday: Bavette à l'echalote Tues: Souris d'agneau de l'Aveyron braisée: Wed:Hachis parmentier de canard: Thurs:Saucisse de pays, Aligot, Fri: Oven roast Daurade royale (fish it's Friday, dear) Sat: Boeuf Bourguignon, Sun: Roast Poulet fermier. Or 11€ Le Traditionel: Terrine de Campagne, "Charcuterie from my friend Ospital" and 6 snails in their shell. Other dishes include soothing Velouté of cepes, Oeuf cocotte, Salade Chardenoux.
For mains, tartare of boeuf, with thick golden chips. Cote de Veau de lait from Correze, or boeuf Simmenthal. Cheese is from Marie-Anne Cantin and desserts Baba au Rhum, Profiteroles, Paris-Brest, Apple Tart and Soufflé au chocolat. Wines by Jérome Moreau (ex-Le Bristol) highlight the great regions of France. Nice one Cyril!
Le Chardenoux, Cyril Lignac,
1 rue Jules Valles 11th (Metro: Faidherbe/ Charonne)
T: 01 43 71 49 52
Open 7/7
Average spend: menus from 24€
A La Carte: about 40€ + wine
---
---