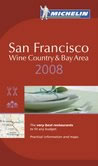 It's not available in France until December but if you're in the US of A pick up a copy of Michelin's second edition San Francisco Bay Area and Wine County 2008. More than 80 new canteens, 384 restaurant to choose from and 61 area hotels. What can you get for 16 bucks these days? Don't complain that it's all about Thomas Keller's French Laundry, of course he's got ***. There are also 6 with ** and 27 * as well as the comprehensive Bib Gourmand, good addresses under 40$ and talk about global cuisine. Michelin's done all the research all you need to do is what you get *** Michelins for – making reservations darling.  
Café de la Paix is an excellent brasserie, buzzing from dawn to dusk, eat what you like when you like. Pop in and try Olivier Lapidus's Lace is More.latest in the series, "Les Patisseries Fashion", under the toque of Paris, Capitale de la Creation,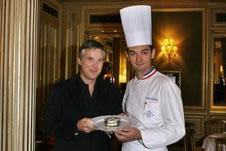 which hosts 21 fashion and home trade fairs four times a year, to show, in their words, "it all happens in Paris, world capital of trends". 
Son of Ted Lapidus and Veronique Szubert (Miss France 1955) Olivier is a talented designer who accepted and rose to the pastry challenge. "No, I don't cook, but I told Executive chef Laurent Delarbre and his pastry chef Guillaume Caron what I had in mind, we tasted about 90 different cakes, I put on at least 3 kilos," Lapidus admits, patting his six-pack. "I decided to use lace as the theme", he explains. "Lacemakers are people I know well, what fun to combine ganache with panache", he quips, 
Topped by a fine dark chocolate doily, Lace is More is a serious high-rise, decorated with elegant arabesques, a creamy bavaroise of white chocolate filled with bergamot flavour lemon jelly, the base a crunchy layer of hazelnut praline. Taste it – you'll see Lapidus has crossed the boundary between fashion and gastronomy.  
"There are hints of a shared DNA between gourmet cuisine and high fashion, between cooking and ready-to-wear, between ready made meals and mass distribution. We are all craftsmen and the language of our tradition is universal", says Lapidus, who speaks Oxford English. "After this experience I will never look at a dessert in the same way again", he smiles. 
To get rid of the 3-kilos Lapidus should head off to Le Platine, opened this week by uber-crimper (ex-Vidal Sasoon, 5 salons + a school in Paris) Daniel Montesantos and Nicole, his  psychologist wife, ready to help your head after the crimping, should you need it.  
Their colouful state-of-the-art space is where you'll  have a complete make-over, hair cut and crimp, work out with Jean Pierre Clémenceau, as does Jane Birkin, Edward Baer, Laetitia Casta) ease out all the kinks with kiné Frank Lecerf, he's also a dab hand as an osteopathe and Képhrénothérapist (electric acupuncture darling). And there's massage, acquamassage, Cellu M6, Power Plate and Cinq Mondes treatments. It's being on holiday without having to go to the airport.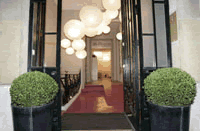 Le Platine is the realisation of a 20-year dream for the Montesantos who want to create a cocoon for their clients.  Cherry on the gateau is chef Jean Marc Perrain (Le Passage Gourmet, 15th). He's a bit of a researcher is Perrain, who discovered the secret of why the French don't get fat. 
"Don't ever think of diets, they don't work, as soon as you deprive your body of certain products, it will want them even more", he insists. "You must eat balanced dishes and you'll never put on weight".  
In Le Platine's light, bright canteen Perrain serves lunch and dinner daily, expect to taste: Yakitori chicken with spinach, ginger and pink grapefruit. Foie gras de canard with algues and passion fruit chutney. Vegetarian makis stuffed with steamed vegetables, and a herb and hibiscus salad. Sea-Bass is steamed with an infusion of algues nory, verveine, cardomane and basmati rice with saffron. And if you love lamb, Perrain's is slow cooked, his "version allegée" fragrant with fresh thyme. Finish with a Niçoise of fruits, think fruit ratatouille.  
"Cooking times are very important, steam, rotisserie or plancha is what I use, and I never add sugar or salt", he vows. So how does he get these wonderful flavours? At this point he picks up a fragrant box of dried lavender, "flowers and aromatic herbs", he reveals. Sensational! 
Address Book:
Le Platine,
9 bis-11 rue Roquépine, 8th,
Metro: Miromesnil,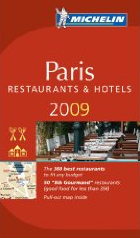 T: 01 42 68 39 00
Café de la Paix,
2 rue Scribe, 9th (Metro: Opera)
T: 01 40 07 32 32
More is Lace – 15 Jan-15 May 2008 (15€)