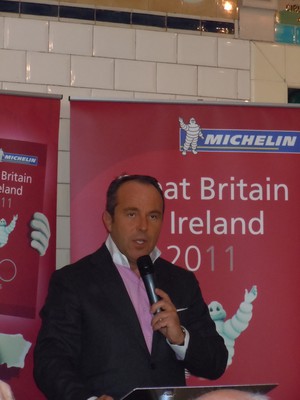 "London leads Paris and the rest of the world with its cuisine," according to Joel Robuchon. He made this astounding statement after opening his Atelier at the Drugstore Champs Elysées, Paris, talking to the London Evening Standard.
Hang on, maybe we're misunderstanding Robo. He said, "very possibly the gastronomic capital of the world". But, according to Jean-Luc Naret, former Michelin director, the man who brought the guides into the 21st century: "Robuchon has a point, because it's only in London you find every style of ethnic cooking. There's a rich diversity of cultures, Japanese, Jamaican, Indian, French, Italian, Spanish, they're all there", he confirms.
Ironic, Robo is reputed to have chucked a truffled langoustine ravioli at Gordon Ramsay when the young chef worked for him at Jamin restaurant, Paris. Now Gordon's lost his Bib Gourmand for Foxtrot Oscar, London, in the 2011 UK Guide, published this week. But he's probably not too worried—he gets 3 stars for his eponymous Royal Hospital Road address, where Clare Smyth produces excellent light versions of the wild boy's classics. And a star for the immaculate Pétrus, Knightsbridge.
As for Heston Blumenthal, who keeps 3 stars at The Fat Duck, Bray, he launches "Dinners" at The Mandarin Oriental, Knightsbridge, going from molecular to medieval, reviving recipes dating back to Tudor, Stewart and Georgian eras. "We have a culinary heritage as good as anywhere in Europe", insists Blumenthal. "Somewhere along the way it got lost. We're known as Les Rosbifs by the French because we were experts in cooking meat over open fire. They used to send their chefs to the stately homes of England to learn how to do it."
Michelin Guides had a stop-start history in the British Isles. Because of World War 1 it had a break until 1922, then stopped  again in 1930. The current guide relaunched in 1974 and has published continuously ever since.
"Over the years the guide's responded to changes in society, adapting to the needs of readers and their dining and travel habits. Back in 1911, central heating and electric lights were deemed worthy of note; in 2011, these are replaced by air conditioning, wi-fi and spas!", said Derek Bulmer, whose place as Director of the English guide, after 30 years, is  taken by—are you sitting down? A woman! Rebecca Burr has been a Michelin Inspector for 12 years; she's the first UK woman editor at Michelin UK.
"Michelin" used to be a bit of an old man's club", says Jean-Luc Naret. "Derek Bulmer played an important part changing that by including women in the inspectors' team", he adds. Although Ms Burr is the first UK editor, she's Michelin's third female editor overall, after Juliane Caspar in France and the US editor who remains anonymous.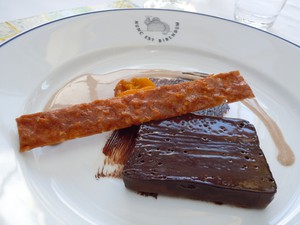 "The guide was originally given away with the tyres before it became 'Michelin the Guide'. Ten years ago it was only in France and Europe, seven years ago we launched NYC and American cities Chicago, San Francisco and Las Vegas followed by Hong Kong, Tokyo; we're now global and never stop considering our next city". If pressed, Naret votes Tokyo his favourite city to dine. "There's at least 160,000 restaurants to choose from, it's mind-blowing". Naret, who is still a consultant at Michelin, also tips the Nordic countries.
Skye Gyngell, the young chef/owner of Petersham Nurseries Café, west of London, gets a star for her lunch-only restaurant, in a greenhouse setting. where the food's all about natural flavours and you can buy plants and chic clobber for your garden/window-box/terrace at the same time.
To celebrate the centenary GB 2011 is published with a lovely little booklet recordng the guide's history. Certain hotels in the 1900 Guide are still listed 100 years on; they're framed with "100" in laurel leaves, to pay tribute to their longevity. Ms Burr says there's no doubt 2010 was a difficult year. "But the hotels and restaurants that represent value for money were the ones best placed to weather the storm. We discovered 12 new one-stars and awarded 26 new Bib Gourmands", she says.  Apart from true Brit Nathan Outlaw and the talented Ms Darroze, note The Pony and Trap, Chew Magna, really good cooking is found in gastro-pubs.
"The future looks bright—the 2012 Olympics will give chefs new motivation", thinks Naret.
He's staying on, but moving on to new and exciting projects. Of being with Michelin Guide, he says his successors need to stop and think: "If I can't recommend this restaurant to a friend, why am I putting it in the guide?"
Michelin, Great Britain & Ireland 2011
If you're traveling reserve your hotel here. To rent a car, Bonjour Paris recommends Auto Europe.