Material World: Paris Fabric Stores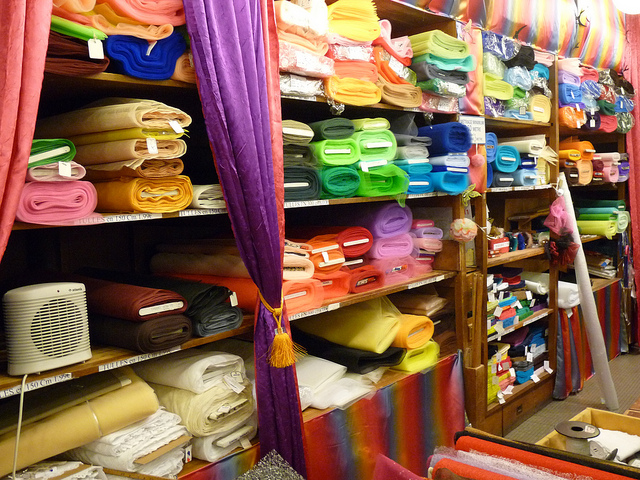 Paris, home of haute couture, is also friendly toward those who can only manage what might be called basse couture—simple, easy sewing of the most basic kind, like making cushions, tablecloths, bags, or napkins. When the fabric is the star, you don't need to be a fashion designer to make something unique. Place Saint-Pierre fabric district, Paris 18th And what a wealth of fabrics you can find in the Paris 18th! Head to Montmartre (Métro: Anvers) and walk uphill toward Sacré-Coeur and Place St-Pierre. You will find yourself in a paradise of fabrics—indeed, one fabric store is called Au Bonheur des Dames, the title of the Zola novel, which was translated into English as The Ladies' Paradise. The first time we stumbled upon this corner of Paris, it was late afternoon in December and dusk had already fallen. The brightly lit streets with their riots of colored fabrics displayed on tables along the sidewalk looked like a Middle Eastern bazaar. We returned in springtime, and spent more time browsing in the dozens of fabric shops lining the streets. We found a sunny cotton with a pattern of eighteenth-century calligraphy for a tablecloth, and a little hooded terrycloth robe for our grandson at Tradition des Vosges, a shop that sells linens and towels. If you like Toile de Jouy, you will find dozens of versions to choose from in these streets, from heavy materials suitable for cushion covers, to delicate cottons the weight of a handkerchief. There are velvets, brocades, tapestries, embroidered silks and printed chintz. If you are a quilter and you want remnants, ask for "coupons." A few shops in this area sell trimmings, notions and even feather boas for your next fancy dress party, but for more choice, widen your search. SOME PARIS 18TH FABRIC SHOPS: Au Bonheur des Dames 1-3, rue Livingstone Open Monday-Saturday 10am-6pm
Le Coupons de Saint Pierre
1, Place Saint Pierre Open Monday-Saturday 9:30am-7pm
Marché Saint-Pierre
2, rue Charles Nodier Open Monday-Friday 10am-6:30pm, Saturday 10am-6pm 5 floors of fabric for apparel & upholstery, decorator service available Tissus-Moline 1, Place Saint-Pierre Open Monday-Saturday 9:45am-7pm
Tissus-Reine
3-5, Place Saint-Pierre Open Monday 2-6:30pm; Tuesday-Friday 9:30am-6:30pm; Saturday 9:45am-7pm
Tradition des Vosges
3, rue d'Orsel Open Monday-Saturday 10am-6pm Marché aux Puces de la
Porte de Vanves
, Paris 14th Flea markets such as the one at the Porte de Vanves are a good place to find lace trimmings or antique buttons, often sold on the original card. If you can sew on a button, you can take an ordinary cotton shirt and make it look distinctive with vintage accessories. Getting there: Métro: 13, Porte de Vanves Open Saturdays & Sundays: avenue Marc Sangnier open until 1pm; avenue Georges Lafenestre all day
Mokuba
, Paris 1st The place for ribbons is Mokuba,18 rue Montmartre, Paris 1st. This Japanese shop specializes in them. If you can imagine a type of ribbon made of any kind of fabric, up to and including fake fur, they will have it. Getting there: Métro: Les Halles Open Monday-Friday 9:30am-18:30pm
La Droguerie
, Paris 1st Just around the corner at 9 & 11, rue du Jour, is La Droguerie. Don't be confused by the name. This is the place for knitting or crocheting fanatics. The colorful shop opposite St-Eustache also has a little outpost on the third floor of le Bon Marché and several outlets throughout France . Getting to this location: Métro: Les Halles Open Monday 2-6:45pm; Tuesday-Saturday 10:30am-6:45pm. August 2011: open only Tues-Sat (regular hours)
Le Bon Marché
, Paris 7th This should be your next stop. The sewing department, or "mercerie,"  on the third floor of the Bon Marché is all dark wood and soft lighting and has sewing boxes so exquisite that you will long for one even if you've never sewed a stitch in your life. Getting there: Métro: Sèvres-Babylone Open Monday-Wednesday & Saturday   10am-8pm; Thursday & Friday 10am-9pm
Toiles du Soleil
, Paris 7th While you are in the neighborhood, visit Toiles du Soleil at 101, rue du Bac. All the materials are made in St-Laurent de Cerdans, in the south of France, close to the Spanish border. The sturdy fabrics are used to make espadrilles, but also bags, towels, tablecloths and deck chairs. Getting there: Métro: Sèvres-Babylone Open Monday-Saturday, 10:30am-7pm
L'Entrée des fournisseurs
, Paris 3rd In the Marais, L'Entrée des fournisseurs at 8, rue des Francs-Bourgeois (go to the back of the courtyard) is another Aladdin's cave of color and texture. I guarantee that you will suddenly develop an urgent need for tassels, one-of-a-kind buttons and frog fasteners. Getting there: Métro: St-Paul Open Monday 2-7pm; Tuesday-Saturday 10:30am-7pm. Closed August 22-29, 2011 Maupiou, Paris 8th Finally, if you really do know something about sewing or fashion and are not easily intimidated, you are ready for the hautest of the haute: Maupiou. This designers' paradise at 2, rue de la Paix, just around the corner from the Place Vendôme, is a temple to exclusive and expensive materials for fashionistas. Dress like one when you go! Getting there: Métro: Opéra Open Monday-Saturday 10am-6:45pm Of course, if you bring home enough beautiful fabric, you may suffer from what the French call the "Diderot Effect." The…
SUBSCRIBE
ALREADY SUBSCRIBED?
BECOME A BONJOUR PARIS MEMBER

Gain full access to our collection of over 5,000 articles and bring the City of Light into your life. Just 60 USD per year.

Find out why you should become a member here.

Sign in

Fill in your credentials below.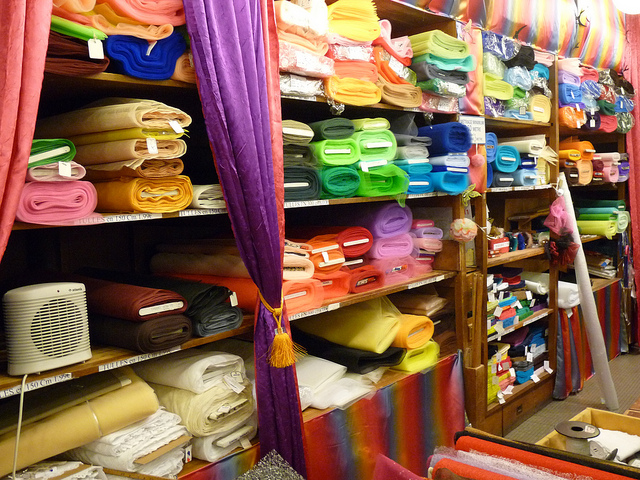 Paris, home of haute couture, is also friendly toward those who can only manage what might be called basse couture—simple, easy sewing of the most basic kind, like making cushions, tablecloths, bags, or napkins. When the fabric is the star, you don't need to be a fashion designer to make something unique.
Place Saint-Pierre fabric district, Paris 18th
And what a wealth of fabrics you can find in the Paris 18th! Head to Montmartre (Métro: Anvers) and walk uphill toward Sacré-Coeur and Place St-Pierre. You will find yourself in a paradise of fabrics—indeed, one fabric store is called Au Bonheur des Dames, the title of the Zola novel, which was translated into English as The Ladies' Paradise.
The first time we stumbled upon this corner of Paris, it was late afternoon in December and dusk had already fallen. The brightly lit streets with their riots of colored fabrics displayed on tables along the sidewalk looked like a Middle Eastern bazaar.
We returned in springtime, and spent more time browsing in the dozens of fabric shops lining the streets. We found a sunny cotton with a pattern of eighteenth-century calligraphy for a tablecloth, and a little hooded terrycloth robe for our grandson at Tradition des Vosges, a shop that sells linens and towels.
If you like Toile de Jouy, you will find dozens of versions to choose from in these streets, from heavy materials suitable for cushion covers, to delicate cottons the weight of a handkerchief. There are velvets, brocades, tapestries, embroidered silks and printed chintz. If you are a quilter and you want remnants, ask for "coupons."
A few shops in this area sell trimmings, notions and even feather boas for your next fancy dress party, but for more choice, widen your search.
SOME PARIS 18TH FABRIC SHOPS: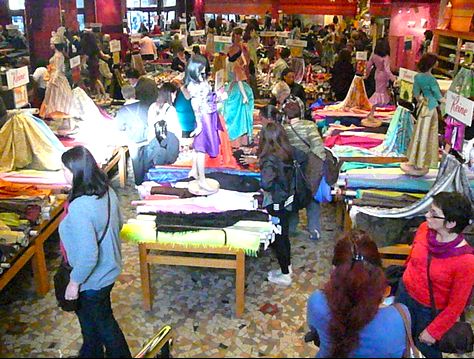 Au Bonheur des Dames
1-3, rue Livingstone
Open Monday-Saturday 10am-6pm
1, Place Saint Pierre
Open Monday-Saturday 9:30am-7pm
2, rue Charles Nodier
Open Monday-Friday 10am-6:30pm, Saturday 10am-6pm
5 floors of fabric for apparel & upholstery, decorator service available
Tissus-Moline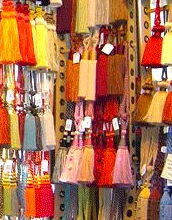 1, Place Saint-Pierre
Open Monday-Saturday 9:45am-7pm
3-5, Place Saint-Pierre
Open Monday 2-6:30pm; Tuesday-Friday 9:30am-6:30pm; Saturday 9:45am-7pm
3, rue d'Orsel [see site for other Paris and France locations]
Open Monday-Saturday 10am-6pm
Marché aux Puces de la Porte de Vanves, Paris 14th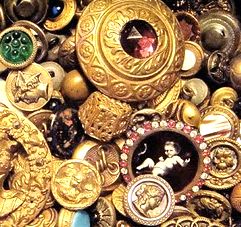 Flea markets such as the one at the Porte de Vanves are a good place to find lace trimmings or antique buttons, often sold on the original card. If you can sew on a button, you can take an ordinary cotton shirt and make it look distinctive with vintage accessories.
Getting there: Métro: 13, Porte de Vanves
Open Saturdays & Sundays: avenue Marc Sangnier open until 1pm; avenue Georges Lafenestre all day
The place for ribbons is Mokuba,18 rue Montmartre, Paris 1st. This Japanese shop specializes in them. If you can imagine a type of ribbon made of any kind of fabric, up to and including fake fur, they will have it.
Getting there: Métro: Les Halles
Open Monday-Friday 9:30am-18:30pm
Just around the corner at 9 & 11, rue du Jour, is La Droguerie. Don't be confused by the name. This is the place for knitting or crocheting fanatics. The colorful shop opposite St-Eustache also has a little outpost on the third floor of le Bon Marché and several outlets throughout France [see website].
Getting to this location: Métro: Les Halles
Open Monday 2-6:45pm; Tuesday-Saturday 10:30am-6:45pm. August 2011: open only Tues-Sat (regular hours)
This should be your next stop. The sewing department, or "mercerie,"  on the third floor of the Bon Marché is all dark wood and soft lighting and has sewing boxes so exquisite that you will long for one even if you've never sewed a stitch in your life.
Getting there: Métro: Sèvres-Babylone
Open Monday-Wednesday & Saturday   10am-8pm; Thursday & Friday 10am-9pm
While you are in the neighborhood, visit Toiles du Soleil at 101, rue du Bac. All the materials are made in St-Laurent de Cerdans, in the south of France, close to the Spanish border. The sturdy fabrics are used to make espadrilles, but also bags, towels, tablecloths and deck chairs.
Getting there: Métro: Sèvres-Babylone
Open Monday-Saturday, 10:30am-7pm
In the Marais, L'Entrée des fournisseurs at 8, rue des Francs-Bourgeois (go to the back of the courtyard) is another Aladdin's cave of color and texture. I guarantee that you will suddenly develop an urgent need for tassels, one-of-a-kind buttons and frog fasteners.
Getting there: Métro: St-Paul
Open Monday 2-7pm; Tuesday-Saturday 10:30am-7pm. Closed August 22-29, 2011
Maupiou, Paris 8th
Finally, if you really do know something about sewing or fashion and are not easily intimidated, you are ready for the hautest of the haute: Maupiou. This designers' paradise at 2, rue de la Paix, just around the corner from the Place Vendôme, is a temple to exclusive and expensive materials for fashionistas. Dress like one when you go!
Getting there: Métro: Opéra
Open Monday-Saturday 10am-6:45pm
Of course, if you bring home enough beautiful fabric, you may suffer from what the French call the "Diderot Effect." The French philosopher and encyclopaedist Denis Diderot was once given a very grand red dressing gown. But when he put it on, it made his surroundings look shabby. The furnishings of his study—a wicker chair, a wooden table, a plain rug, a wooden plank that held some books—had to go. He replaced the wicker chair with a leather one, the wooden table with a formal desk, the rug with a fancy wall hanging, and the plank bookshelf with an inlaid armoire.
You have been warned. That scrap of exquisitely embroidered silk in your suitcase may require you to redecorate the whole house.
PHOTO CREDITS: Marché Saint-Pierre ©Philippa Campsie
More in 18th arrondissement, 1st arrondissement, 3rd arrondissement, 4th arrondissement, 7th arrondissement, 8th arrondissement, arts-and-crafts, coupon, couture, crafts, decor, design, diderot, diderot effect, discount, discount shopping, entree fournisseurs, fabric district, fabric shop, gift shop, interior design, knitting, Montmartre fabric, Paris shopping, reine fabric, saint-pierre, Saint-Pierre fabric, Shopping, stock shop, tissus reine, wholesale
---
---
Comments