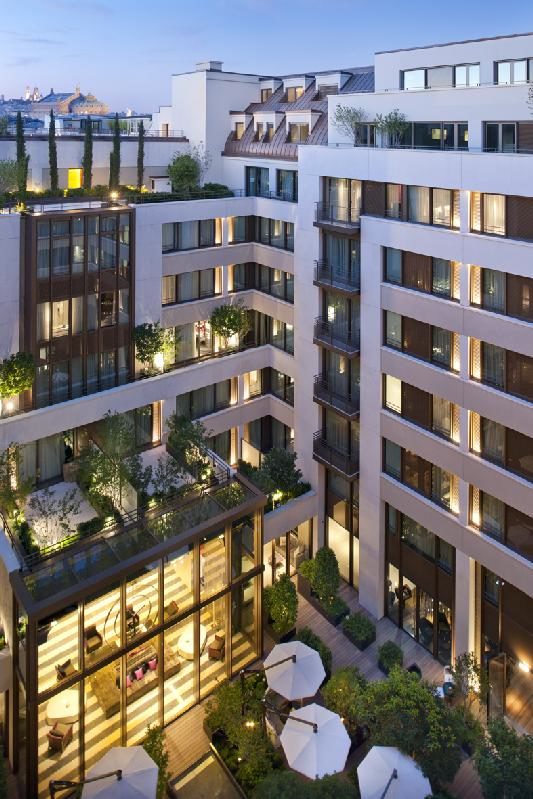 With 27 hotels to date and 47 new openings on the drawing board, Mandarin Oriental has opened in Paris at the sign of the couture fan. Located between Place Vendôme and Place de la Concorde, it's the first French hotel awarded Haute Qualité Environnementale for its construction methods. Here's all you need to know.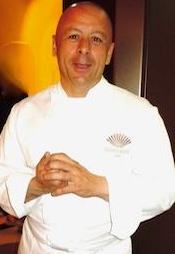 The 99 rooms and 39 suites include the duplex, a 340-square meter Royal Mandarin suite. Beautiful gardens and, apart from exotic plants and flowers, the focal point is a huge birdcage, La Table du Chef, in which six to eight people can dine. Comptoir de Pâtisseries provides a delicious pastry fix. Restaurants are Camélia, in a garden setting, and Sur Mesure par Thierry Marx, the two-star culinary wunderkind, who deserves three (ex-Château Cordeillan Bages).
Executive chef TM was raised in the tough 20th arrondissement. "It was a very mixed area, all colors and creeds," he explains. "My grandfather was a Polish immigrant, an Ashkenazi, I grew up a street-fighting kid." Today Marx, inspired by Japanese Kaiseki haute cuisine, spends any free time in the land of the rising sun and, rumor has it, once worked for Mossad. Local boy makes good, eh?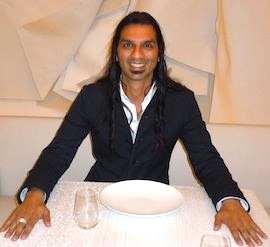 The Mandarin Oriental chose a cast of fascinating characters to create their 8-story hotel. Apart from Marx there's talented design duo Patrick Jouin (ex-Starck) and Kenyan-born Sanjit Manku, with rock-star looks. Their Mandarin mission: "Create a world apart, to showcase the universe of Thierry Marx." Mission accomplished, guys. Sur Mesure par Thierry Marx is a womb-like, off-white bubble dedicated to serious, sensual eating. "To take a break (and a leak) we've done these incredible restrooms," suggests Manku. Pure Alice. The counter of Le Bar 8 weighs in at nine tons of Spanish stone. "It took nine months to shape it," admits Manku.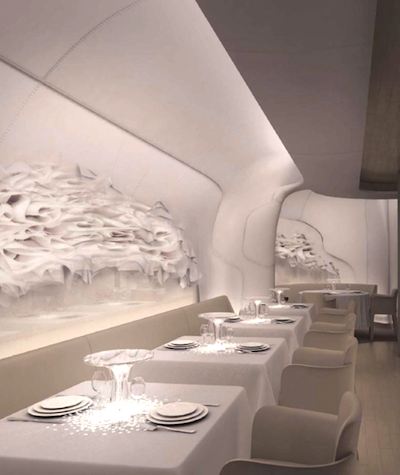 Philippe Leboeuf, dynamic director general, (ex-Claridge's, London) whizzes around Paris on his bike with Archie, the border-terrier, running beside him on a lead, bien sûr.
Jean-Michel Wilmotte, architect of the project, says, "It's a listed restoration, this site has seen many lives since it was constructed in the XVI century as the Capucins Convent; subsequently it was a circus and has even been a School of Equitation."
Sybille de Margerie gave the first bash at The Mandarin in 2009. "To celebrate 20 years of SM Design, it was a 'Construction Party,'" explains de Margerie (born into the tribu Taittinger). The 138 rooms and suites, the Lobby and seven-suite spa (with 14-meter black pool) each with private shower, hammam and dressing room have de Margerie's signature. All are punctuated with photos by Ali Mahdaiv, paintings by Thierry Bisch and Nathalie Decoster's sculptures.
The signature of Mandarin Oriental is a fan. In Paris it's embroidered by haute-couture's Maison Lesage. Become a fan. I am. See you there!
Tél: 01 70 98 73 33
251, rue Saint-Honoré, Paris 1st
Métro: Tuileries
Restaurant Sur Mesure par Thierry Marx
Shut Sun-Mon
Lunch 70€ Dinner 145-180€ + wine
Restaurant du Camélia
from 45€
La Table du Chef in the garden for 6-8 people
Open 7/7
Rooms & Suites from 765€-20,000€

Crock & Bio, Paris 17th

Crock & Bio is a new concept in organic eating, the creation of Tom Daniac (ex-Ritz, Reno de Barcelona, L'Atelier de Joël Robuchon, Jacques Cagna, Castel and Pascal Aussignac's Le Club Gascon, London) and Sandra Rexach, who met in a Spanish organic restaurant in Barcelona 12 years ago while on work experience. Tom grew up in a restaurant; his parents own the vegetarian Guenmai (6, rue Cardinale, Paris 6th, Tél: 01 43 26 03 24), a favorite with Natalie Portman, Vanessa Paradis and Johnny Depp and La Adjani.
Buzzing daily with clients while composing their own salads from the organic ingredients on display, there's always a plat du jour featuring sustainable fish and grains. As the lady sitting next to me commented: "I'm on a diet; and this is exactly the lunch my nutritionist wants me to get into the habit of eating." Tom and Sandra say they're creating a healthy alternative to fast food, inspired by their travels and respecting the health of their clients and the environment. Fresh juices are pressed on the spot and everything is made in-house, including the delicious sugar-free or low-sugar desserts. Wines are organic and everything's 100% Bio.
Tél: 09 50 38 35 01
98, avenue Niel, Paris 17th
Métro: Pereire
Open Mon-Fri 9am-6pm Shut Sat-Sun
Average Spend – 15€
Sandwiches
Photo credits
Mandarin Oriental, Paris hotel photos ©Mandarin Oriental publicity
Sanjir Manku, Designer, AGENCE JOUIN-MANKU ©Margaret Kemp
Thierry Marx ©Margaret Kemp
Sandra Rexach & Tom Daniac, Crock & Bio   photo ©Margaret Kemp
Margaret Kemp is a Cordon Bleu graduate who spent a year traveling the world, working and watching in the kitchens of top chefs from Sydney, Australia via Bangkok, Hong Kong, California, New York and France. She reports for BonjourParis on the latest European trends, restaurants and hot spots.
Sign up now for your own free subscription to BonjourParis & we'll send you Wednesday & Sunday newsletters that link to original France travel stories, news, recipes and travel photography. 50 original stories monthly from your most complete online France travel & Francophile lifestyle eZine. RSS feed available.
Did you know you can buy anything from Amazon.com at our store? Anything a Francophile or traveler needs: books, digital readers & cameras, imported food & beauty products, movies & music, cooks' essentials, plus imported gifts at our BonjourParis Amazon.com Boutique? You benefit from competitive pricing and speedy delivery as your purchases support costs of keeping BonjourParis your most complete online France travel resource. Merci in advance for your support—we appreciate every centime.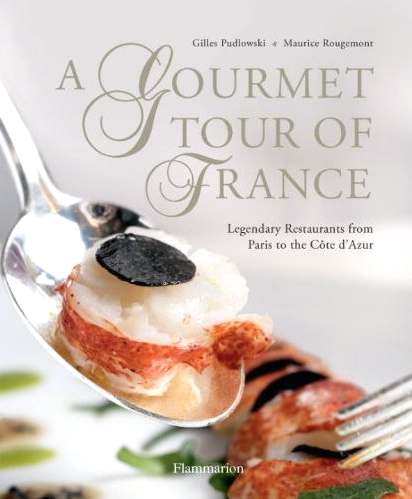 A Gourmet Tour of France: Legendary Restaurants from Paris to the Côte d'Azur
A beautiful book about the finest restaurants in France by prominent French restaurant critic Gilles Pudlowski. Take a culinary tour of 35 gourmet restaurants in France, see the beautiful decor, read menu selections & the stories behind accomplished chefs, including: Paul Bocuse, Alain Ducasse, Guy Savoy, Michel Bras, Franck Cerutti, Hélène Darroze, and the famed Maison Troisgros in Roanne, which Zagat lists as the best restaurant in the world. Enticing photographs, a finely-researched bible of French gastronomy offers a feast for the eyes. Featured chefs divulged a few of their signature recipes to enjoy at home. A list of addresses to the restaurants allows readers to create their own gourmet tour. Author Gilles Pudlowski is a food and literature critic for Le Point who annually publishes his guides Pudlo Paris and Pudlo France. [Click on the title above for more info or to order.]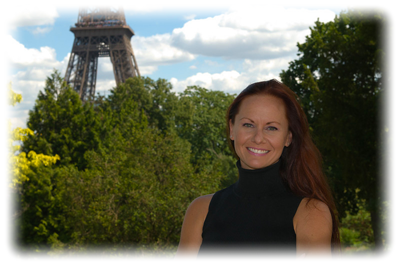 One call and you'll know why we trust Lisa Buros-Hutchins of Your Paris Experience to arrange anything and everything for our friends with the highest expectations. She's planned romantic marriage proposals and honeymoons so dreamy we dare not speak of them here. Maybe you want dinner reservations at a top Paris restaurant where not even the Parisians can score a reservation? Try Lisa—nothing is beyond her. Say BonjourParis referred you and put her to the test of making your stay perfection.