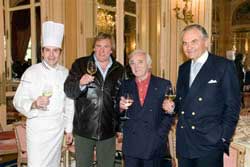 Meet Bernard Magrez, billionaire French wine maven, who owns vineyards worldwide,  markets the seven vineyards owned by bad-boy actor/vigneron and restaurant owner Gerard Depardieu. Magrez's strategy for selling his wines is based on not expecting wine drinkers to respond to appellation names: make them respond to the moniker Bernard Magrez: his signature appears on each bottle, "so that, globally, wine lovers recognise this sign of excellence". Read, the Louis Vuitton of the wine world.
Just to put you in the picture, at the time of writing, Magrez's portfolio contains 22 Bordeaux vineyards, 6 Languedoc Rousillon and 8 or 9 covering Spain, Chile, Argentine and California. Add interests in Japan, Italy, Croatia.
If you love wine look at www.pape-clement.com it's fabulous. If you're rich, and love wine,  Magrez will fly you by private jet (Falcon 50) to visit his vineyards, stay with him, there's heli and Roll-Royce on call. How about dinner at the chateau, rare vintage tastings or wine blending sessions with uber-oenologist Michel Rolland, private concerts, cookery lessons with top chefs? "Americans love wine, love to learn about the different grape varieties, compare them with California wines: they're thirsty to know the history", says Magrez.
They may also want to know that as a child in Nazi-occupied France, Magrez's father hid a Jewish family in the family's cellar during the war. "I remember my father saying, "Il faut vivre debout" – one must live upright," says Magrez. "To live "debout" you have to take risks. What my father did during the occupation now gives me a sense of how to take risks".
In Paris the Bernard Magrez Wine cellars give tastings of all the wines and is open throughout the summer. And don't be surprised to see Depardieu, Francoise Hardy and other celeb wine anoraks doing their marketing – the Pape Clement Sturia Caviar d'Aquitaine pack is a best "celler".
Cave Bernard Magrez,
43 rue Saint-Augustin,
Shut Sunday
T: 01 49 24 03 11
Cafe Reale is a modern brasserie located in the Tuileries Gardens, perfect setting, sit under manicured chestnut trees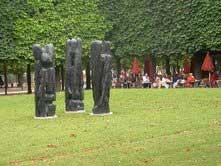 (beware of falling leaves), look at the sculptures (SEE PHOTO), the people. Order a plat du jour, just have a glass of Italian wine, the menu theme is everyday Italian. A plate of antipasti for the ladies who do, lasagna, piadina (Italian wheat pancakes stuffed with, say, roast chicken, prosciutto San Daniele, vegetables) or green asparagus risotto with jumbo shrimp for him. Fabulous desserts taste as if they have Luciano's mother locked in the cucina, try Torta della nonna or Tiramisu, you'll see what I mean. There's Brunch on Sunday and a menu Bambino. Delightful staff: it's Costes without the pretentions and price and you've go the finest gardens in Paris to stroll around before or afterwards. Why not rock up to their Tai-Chi class on Mondays 19-20hrs? The session costs 7€ including a zen vitamin cocktail. Peace & love.
Le Cafe Reale,
Kiosque Nord-Ouest,
Jardin de Tuileries, 1st.
Metro: Concorde
Open 7/7
T: 01 42 96 63 03
Lunch formula 17€
Brunch 24€ Sunday 11-16hrs
Menu Bambino – 8€