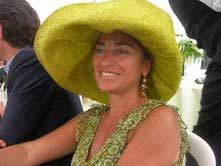 For property guru Emile Garcin founder, in 1963, of Emile Garcin Propriétés, "the economic crisis just doesn't exist". Last year the group's sales increased by 20% due to an international clientele continually on the lookout for exceptional properties. The total amount of property sold amounted to 250 million euros: over half of the transactions were French buyers.
"In this fragile market, exceptional property is unaffected by the economic context, thanks to the internationalisation of the market, the property's value will be preserved", explains Nathalie Garcin, Emile's daughter and Presidente of Garcin Propriétés. Mme Garcin created the left-bank Paris agency in 1990, followed by Biarritz, Deauville, Paris Rive-Droite, Ile-de-France, Perigord, Bordeaux. Her husband Philippe Chevalier develops  business in Morocco, Tangiers, Marrakech, lots of riads and wonderful traditional residences. Dad, Emile, is in Saint-Remi-de-Provence and the rest of the family have the high-end of the hexagon and the UK well covered. Why so many offices and, check the web-site, all located in handsome "wish-list" residences? "You have to be on the spot to sell in a region", says Mme Garcin who also lets studios to students from wealthy families, to embassy staff or businessmen in town for short stays.
Frequently clients end up buying rented apartments as pieds a terres. In Paris prices per square meter are around 10,000 euros and between 13,000-15,000 for exceptional properties. Obviously with Paris divided into 20 arrondissements, prices vary between the different areas.
Prices of Paris apartments rose by 10% at the tail end of last year despite the global credit crunch according to a report by the Notaire de France. And research shows Paris is the third most attractive property investment market in Europe after London and Munich.
So who's buying?
"Americans have been more or less replaced by Europeans, the Russians are investing, mainly on the right-bank where they want Seine and Eiffel Tower views. Brazilians love the 8th and 16th and Italians insist on left-bank. The Swiss, Belgiums, Spanish go left or right whereas the English only want left and Middle Eastern clients prefer 8th, 16th or Neuilly", explains Mme Garcin, a delightful woman with wonderful energy, who enters her Porsche 911 (1989) in the prestigious annual Rallye des Princesses from Paris to Cannes. "A life enhancing experience", she says.
As you do when you're a successful outfit, you sponsor a sport. The Emile Garcin Polo Team did not reach the 115th Final Open de Paris 2009, but decided to celebrate anyway and invited a few close personals to lunch at The Polo de Bagatelle, to watch the final www.polodeparis.com
It's a tres chic affair, and you muse that most of the polo players, guests and afficiandoes probably go home to abodes and hotels particulier purchased from Emile Garcin. "Ladies must wear hats, jackets and ties are required", specified the invitation. Bagatelle Polo Club was a sea of silky colours, a touch of yesterday.
As for the polo, Alain de Foucard the gregarious and dashing Captain of Team Emile Garcin, who only began playing when he was 50, swears it's addictive, he explains.  "It's a game of skill and speed, a team sport, four players on each team, goal posts at each end of the ground, the ojective is to hit the ball with the mallett, while keeping control of the horse, and score a goal". Impressive. "The goal is only counted if the scoring rider is mounted", grins de Foucard. "The levels of our tournaments from "low goal" to "high goal" are based on team handicaps, and yes, there are some fine women players".
And if you want to meet the Garcins diary date 26-28th November when they'll be at the Salon de l'Immobilier de Prestige", Carrousel du Louvre, Paris