Living in Provence: driving, French-style

Nyons, France. My cute little red Citroën had its oil changed yesterday in preparation for next week's trip to the Gorge du Verdon with my friends, Alice and Elliot, who will be visiting from New York. It was Elliot's idea to see the Gorge, which is known as the Grand Canyon of Europe. While the one in the USA is dry and sandy in hues of sienna, ochre and umber, the one in Provence is lush and verdant with splendid waterfalls and a translucent turquoise river and glistening man-made lake. Alice has already been given a shopping list, which includes all the critical life-and-death, can't-live-without items, such as Ocean Spray cranberry sauce, sweet pickle relish, Bush's (if you'll excuse the expression) canned baked beans and other like exotica not available in France. Traveling over "heavy," I've assured them, will be good practice for all the pottery and wine they will schlep back to the USA.   I have been meticulous in warning them about my car: it is small and basic, though it does have a radio. Since neither of them will be driving, they need not be concerned that it's a stick shift with no power steering. What I have not warned them about is French driving–that is, driving in France as les Français drive. I tell myself perhaps they won't notice.   The French drive on the same side of the road as Americans (Unlike the residents of that little island across the channel.). Though many of the French driving laws are similar to the American laws, the attitude of any self-respecting French person is that these laws are meant for foreigners blessed with the good fortune of visiting this noble country. Speed limits? Bah, who ever heard of such a thing!   This is not Paris; we have certain signs in la France profonde, such as wild-boar crossing, that one does not encounter in metropolitan areas. My friend a href="http://www.autoeurope.com/showspecial.cfm?aff=bonjourparis" mce_href="http://www.autoeurope.com/showspecial.cfm?aff=bonjourparis" target="_blank" rel="nofollow"> Mary's favorite road sign says simply "Plantation!" or sometimes "Plantation Inclinée!" You know those famous allées, the scenic country roads lined with often leaning plane trees? Well, the "Plantation!" or "Plantation Inclinée" signs exist to warn that these trees are approaching. As Mary quite rightly puts it, "Not a whole lot you can do about that now, is there?" But, then again, Mary has never been chased by an angry allée of tilting plane trees!   To the average French person (We are speaking here of the average French person in the countryside.), a NO PARKING sign does not really mean no parking; what it means is no parking for anyone who doesn't live here. Ditto for the signs advising maximum speed limits of 130 (kilometers, that is)! There is a certain free-for-all style to how the French manage to arrange creatively their cars when they are not in motion. Among the more common are cars parked halfway on the sidewalk on a one-way street facing the wrong way and cars wedged horizontally in between two vertically parked cars. Famous for thriftiness, the French have as their parking motto, let no space go to waste!   Then there is the matter of one-way (voie-unique) streets, such as the sloping and narrow one where I live. On such streets, it is not uncommon to see French cars racing backwards up the street. In fact, there is an obscure French law (The number of which I'm convinced exceed opinions in the Talmud.) that says it is legal to drive the wrong way on a one-way street as long as the front of the car is facing in the right direction!   And, while we are speaking about French cars, what constitutes a bona fide French car is not so simple as you may think. When I bought my Citroën AX10 (a French marque, to be sure), I paid for it in euros drawn on a French bank, filled it with 98% sans plomb (lead-free) gas from a French gas station, affixed my little green French insurance sticker to the lower right-hand corner of the front windshield, as required by law, attached my spiffy new black-and-white French license plates complete with the number 26, which indicates that I live in the Drome region, and even bought two F for France stickers, one for the European Community, the other for la France, to affix to the rear just in case there was any doubt. When I first parked the car on this street, my neighbors, les Allemandes, insisted my red cutie was not a French car. Huh?? A French car, I was informed, is full of dents inflicted by French drivers. A German car, of course, would never show itself in public with the least little blemish. My car was too pristine to be really French. I looked around; they definitely had a point. Sadly, in a few weeks' time, my little bébé was duly baptized in the parking lot of my favorite hypermarché.   The most dangerous time to drive in France is during "the deadly hour," which is after the evening apéro (apéritif) and before dinner. "The deadly hour," of course, often lasts several hours because most French people eat around 9:00 PM. For many people, the apéro involves drinking kir or several glasses of Pastis (revolting stuff!) on an empty stomach before getting behind the wheel, all fired up to drive home. Yes, I'm a professed fanatic on the subject of drinking, driving and never mixing the two,…
SUBSCRIBE
ALREADY SUBSCRIBED?
BECOME A BONJOUR PARIS MEMBER

Gain full access to our collection of over 5,000 articles and bring the City of Light into your life. Just 60 USD per year.

Find out why you should become a member here.

Sign in

Fill in your credentials below.
Nyons, France. My cute little red Citroën had its oil changed yesterday in preparation for next week's trip to the Gorge du Verdon with my friends, Alice and Elliot, who will be visiting from New York. It was Elliot's idea to see the Gorge, which is known as the Grand Canyon of Europe. While the one in the USA is dry and sandy in hues of sienna, ochre and umber, the one in Provence is lush and verdant with splendid waterfalls and a translucent turquoise river and glistening man-made lake. Alice has already been given a shopping list, which includes all the critical life-and-death, can't-live-without items, such as Ocean Spray cranberry sauce, sweet pickle relish, Bush's (if you'll excuse the expression) canned baked beans and other like exotica not available in France. Traveling over "heavy," I've assured them, will be good practice for all the pottery and wine they will schlep back to the USA.
I have been meticulous in warning them about my car: it is small and basic, though it does have a radio. Since neither of them will be driving, they need not be concerned that it's a stick shift with no power steering. What I have not warned them about is French driving–that is, driving in France as les Français drive. I tell myself perhaps they won't notice.
The French drive on the same side of the road as Americans (Unlike the residents of that little island across the channel.). Though many of the French driving laws are similar to the American laws, the attitude of any self-respecting French person is that these laws are meant for foreigners blessed with the good fortune of visiting this noble country. Speed limits? Bah, who ever heard of such a thing!
This is not Paris; we have certain signs in la France profonde, such as wild-boar crossing, that one does not encounter in metropolitan areas. My friend a href="http://www.autoeurope.com/showspecial.cfm?aff=bonjourparis" mce_href="http://www.autoeurope.com/showspecial.cfm?aff=bonjourparis" target="_blank" rel="nofollow">

Mary's favorite road sign says simply "Plantation!" or sometimes "Plantation Inclinée!" You know those famous allées, the scenic country roads lined with often leaning plane trees? Well, the "Plantation!" or "Plantation Inclinée" signs exist to warn that these trees are approaching. As Mary quite rightly puts it, "Not a whole lot you can do about that now, is there?" But, then again, Mary has never been chased by an angry allée of tilting plane trees!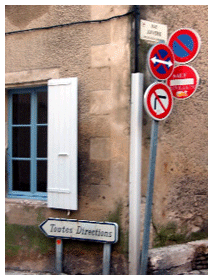 To the average French person (We are speaking here of the average French person in the countryside.), a NO PARKING sign does not really mean no parking; what it means is no parking for anyone who doesn't live here. Ditto for the signs advising maximum speed limits of 130 (kilometers, that is)! There is a certain free-for-all style to how the French manage to arrange creatively their cars when they are not in motion. Among the more common are cars parked halfway on the sidewalk on a one-way street facing the wrong way and cars wedged horizontally in between two vertically parked cars. Famous for thriftiness, the French have as their parking motto, let no space go to waste!
Then there is the matter of one-way (voie-unique) streets, such as the sloping and narrow one where I live. On such streets, it is not uncommon to see French cars racing backwards up the street. In fact, there is an obscure French law (The number of which I'm convinced exceed opinions in the Talmud.) that says it is legal to drive the wrong way on a one-way street as long as the front of the car is facing in the right direction!
And, while we are speaking about French cars, what constitutes a bona fide French car is not so simple as you may think. When I bought my Citroën AX10 (a French marque, to be sure), I paid for it in euros drawn on a French bank, filled it with 98% sans plomb (lead-free) gas from a French gas station, affixed my little green French insurance sticker to the lower right-hand corner of the front windshield, as required by law, attached my spiffy new black-and-white French license plates complete with the number 26, which indicates that I live in the Drome region, and even bought two F for France stickers, one for the European Community, the other for la France, to affix to the rear just in case there was any doubt. When I first parked the car on this street, my neighbors, les Allemandes, insisted my red cutie was not a French car. Huh?? A French car, I was informed, is full of dents inflicted by French drivers. A German car, of course, would never show itself in public with the least little blemish. My car was too pristine to be really French. I looked around; they definitely had a point. Sadly, in a few weeks' time, my little bébé was duly baptized in the parking lot of my favorite hypermarché.
The most dangerous time to drive in France is during "the deadly hour," which is after the evening apéro (apéritif) and before dinner. "The deadly hour," of course, often lasts several hours because most French people eat around 9:00 PM. For many people, the apéro involves drinking kir or several glasses of Pastis (revolting stuff!) on an empty stomach before getting behind the wheel, all fired up to drive home. Yes, I'm a professed fanatic on the subject of drinking, driving and never mixing the two, but drinking and driving here basically means that if you've had more than one bottle (!!) of wine, maybe you should drive a little slower. Accordingly, it is no surprise that the French government has launched a massive campaign to cut down on drunk driving. Let's face it though: the economy of France, unlike certain other countries, runs on wine, not oil. As a result, this campaign against drinking and driving has actually caused wine consumption, as well as the economy, to plummet.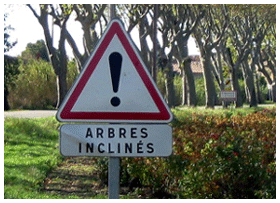 A favorite spot for the gendarmes to lie in wait with their breathalyzers is outside one of the many million giratoires or rond-points, otherwise known as traffic circles. My French friends refuse to believe that we don't have traffic circles at all major intersections in New York and are highly skeptical when I explain that it's possible to drive without them. There are a host of complicated rules for navigating a rond-point, which also serves as a small art or horticultural display reflecting the seasons, products and history of each particular town. Olive trees figure prominently in the giratoires of Nyons; those in Gigondas have grape vines and barrels; Vaison-la-Romaine Roman columns; and, for reasons I have yet to understand, Valreas, home of the Museum of the Cardboard Box and former playground of nobility, has an enormous leaning concrete column stacked with what look like alternating masses of mushy heads of broccoli and chou-fleur.

And, let's not forget the infamous priorité à droite, which gives priority to motorists traveling in a forward direction from the right, except when there's a stop sign, red light or other obscure and hidden indication to the contrary. There is little logic to the priorité à droit, as it allows traffic on hidden roads that resemble dirt driveways to have priority when joining main roads and highways from the right. Most French motorists, driving at their usual breakneck speed, simply apply "their right" without any regard to the consequences.
All in all though, driving in France is a pleasurable experience. The vistas are breathtaking. The countryside landscape with tiny hilltop villages, hectares of grape vines and lavender and grazing livestock is magnificent, and the quaint little roadside restaurants offer superb food at extremely low prices. Just be sure to check that your driving papers are all in order and your life-insurance policy's paid up before you set out on your next journey in France.
---
Among many other achievements, Patricia Fieldsteel has had an award-winning column in THE VILLAGER newspaper since 1997 and has also published in THE NEW YORK TIMES. She is an animal-lover par excellance and is divinely happy in Provence, though from time to time she misses the opera, ethnic food and Law & Order reruns. This is her story.
---
---