An Artistic Weekend At The Hotel Meurice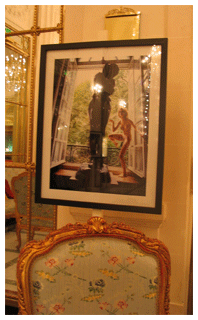 People don't usually associate hotels with 'artistic' weekends. You don't often hear the words, "Let's go have an artistic weekend together in some cheap hotel." But this is Paris, and there are no cheap hotels. And in Paris, high culture rules. So it was squarely in the name of high culture that I accepted the assignment of checking out thirty photographs featuring naked women prancing, dancing, kneeling, bending over or just plain posing in front of some of the most celebrated sculptures in the world. High Culture with a capital HIGH. Anything for art. But what was the point of the exhibition? Was it to change the reputation of museums from that of stuffy, formal places of quiet contemplation to… err… Woodstock? Nah. Maybe to test the power of great works of art to attract the attention of the casual (male) viewer when a naked babe is standing in front of him? Hmm. Interesting. Proprietor: Can you describe what you were just studying, sir? Viewer: No, I need to let my tongue hang out for a little while. Proprietor: I mean what sculpture, sir. Viewer: What sculpture? Proprietor: Yes, sir. Viewer: No, what sculpture? Proprietor: Thank you, sir. I needed answers (amongst other things), so I threw on my coat and headed down to the Hotel Meurice. It seemed strange that the hotel was located on the Rue de Rivoli. That meant posh, which scared me. Would they let me in? Or would they take one look at me and just know that I wasn't capable of appreciating fine art? Or would I manage to con my way in only to be thrown out again for giggling? I made my way down the nearest boulevard, staving off the cold with thoughts of other people's nakedness; looking at Father Xmas in a store window and wondering why he'd turned up in a href="http://www.autoeurope.com/showspecial.cfm?aff=bonjourparis" mce_href="http://www.autoeurope.com/showspecial.cfm?aff=bonjourparis" target="_blank" rel="nofollow"> the middle of November. I tried to figure out what these photographs could be about. Why would a posh hotel want to risk drawing in sickos and weirdos, perverts and loners like me? No, no, my thinking was all wrong. This was art. I needed to get my uncultured brain around that. Vague memories of images long forgotten started to surface, from the distant teenage days when booze and weird video-tapes had been all the rage amongst my mates and me. I remembered one movie that began with a woman—stark naked apart from a pair of farmer's rubber boots—milking a cow. Could that be passed off as artistic? Possibly. Although what she did next elicited the longest 'moooooo' I've ever heard in my life. Remembering the rest of the movie—all four hours of it—I have to admit that 'Silly Cow' probably wasn't a movie aiming at the cultural elite. (Or the sane.) Babes—sorry—naked models, hanging around sculptures. What could it mean? Divine beauty versus mortal beauty? Timelessly awe-inspiring, cold and distant perfection versus the warmth and seduction of the temporal? Fleeting happiness confronting eternal bliss? Dancing, moving, living, laughing human forms paying homage to the immortal representations of grace and truth? Or challenging them? Mocking them? Sneering at them? "Whatever," I decided. "As long as they do it naked, count me in." The Hotel looked so intimidating from the outside that I was nervous to step up to the doors. What the hell would I say? Maybe I could put on my shades and pretend to be someone else? I remembered that great actors—like the comic genius John Belushi—claimed that it was easier to do anything if you acted like someone else. Maybe I could do a Belushi? Doorman: Can I help you, sir? Stranger: Where is de wimmen at? Doorman: Excuse me, sir? Stranger: I is here for de wimmen. I make de big arts. I is horny a student in the moment, but one days you is proud to know me for my panting. You want to buy a video? Four hours. Good value. Doorman: Would you leave now, sir? Stranger: Certainly. Besides, I was a foreigner; I was somebody who said stupid things when he tried to speak the language; and, being from the North of England, my accent was worse than most of the competition. In France, I was somebody else. So I walked in there, saw a uniformed man look quizzically at me, and headed towards the nearest naked woman. I stood looking at her.  She was lying on a day-bed with her back to me, staring up at a sculpture of a naked woman who was doing much the same thing. I studied them both. The living one won. But even the living one was only a photograph. Which was just as well, really, or I would have fainted. I noticed out of the corner of my eye that the uniformed man was approaching me. That's when I remembered something and quickly pulled a leather glove from my pocket. The leather glove would throw him; would make me look as if I might be rich, or important, or in full-time employment. I had forgotten about the glove because I'd lost the other one three weeks ago. I clutched the glove in my fist and held my fist to my chin, then I stared dramatically at the picture, as if seeing deep and meaningful things in there. "That picture has been sold," the uniform said helpfully. 'Did a man buy it?' I asked, without looking at him. "Yes, sir," the uniform replied, smiling. "How did you know?" "I'm an art expert," I replied. He stepped away, smirking. I stayed where I was, smirking. The woman in the picture may have been smirking, too, but I could only see her ass. Still, it was all relevant. With the information available—or the little I…
SUBSCRIBE
ALREADY SUBSCRIBED?
BECOME A BONJOUR PARIS MEMBER

Gain full access to our collection of over 5,000 articles and bring the City of Light into your life. Just 60 USD per year.

Find out why you should become a member here.

Sign in

Fill in your credentials below.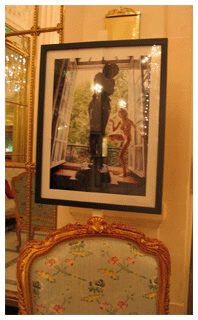 People don't usually associate hotels with 'artistic' weekends. You don't often hear the words, "Let's go have an artistic weekend together in some cheap hotel." But this is Paris, and there are no cheap hotels. And in Paris, high culture rules. So it was squarely in the name of high culture that I accepted the assignment of checking out thirty photographs featuring naked women prancing, dancing, kneeling, bending over or just plain posing in front of some of the most celebrated sculptures in the world. High Culture with a capital HIGH. Anything for art.
But what was the point of the exhibition? Was it to change the reputation of museums from that of stuffy, formal places of quiet contemplation to… err… Woodstock? Nah. Maybe to test the power of great works of art to attract the attention of the casual (male) viewer when a naked babe is standing in front of him? Hmm. Interesting.
Proprietor: Can you describe what you were just studying, sir?
Viewer: No, I need to let my tongue hang out for a little while.
Proprietor: I mean what sculpture, sir.
Viewer: What sculpture?
Proprietor: Yes, sir.
Viewer: No, what sculpture?
Proprietor: Thank you, sir.
I needed answers (amongst other things), so I threw on my coat and headed down to the Hotel Meurice. It seemed strange that the hotel was located on the Rue de Rivoli. That meant posh, which scared me. Would they let me in? Or would they take one look at me and just know that I wasn't capable of appreciating fine art? Or would I manage to con my way in only to be thrown out again for giggling?
I made my way down the nearest boulevard, staving off the cold with thoughts of other people's nakedness; looking at Father Xmas in a store window and wondering why he'd turned up in a href="http://www.autoeurope.com/showspecial.cfm?aff=bonjourparis" mce_href="http://www.autoeurope.com/showspecial.cfm?aff=bonjourparis" target="_blank" rel="nofollow">

the middle of November. I tried to figure out what these photographs could be about. Why would a posh hotel want to risk drawing in sickos and weirdos, perverts and loners like me? No, no, my thinking was all wrong. This was art. I needed to get my uncultured brain around that.
Vague memories of images long forgotten started to surface, from the distant teenage days when booze and weird video-tapes had been all the rage amongst my mates and me. I remembered one movie that began with a woman—stark naked apart from a pair of farmer's rubber boots—milking a cow. Could that be passed off as artistic? Possibly. Although what she did next elicited the longest 'moooooo' I've ever heard in my life. Remembering the rest of the movie—all four hours of it—I have to admit that 'Silly Cow' probably wasn't a movie aiming at the cultural elite. (Or the sane.)
Babes—sorry—naked models, hanging around sculptures. What could it mean? Divine beauty versus mortal beauty? Timelessly awe-inspiring, cold and distant perfection versus the warmth and seduction of the temporal? Fleeting happiness confronting eternal bliss? Dancing, moving, living, laughing human forms paying homage to the immortal representations of grace and truth? Or challenging them? Mocking them? Sneering at them? "Whatever," I decided. "As long as they do it naked, count me in."
The Hotel looked so intimidating from the outside that I was nervous to step up to the doors. What the hell would I say? Maybe I could put on my shades and pretend to be someone else? I remembered that great actors—like the comic genius John Belushi—claimed that it was easier to do anything if you acted like someone else. Maybe I could do a Belushi?
Doorman: Can I help you, sir?
Stranger: Where is de wimmen at?
Doorman: Excuse me, sir?
Stranger: I is here for de wimmen. I make de big arts. I is horny a student in the moment, but one days you is proud to know me for my panting. You want to buy a video? Four hours. Good value.
Doorman: Would you leave now, sir?
Stranger: Certainly.
Besides, I was a foreigner; I was somebody who said stupid things when he tried to speak the language; and, being from the North of England, my accent was worse than most of the competition. In France, I was somebody else. So I walked in there, saw a uniformed man look quizzically at me, and headed towards the nearest naked woman. I stood looking at her.  She was lying on a day-bed with her back to me, staring up at a sculpture of a naked woman who was doing much the same thing. I studied them both. The living one won. But even the living one was only a photograph. Which was just as well, really, or I would have fainted.
I noticed out of the corner of my eye that the uniformed man was approaching me. That's when I remembered something and quickly pulled a leather glove from my pocket. The leather glove would throw him; would make me look as if I might be rich, or important, or in full-time employment. I had forgotten about the glove because I'd lost the other one three weeks ago.
I clutched the glove in my fist and held my fist to my chin, then I stared dramatically at the picture, as if seeing deep and meaningful things in there.
"That picture has been sold," the uniform said helpfully.
'Did a man buy it?' I asked, without looking at him.
"Yes, sir," the uniform replied, smiling. "How did you know?"
"I'm an art expert," I replied.
He stepped away, smirking. I stayed where I was, smirking. The woman in the picture may have been smirking, too, but I could only see her ass.
Still, it was all relevant. With the information available—or the little I could translate—I guessed that the picture was taken at the Museé Maillol. This was a pretty wild guess, though, my thinking based in the fact that Maillol's muse, Dina Vierny, owns the exhibits and is a former model herself. The female form is studied devotedly in paintings, drawings and sculptures in those exhibits.
Growing in confidence, and a desire to see more women—I mean art—I sauntered through to the gallery itself. Here they were, spaced out coolly in a huge, sumptuous room in which several people were being served snacks and drinks. I wandered around, looking at the photographs. Naked women, jumping, bowing, dancing, bending over, one crouching, as if about to start running a race, all in front of the great and the good in the world of sculpture, from the afore mentioned Maillol to Rodin himself. I wondered, of course, where the hell all these women had been when I'd visited these musees; when I'd stood awe-stuck in front of all those timeless, flawless, crappy marvels. If this was art reflecting life, it wasn't my life.
One picture showed a beautiful model standing naked, her head respectfully (or submissively) bowed in front of The Thinker. Of course, no one will ever look at that photograph and wonder what The Thinker was thinking about. Looking at it, and given what I was thinking, I realized that great minds really do think alike. Maybe that's what this exhibition was trying to tell us?
I went into the bar area and saw black models, African Art… a muscular man on his knees, arms outstretched in front of himself, holding up a beautiful, dormant woman, in front of a sculpture of… I can't remember what. I think my eyes were starting to water by this stage. I was losing focus. I bumped into a few tables and got out of there, back into the welcome area, where I grabbed my uniformed buddy and asked the all-important questions: Who? Why? How much?
The photographer was one Philippe Abergel, an up and coming artist with a fistful of personal exhibitions behind him and quite probably a big future in front. The price range for works in this exhibition (signed and numbered), goes as follows: Photos 60 x 80cm 1,600 euros with frame; without frame, 1,400 euros. Photos 88 x 113cm 1,800 euros with frame; without frame, 1,650 euros.
I left, still pondering the question of when staring at naked members of the opposite sex is degrading and when it isn't. Political correctness has always been just one more annoying religion to me, because it has always reminded me of one; so is the female form only degrading if men get a kick out of it? If the female in question plans him to (the same things that make it sinful), or is there more to it? Nah. Nothing but a lot of mindless pseudo-intellectual chatter anyway. It was and is just a state of mind; unfortunately, my state of mind wasn't encouraging.
I walked home, trying to see those images in an inspiring, meaningful way, rather than a low, sad and pathetically enjoyable way, even allowing into my mind the image of one of our great artistic and cultural icons, who reaffirmed my guilt and ignorance with a mantra; with a line simple and beautiful enough to cover the spiritual and intellectual abyss between confused adolescents, struggling writers, and even, God bless us one and all, virtually all of the great artists, poets and thinkers of our times:
"Ooops, I did it again!"
---
---
---
---