Les Etoiles de Mougins : Rivea, London & Biennale des Antiquaires Buzz
Let's Begin with Dessert !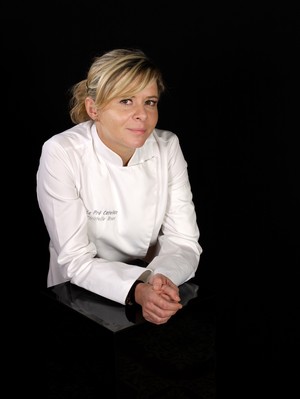 Mougins, the picture-postcard village put on the world culinary map by chef Roger Vergé celebrates the 9th Edition of Les Etoiles de Mougins » this year, deliciously dedicated to desserts.
Invitée of honour is Pre-Catalan's sweet and talented pastrychef Christelle Brua : GaultMillau's pastry chef of the year 2014.
Pastry-Chefs & chefs, from all over the world, are passionately participating, in honour of their craft and their mentor Roger Vergé. The melting pot of talent, led by Christelle Brua, includes: Camille Lesecq (ex-Meurice) : Stéphanie Le Quellec 1* et Yann Couvreur, LA SCÈNE, Le Prince de Galles,  Paris : Jeffrey Cagnes, Monsieur Bleu, Paris: Virginie Guitard "L'Art des Mets", Paris : Vincent Catala " Madray Marylin Traiteur" , Joe Barza, Chef Consultant Lebanon, Bart De Pooter, Belgium: Jerémy Del Val, L'Apogée, Courcheval  + world champion « Desserters » from Spain, Russia, USA.
Demonstrations, workshops, tastings, team building, sugar sculptures, competitions, conferences, read, something for everyone in a sunshine setting.
Les Etoiles de Mougins,
International Festival of Gastronomie
19 to 20 and 21 September – Mougins Village
About a chef: Damien Leroux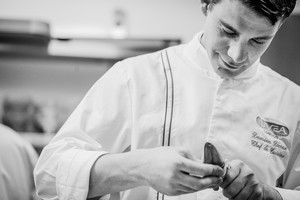 Following the success of Rivea, St. Tropez, Alain Ducasse takes a bold move and launches an urban version of Rivea, London, at the amazingly chic Bulgari Hotel. "To bring a touch of the Riviera to the city's buzzing culinary scene".
Wearing the whites is young talent Damien Leroux, born Châteaudun, northern France, graduate of Ecole Hoteliere, Noirmoutier, and more than 10 years cheffing with the likes of Bruno Cirino, Hôstellerie Jérôme, La Turbie, near Monaco, The Dorchester,  Restaurant Gordon Ramsay, Bastide de Moustiers, Japan, Le Louis XV and he's still only 29!
"We share a passion for "La Cuisine du Soleil", said Damien one recent day in London. "Damien has a passion that shines through in his dishes", said Monsieur Ducasse. "Passion, it's all about the passion, Damien, lives, eats, sleeps cuisine".
Damien says he tries to ensure Rivea's ingredients are sourced locally and within the British Isles, seeking out specialist suppliers in his spare time.
Signature dishes include tigelle, round Italian bread, made with cream rather than butter, filled with cured ham or rocket salad, pesto, then toasted like a Panini.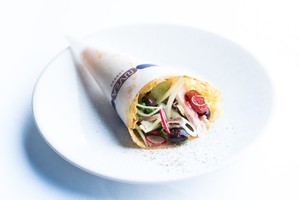 There's also baked John Dory, cooked in a fragrant, bouillabaisse style fish soup, thickened with puréed lemon, served with braised fennel, olives and confit tomatoes. Socca, the crêpe made with chickpea flour, as at Cours Saleya Market, Nice. Damien's interpretation is sexily stuffed with Salade Niçoise – divine !
Oz sommelier Sam Heathcote's wine card showcases French terroir focusing on Provence, classic Italians and, nice touch, Provence rosé served by the glass from a jazzy Jeroboam bottle.
The Ducasse classic "Cookpot®" of seasonal vegetables, by Damien, 'from local farmers' brings a taste of British terroir. The earthy, fondant-type base of roasted celeriac, turnip and mushrooms is topped with a layer of al dente, courgette, radish, beetroot, slow-cooked in olive oil.
The sharing size portions are served on marine inspired glassware by Finnish designer adding Bayadere style striped pieces to reflect the spirit of the Riviera. Generous sized, huge napkins with embroidered vegetable designs showcase Rivea's cuisine. Pop one in the Birkin when no-one's looking!
Damien's pasta recipes are new spins on old time classics, think, cloud-like vegetable stuffed ravioli. "We hand-make the herb pasta, add chervil leaves, flat leaf parsley and tarragon worked into the sheets of pasta whilst rolling it out, embedding them into the pasta", he explains. Easy peasy then!
Bread and Desserts by pastry wiz Alexandre Talpaert (ex- 59 Poincaré: Benoit NYC: The Dorchester) are sublime. As in Lemon shortbread, limoncello sorbet and Chocolate Tart made with Alain Ducasse Manufacture de Chocolat, Paris. Or taste the excellent selection of Brit Goat's Cheese ! "They're surprisingly excellent", admits chef Damien. Super-sympa service from Converse wearing wait-staff led by Director Nicolas Jaouen and Emmanuel Guinard.
Don't hesitate, take that trip.
Get a Room:
"The only word Elizabeth knows in Italian is "Bvlgari" Richard Burton
There's 85 (it's part of LVMH ) rooms and suites, state-of-the art Bulgari Spa, set across two floors with 25m swimming pool; cinema;
the ballroom hosts up to 140 for dinner; Il Bar and
The Edward Sahakian Cigar Shop and Sampling Lounge. 
Rivea London,
Bulgari Hotel & Residences,
Underground: Knightsbridge
Lunch £32-£40 Dinner £65 + A La Carte
171 Knightsbridge,
London SW7 1DW
T: +44 207 151 1025
Open 7/7
27th Biennale des Antiquaires: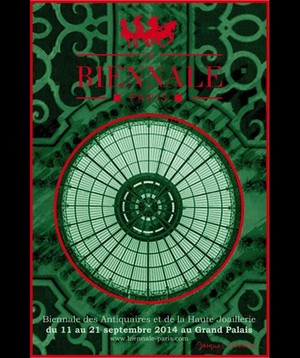 Every two years, organized by Syndicat Nationale des Antiquaires, the quintessence of French "Art de Vivre" showcases: Art Galleries, from Didier Aaron – to – Zlotowski: Haute Jewellery, by the likes of Alexander Resa : Boucheron : Chaumet, Paris: David Morris, London: Dior : Van Cleef & Arpels etc.
This year the bucolic idyll setting is by BDA's Artistic Director, celebrity interior designer, Jacques Grange, with the exceptional collaboration of the gardeners of Château de Versailles et de Trianon.
An opening Gala dinner (September 9th) is flagged as the most prestigious art market invite in the world, reserved for exhibitors, their clients and members of the SNA. Profits are donated to the Fondation Hôpitaux de Paris – Hôpitaux de France chaired by Madame Chirac.
** Michelin chef Michel Roth is creating the menu. Last week Roth told trade paper L'Hôtellerie he will not be in the Ritz kitchens when the hotel re-opens in 2015.
"The Ritz will remain for me the most beautiful maison in the world. She has given me everything and I gave everything to her. It's been incredible but, after 30 years I need freedom to find myself! It is, of course, understood that Le Ritz can count on me in an Ambassadorial role".
For the future? "A book, a collaboration with a culinary training center or an address in Paris. Who knows? A page is turning, the story continues!"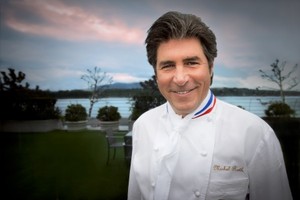 During the fair, the pop-up gastronomic restaurant "Paris Biennale" opens its doors. 10 Relais & Châteaux chefs (celebrating 60 Years of R & C) will strut the art of haute cuisine under the spectacular glass dome of the Grand Palais in the Jacques Grange, Gardens of Versailles setting:
Guy Martin (Le Grand Véfour Paris) – Thursday, September 11
Mauro Collagreco (Restaurant Mirazur, Menton) – Friday, September 12
Rochedy Michel and Stephane Buron (The Chabichou, Courchevel) – Saturday, September 13  Philippe Mille (Domaine Les Crayères, Reims) – Sunday, September 14 Jean-Michel Lorain (La Côte Saint Jacques & Spa, Joigny) – Monday, September 15 Emmanuel Renaut (Flocons de Sel, Megève) – Tuesday, September 16
Michel Roth (the Ritz, Paris) – Wednesday, September 17 Régis Marcon (Hotel and Restaurant Regis & Jacques Marcon, Saint-Bonnet-le-Froid) – Thursday, September 18 Gilles Tournadre (Restaurant Gill, Rouen) – Friday, September 19
Patrick Henriroux (La Pyramide, Vienna) – Saturday, September 20
Jean-André Charial (Oustau Baumaniére of Les Baux-de-Provence) – Sunday, September 21 Go to here.
11 September – 21st September,
Grand Palais, 3 Avenue Winston Churchill, 8th
M: Champs-Elysées Clemenceau
See you there !
Leave a reply
Your email address will not be published. Required fields are marked *