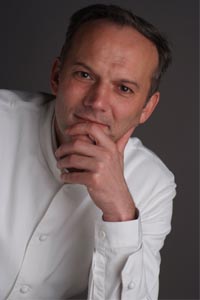 Christian Le Squer, the young talent who won 3-Michelin stars at Ledoyen, Paris, has launched ETC. his chic bistro.
He became the talk of the town for his modern spin on classic French cooking but wanted a different atmosphere where he could deconstruct the dishes of his Brittany childhood, revise and correct them for a young, hip clientele.
Now it's up and running, Le Squer's handing over the pianos to Bernard Pinaud, his former second at Ledoyen. "I can't be an absent chef if I want to keep my 3 stars, but I'll be passing by daily to make sure they're doing it my way!"
LeSquer and his team worked on ETC's menu only after the décor, by two young architects, was in place. Grey and beige lacquer tones, burnished silver faux brick walls, the perfect minimal frame for dishes such as: tartare of sea-bream enclosed in a cloud of copper burnished egg-whites, sits on a tangle of Brittany vegetables. A taste and visual sensation. Or, the signature Boudin Maison with Passion Fruit and Potato purée, a take on traditional French Black Pudding.
The market menu changes daily, could include stuffed quail, or red mullet just shown to the plancha/grill, baby peas and organic vegetables.
Service is attentive from ex-Ledoyen staff, eager to get this exciting show on the road. Excellent French wines are by the glass or bottle, desserts include a wobbly caramel cream with iced Carambar, deconstructed cinnamon and apple tart, Strawberry coupe "fraisier".
Minutes from ETC. on the other side of Avenue Kleber, Judy Braham has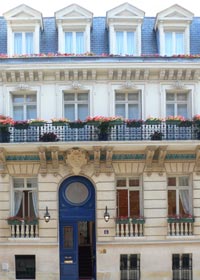 transformed a handsome 19th century four-story Hotel Particulier into JAY'S an all-suite boutique hotel with a small terrace garden.
The décor in each suite is different, high ceilings, gorgeous art-work, fine linens, makes you want to rush home and re-decorate. Ms Braham, from New Zealand, has the brilliant idea of incorporating gorgeous mini state-of-the-art kitchenettes into the spacious suites, so if you want to "self-cater" it's possible. Bathrooms are fantastic with great products, even lip-balm! A team of 12 (all English speaking!) see everything runs smoothly, it's spotless! Room Service is by Le Copernic, the brasserie opposite, voted "best croissants in Paris".
Below-stairs are what Ms Jay calls "event rooms" great to hire for parties, corporate meetings, product launches, private cocktail parties etc. There's free Wi-Fi and ADSL throughout JAYS, same day laundry and dry cleaning, your fridge is filled with goodies on arrival, just let them know what you want.
And, if you want to entertain, either Le Salon or Le Club Room are perfect "home away from home" reception rooms, have breakfast there if you want. Need restaurant reservations? No problem. You just play at being Chatelaine, relax, enjoy a unique experience in Paris. I may move in myself!
When Pierre Rival, brilliant author, gastronome and President of Le Club de la Tête de Veau, invited BUZZ to dine at Le Procope and taste the real thing, we were not disappointed.
Tête de Veau en Tortue uses every morsel of the veal's head (don't ask!) takes three days to prepare correctly. Le Procope, founded 1686 (now owned by The Fab Freres Blanc) are serving it according to the recipe of Ali-Bab (alias for Henri Babinsky) in his tome "Gastronomie Practique," explained Rival.
"Ali-Bab's recipe means the texture is a pure marvel to taste. It should be served with hand-rolled veal quenelles and truffles. Often with écrivisses pattes rouges, but they are difficult to find now, and sometimes the hearty casserole is topped with a fried egg!" he adds.
And it must be with "sauce tortue", as served at Procope. Rich veal stock, fresh tomato sauce, seasoned with plants and herbs from the garden. "As eaten by tortoises", grins Rival. "Except they don't get the finish of a touch of madeira and a dash of cayenne pepper!"
Read all about it in Etoile, the magazine of the Michelin Guide. Launched this week, follow a Michelin inspector across France, explore new horizons and taste sensations. Co-published by Michelin and Glènat Publishing House each issue (every two months) is organised into four sections: news, gourmet, dining, travel and wine. Price? (4€90) and at present only in French, but you'll get the drift.
Address Book:
ETC. by Christian LeSquer,
2 rue La Pérouse, 75116 Paris
Metro: Kleber or Boissiére,
Shut Saturday Lunch & Sunday
Menu Lunch & Dinner – Starter, Main, Dessert & 2 glasses wine 68€
A La Carte about 71€ + wine
Valet parking
6 rue Copernic, 16th (Metro: Kleber or Victor Hugo)
T: 01 47 04 16 16
Suites from 400€ + breakfast 20€
Private Parking
13 rue de l'Ancienne Comedy, 6th (Metro: Odeon)
T: 01 40 46 79 00
Open 7/7 until midnight – 1am Thur-Fri-Sat.
Menus at 19€ 24€ 30€ A La Carte 55€ + wine
Menu Tete de Veau – 45€ + wine