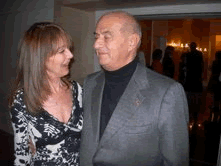 Imagine the scene, the worlds' greatest chefs invited to Monte Carlo by Alain Ducasse and the SBM (Societe des Bains de Mer) Why? To celebrate the 81st birthday of Paul Bocuse, "it would have been for my 80th but I had a triple heart bye-pass last year and was a little busy", he smiles. Nevertheless Bocuse, arrived with his wife and mistress, one on each arm. To set the record straight his complicated love-life is all recorded in his last book, Le Feu Sacre (Editions Glenat), written by Eve-Marie Zizza, the daughter of his long-time lover. You couldn't make it up! Brad Pitt/Delon/Depardieu to play him in the film?
The 3-day programme of festivities included a welcome buffet by Monaco's hip, talented super-toque, Marcel Ravin, at The Monte Carlo Bay Hotel.
Saturday Lunch was called The World Buffet, at the glittering Le Sporting (where concerts, festivals and galas in the Principality take place). Orchestrated by Le Sporting chef Yannick Prunier, Michelin's new 3-star Yannick Alleno did whelk jelly with sea-urchin tongues, creamed rice and seaweed wafers. There was Raymond Blanc, from the UK, with venison "Grand Veneur". Daniel Bloulud and Eric Branger from New York, Christian Rassinoux and Xavier Salomon from California and Jean-Pierre Dubray from San Francisco. A large Spanish contingent included Ferran Adria and Juli Soller of El Bulli. Lea Linster, the only woman ever to win "La Bocuse d'Or" (1989) came from Luxembourg and cooked her winning signature, Saddle of Lamb in potato crust. From Italy, Gaulterio Marchesi, from Valence Anne-Sophie Pic's Foie gras crème brulée left no doubt her upcoming 3rd Michelin star is spot on.
From The Ritz, Paris, Michel Roth prepared truffled guinea fowl with green cabbage gateau. The dishes were served in mini-portions and Nadia Santini, from Italy, shlepped a giant Parmesan to match her Marrow tortelli. "You must eat a little parmesan each day", she insists.
Norway's Bent Stiansen presented Reindeer and, from Australia, Tetsya Wakuda and Guillaume Brahimi cooked red mullet with buckwheat vinaigrette and sea-bass, crayfish, scallops and oyster mushrooms with ginger emulsion. Valrhona's Frederic Bau, who heads the Ecole du Grand Chocolate Valrhona, prepared chocolate surprises and magic Guanaja cubes on his contemporary chocolate buffet.
Who says Ducasse is never in his kitchen? He was last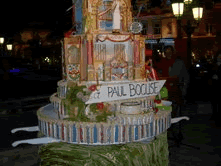 Saturday night, preparing a 5-course gala dinner "Le Feu Sacre". The Salle Empire at The Hotel de Paris rang to the sounds

of "Happy Birthday Monsieur Paul". His giant birthday cake, decorated with all the cities with which he's connected and lots kitchen tools, formed the backdrop for a glittering firework display.
Ducasse, and Louis XV chef Frank Cerutti, served a multi-course banquet of Mediterranean delights: truffles and baby vegetables, Coquillages and Crustaces, with a touch of bouillabaisse. Sea-Bass with a hint of citrus, coco beans and radicchio, tender lamb and a bold pineapple pudd. Washed down with Don Perignon vintage 1990, there was also a fine Meursault white and a full-bodied Pomerol Chateau Clinet 2000.
Not to be outdone Sunday brunch, the final tastebud fiesta, was in the talented hands of Sylvain Etiévant and Joel Garault, at Le Grill high up on the 8th floor of the Hotel de Paris. The sun was sharp, the view along the coast dramatic, the dishes – sublime. "Cooking is a joy, n'est pas", said Bocuse. "And if you were a dish what would you be Monsieur Paul?" Les crepes flambees (crepes Suzette), because they sizzle with passion," he answers.  Bocuse, who still hunts in the Dombes area near his Lyon home, says his favourite meal after hunting is slow-cooked woodcock, or a skewer cooked boar.
Born at Collonges-au-Mont-d'Or in 1926 Bocuse, whose family have been restaurateurs on the banks of the Saone since 1765, served his apprenticeship chez Claude Maret, won a Croix de Guerre (1944) and continued, after WW11, with La Mère Brazier, Fernand Point,  Lucas Carton and Laperouse, Paris. At his family Lyon restaurant he won his first Michelin star in 1958, his second in 1960, his third in 1965. "Bocuse's ideas have touched all our lives, he was the first chef to come out of the kitchen, and in so doing became an ambassador for French cuisine worldwide", notes Ducasse.
Bocuse's signature is Truffle Soup VGE created for a President Giscard d'Estaing, at the Elysee Palace in 1975. 60 years in the business have produced "Brand Bocuse", 12 restaurants worldwide and L'Institut Paul Bocuse, a culinary institute/cookery school located in a neo-gothic chateau at Ecully near Lyon.
"I first met Monsieur Paul when I was at the Hotel Juana, Juan les Pins", recalls Ducasse. "In 1980, Monsieur Paul had heard that I was quite a good young chef (Ducasse is now 50) and came to see for himself. If I remember correctly he stole the wine waiter and asked me to go with him to Japan where he was opening a restaurant. I would have gone, but then came the jet accident, which rather held me back!" 
The future looks bright for Bocuse, who reckons his new heart is good for at least another 20 years. "We're opening 8 brasseries in Tokyo and in Lyon I'm creating "West Express", a fast-food concept from an idea I got eating at Cojean, Paris. Of chefs who hand back their stars he scoffs, "they give them back before Michelin take them away!". "But, Monsieur Paul, suppose they take a star away from you?" "Then I will have waited 40 years to have two stars", he laughs out loud.
For Alain Ducasse, new projects include the transformation of "Rech" a traditional 1920's fish parlour on Boulevard des Ternes, Paris. He's moving from The Essex House,  New York from May he'll be at the St. Regis and, in London, at The Dorchester this Autumn. That's not forgetting a second "B" Boulangerie in Tokyo and, icing on the cake: The Eiffel Tower Restaurant. Sic Itur Ad Astra (Thus the Way to the Stars).
Of the weekend "Le Feu Sacre," which took six months to plan Ducasse says: "Paul is a giant, to celebrate his birthday is a small tribute for what he's given the world".  Between the two superchefs, respect, admiration and complicity.  And, Monsieur Paul, when you finally arrive in heaven what do you think he'll say? "That I've worked hard, that I merit my repose in paradise and that he'll open up those pearly gates!"