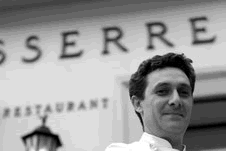 It's five years since Jean-Louis Nomicos left La Grande Cascade to become Executive Chef at the mythical maison, Lasserre. He took over the pianos from Michel Roth, who can be found at The Ritz. "Lasserre est une institution du Paris gourmand" writes Michelin, awarding it **. Marseilles born Nomicos made his debut at L'Oursinade in his home town. He then became chef de partie to a promising young chef called Alain Ducasse at the Juana, Juan les Pins, and followed Ducasse to the Hotel de Paris, Monte Carlo. "Jean Louis has conviction. His cooking expresses passion for the product and the search for the basic essentials. The result is brilliant, delicate, elegant", says Ducasse.
Chez Lasserre, enter another world of grace, elegance, a certain fading glory. The ground floor saloon, with it's Louis XV chairs and flock wallpaper, is where you wait either for your squeeze or for the velvet upholstered lift to creak its way up to the first- floor dining room. Once on high you'll love or loathe the décor, the large "neo-classical meets my granny" room is punctuated with magnificent white orchids, on the silver laden tables, animal chuchkas, more flowers. Look up! the Touchagues mural  parts, to reveal the sky, the moon and stars. Nice touch. And, who the hell cleans the central Cristalleries de Saint Louis chandelier? Not Jean-Louis, surely.
A bistro, in a hotel particulier, built for the World Exhibition in 1937 originally stood at 17 avenue Victor-Emmanuel 111, re-named Avenue Franklin D. Roosevelt, until the young Rene Lasserre, who trained at The Lido, Prunier and Drouant, bought it. He purchased products with ration tickets and, when he opened, you could have anything you liked as long as you took the Jerusalem artichoke salad! By 1948 the living was easier, the bistro became "Club de la Casserole" and Lasserre put on Gala dinners to celebrate film premiers or gallery openings. Marc Chagall is said to have been inspired to create the Opera Garnier ceiling, while lunching. Dali, Callas, Audrey Hepburn, and Marlene Dietrich were regulars. Eating here now you could be forgiven for thinking that

Andre Malraux is a breed of pigeon, but the writer/adventurer/war hero/ friend of Jackie Kennedy obviously always ordered the same dish, dedicated to him by his friend Rene Lasserre.
Difficult to resist: the plump young bird is de-boned,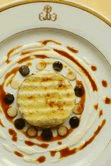 stuffed with foie gras, sliced through with a sword and served pink, with a drizzle of jus, a few fruits and pommes soufflés. "My greatest coup", Malraux told Time Magazine in 1974, "is that Lasserre created this dish for me. Rather a shock for Raymond Oliver at Le Grand Vefour, who has invented Pigeon Prince Rainier!" 
We drank Alox–Corton Clos des Maréchaudes, Domaine du Pavillon, 2004 a full bodied Pinot Noir from Burgundy. This went down well with the exquisite truffled baby veal with ginger, got full marks from writer/adventurer Alexander Lobrano – who knows, we may soon be eating Veau Lobrano!  "With all the innovations that you have brought to Lasserre, you have not stepped far from the classics that have contributed to the success of this historic maison", Lobrano told Jean-Louis, who came out of the kitchen as we polished off Mont-Blanc vacherin style with wild strawberries.
As the pianist in black tie tinkled the ivories, Jean-Louis explained. "Yes, I try to keep it simple, the heart and soul of my recipes are seasonal fresh products. I strive to understand the structure, texture and flavour of each ingredient. My golden rule is not to add any product that disturbs the aromatic balance."
A brilliant dish of macaroni with black truffles and foie gras has become Nomicos' signature. The macaroni is cooked in milk, stuffed with a brunoise of celery, foie gras and truffles, drizzled with beef stock, then topped with more truffles. "This dish, I have revised and corrected, was inspired by "Timbale of Macaroni with Truffles", created by Auguste Escoffier, the chef of Kings and King of Chefs", explains Jean-Louis.
Rene Lasserre died in March 2006, aged 93. He had left his home in the Basque region, age 12, to seek his fortune, and success came with hard work, energy and talent. He presented lady diners with a tiny Limoges casserole, a tradition that continues, more than 800,000 of these little treasures have been handed out. Lasserre trained such greats as Marc Haeberlin, Michel Rostang, Guy Savoy, and Lameloise in Chagny to name but a few. "Rene Lasserre created a restaurant that is truly spectacular, we are working hard to continue in his honour", smiles Jean-Louis.
Restaurant Lasserre,
17 avenue Franklin Roosevelt, 8th (Metro: Franklin D Roosevelt)
T: 01 43 59 53 43
Shut Sat, Mon-Tues-Wed lunch & Sunday
Lunch 75€ + wine – Tasting menu 185€ + wine
A la carte average 190€ + wine for 3 courses.