Provence Lavender Fields, Tours and Festivals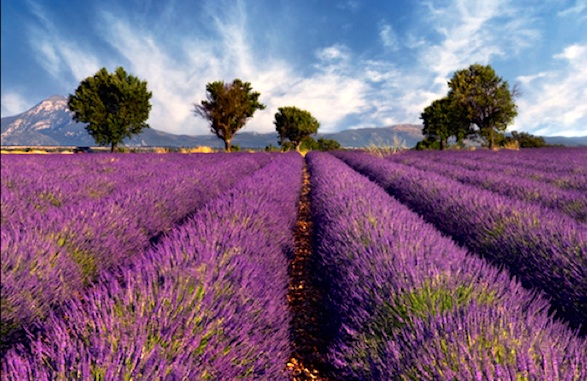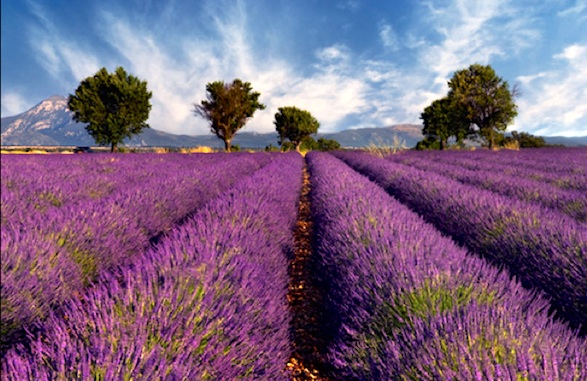 Provence lavender field on a windy day. Photo by dory1506.
Driving or biking through Provence in mid-summer, you'll see lavender fields of every size and hue. The main growing area is the triangle between Sault, Banon and Sederon, and another prominent area spreads out on the other side of Mont Ventoux, north of Nyons. But pretty much all of Provence is radiant with the famous Blue Gold, as lavender is known, throughout the month of July.
The first lavender distilleries began production in the 1880s, and by 1929 there were 47 stills around the town of Sault alone. Today, the tiny town of Sault is still considered the lavender capital of Provence and its three distilleries are open to the public. The Sault Tourist Office offers guided tours of the principal lavandicoles or growing sites. In the town of Coustellet, you'll find a small Lavender Museum devoted to lavender production, complete with a collection of copper stills dating from the 16th century.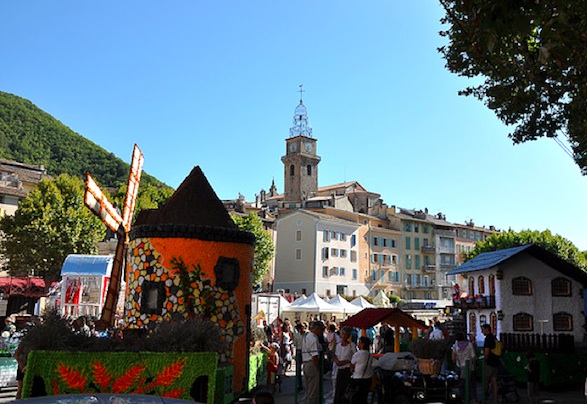 Corso de la Lavande festival. Photo by Alpes de Haute Provence Tourism.
If you time your trip right, you may catch a village lavender festival, like the ones in Sault and Valreas, or the biggie, the four-day Corso de la Lavande, in the mountain spa town of Digne-les-Baines. Held the first weekend in August, the festival offers lavender for sale in every form imaginable, edible and otherwise, and a parade of large flower-decked floats. A municipal truck leads the parade, spraying the roads with lavender water and leaving the entire town awash in the distinctive summery scent.
Don't feel like going it alone? A lavender-themed tour is a great way to get the experience. There are one-day lavender tours from Avignon while others book similar half and full day tours out of Aix-en-Provence. Whichever tour operator you choose, rest assured you'll be knee deep in lavender before well before lunch.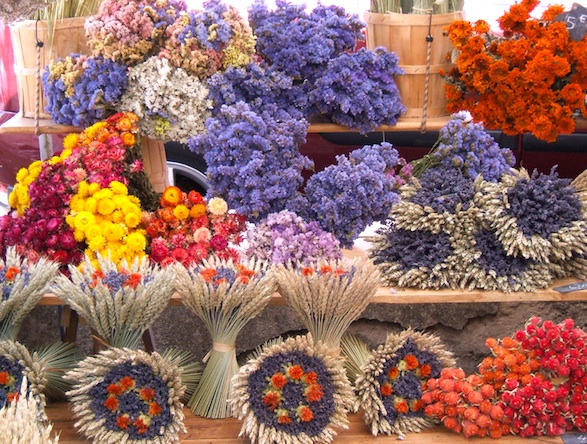 Provence market lavender. Photo by andrewhowat.
Around Provence you'll find scores of edible lavender goodies being made and sold, in shops, open-air markets and even larger grocery stores. In St. Remy, the cookie and sweet shop called Le Petit Duc sells little tins of crystallized lavender seeds, to be nibbled after garlicky meals, and biscuits à la lavande. Next door to Petit Duc, Chocolatier Joël Durand sells homemade chocolates flavored with lavender, rosemary and other botanicals.
Lavender tea is a soothing drink thought by many to have medicinal qualities. But if you want something with more kick, you can get that from lavender too. And for that you don't even need a passport.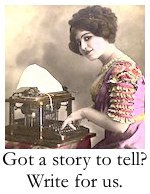 PRACTICAL INFORMATION:
Links to official tourist offices were placed above
Les Routes de la Lavande (driving, hiking and visit information)
PHOTO CREDITS: Flickr photos published per Creative Commons 3.0 license with photographer credit in captions
Julie Mautner is an American writer who lives most of the year in the South of France. She has produced hundreds of articles for top magazines and websites including Travel & Leisure, Bon Appetit, Food & Wine, Gourmet, Epicurious.com, Conde Nast Traveller UK, Elle Décor UK, Financial Times, New York Magazine and House Beautiful.  Please click on her bio for more about Julie and articles published by BonjourParis.

Subscribe for
FREE

weekly newsletters with subscriber-only content.
BonjourParis has been a leading France travel and French lifestyle site since 1995.
Readers' Favorites: Top 100 Books, imports & more at our Amazon store


We daily update our selections, including the newest available with an Amazon.com pre-release discount of 30% or more. Find them by starting here at the back of the Travel section, then work backwards page by page in sections that interest you.
Not every France travel guide covers Provence lavender well, but these do…please click on an image for details.
Click on this banner to link to Amazon.com & your purchases support our site….merci!
Leave a reply
Your email address will not be published. Required fields are marked *