La Maison de Jean Cocteau Buzz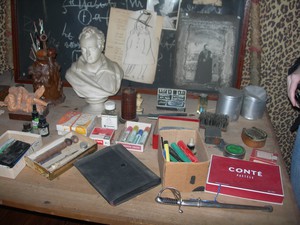 Jean Cocteau, poet, painter, filmmaker and actor, was sick of fans knocking on the door of his Paris home at 36 rue Montpensier, Palais Royal, to ask a question or get an autograph. Irritated when fans waited outside, he couldn't even pop across the road to Le Grand Vefour to dine with the likes of Colette in peace. So, in 1947 he bought a house, with his friend Jean Marais, at Milly-la-Foret, to the southeast of Paris, near Fontainebleau. "It is the house that was waiting for me far from the bells of the Palais Royal", he wrote.
With its ideal location near the tiny picture-postcard town centre, Cocteau considered Milly his retreat where he could get a bit of peace and quiet, enjoy creating the gardens, "learning about the magnificent stubborness of the vegetable kingdom", and making his "refuge" a living work of art in its own right. Cocteau loved the house more than Jean Marais and bought his share when Marais went on to other projects. He welcomed his celeb friends, Coco Chanel, Marcel Proust, Charlie Chaplin, Erik Satie, Pablo Picasso, would read and write in the garden, cross the two little bridges by the neighbouring, now derelict, chateau and work late in his attic studio.
For the last seventeen years of his life Cocteau lived in Milly with Edouard Dermit, his companion. "Today the house is intact thanks to Edouard Dermit who, after Cocteau's death and before his own demise in 1995, preciously preserved an exceptional inheritance that includes objets d'art, works by Manet, Doré, Picasso, and Bérard", explains Pierre Bergé, President of the Board of Governors of The Maison Cocteau.
Pierre Bergé, a friend of Cocteau, acquired the house in 2002 and, with the support of Ile-de-France Regional Council and the General Council of the Essonne department, they set about creating a place to remember and rediscover Cocteau's genius. Five years and five million euros later, the house is once again receiving guests.
In charge of the renovations are architect Franҫois Magendie and the team of Dominique Paini and Nathalie Crinière, who organised the Cocteau exhibition at the Pompidou Center in 2003. The ground floor living room overlooks the gardens. There's also a screening room showing relevant films of and by Cocteau. The first floor bedroom with Cocteau's long narrow canopied bed and the office, with leopard-skin walls, where Cocteau worked have been re-created exactly as if he were returning tonight.
The rest of the house has been transformed into spaces to showcase Cocteau's work and his comprehensive collection of drawings, portraits and memorabilia. Take a stroll through his life, study the self portraits and a mobile which hangs from the ceiling in the former kitchen. Works by Picasso, Warhol's portraits of Cocteau, Modigliani, Buffet, Man Ray are in the disorderly living room; his mum obviously never stopped him from going out to tidy his room! Photographs, manuscripts, letters, newspapers, and posters recall important moments in films, theatre, music, his childhood, adolescence, two world wars and his friendships. Also present: a blackboard with reminders to "call Colette", finish Nijinsky drawing, etc. "That was Cocteau's I-pad", thinks Dominique Paini.
The two acres of gardens have been tweaked by landscape architect Loic Pianfetti, a vibrant "leisure" garden where roses, peonies, lilies and herbs grow in fragrant profusion, and in the sculpture garden two imposing stone sphinxes remain and a bust of a Turk, props from the set of Cocteau's film Beauty and the Beast. In the distance is an orchard, with trees planted by Cocteau, woodland reached by footbridges over the river which winds its way through the end of the garden.
On the edge of Milly, the 12th-century Chapelle-Saint-Blaise-des-Simples was decorated by Cocteau. The land around the chapel features a medicinal herb garden, and Cocteau created frescoes based on the herbs and flowers in the garden. He is buried in the chapel, and on the simple slab of a tomb, donated by the town of Menton, is written, "I remain with you", in his handwriting.
In the steps of Cocteau: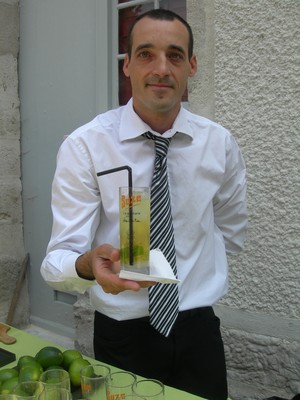 In Paris at Le Grand Vefour, where he designed the menu for chef Raymond Oliver in 1948, you can book his favourite table.  And at La Mediterranée, you'll eat from Cocteau-designed dishes and the décor is punctuated with Cocteau drawings. Find editions of his books at good booksellers and buy limited-edition tchotchkes and paintings at Galerie Anne Julien, 14 rue de Seine, 6th and Galerie Dominique Bert, 31 rue de Penthievre, 8th. Or head straight to Cartier, 23 place Vendome, 1st and snag a Trinity ring inspired by Cocteau who wore one on his little finger (8,600€). Need an aperitif after the shock of the conspicuous consumption? Try SUZE, born 1889, the same year as Cocteau, distilled from the roots of the gentian plant grown south of Paris. Now owned by Pernod, SUZE have created a special edition bottle of "La Gentiane par Jean Cocteau" available at all good cavistes 30€. www.suze.com
Maison Jean Cocteau,
15 rue du Lau, 91490
Milly-la-Foret,
T: 01 64 98 11 50
Autoroute A6 exit No. 13 (Milly-La-Foret 6kms)
Open from Wed-Sun from 10hrs-19hrs
Entry fee –  7€
Market Day every Thursday
To rent a car, Bonjour Paris recommends Auto Europe.  If you need a hotel in France (or for that matter anywhere) you can reserve it here.
Please post your comments or questions and let them flow. Register HERE to do so if you need a Bonjour Paris user name and password.
Leave a reply
Your email address will not be published. Required fields are marked *