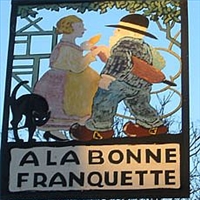 Just above the Montmartre vineyards, La Bonne Franquette is a very special address.
In 1886 Van Gogh, who lived with his brother Theo on nearby rue Lepic, painted "La Guinguette" (now in Musée d'Orsay) inspired by Bonne Franquette's garden, where you can eat on warm days.
"This maison goes back four centuries," explains owner Patrick Fracheboud, who took over from his father thirty years ago. "Cezanne, Renoir, Monet, Zola, Piaf, Aznavour, all came here to quench their thirst, eat something simple, La Bonne Franquette means a simple meal, just like you'd have at home".
Décor is enhanced with "conversation piece" antiques and vintage wine crates, glass-mounted pictures of French wine regions punctuate the walls. The restaurant's motto is: Aimer, Manger, Boire & Chanter à Montmartre, the house is in four parts.
The Zinc Wine Bar, where Patrick Fracheboud is always ready to introduce you to a great little discovery, often bio, from a small winemaker in his beloved Burgundy. The wine card has around 150 labels, listed by winegrowers, the best from each AOC, "and we always decant them," insists Fracheboud. "The English appreciate my wines, they know more than I do," he grins. The 50-cover bistro with red check tablecloths is a prelude to the Aristide Briant room for night-time Cabaret when tables get dressed up for a feast and dinner becomes a noisy party with can-can dancers. In summer there's the beautiful 60-seater garden.

On the menu, plenty of vegetarian dishes for the ladies who do. For carnivores, accents are on sturdy French dishes made with the best ingredients: Duck Foie Gras with fig chutney. Charolais Beef à la fleur de sel de Guérande. Boudin noir aux piments d'Espelette. Cuisse de canard à l'orange confite, fabulous cheeses and desserts include Tarte Fin au pommes and creamy Fontainebleau with griottes or chestnut purée from Collioure, all made in the Bonne Franquette kitchens.
Bonne Franquette has won Le Grand Prix de la Presse du Vin en Restauration and takes part in many wine events. Obviously it's the place to go during the October Montmartre Wine Harvest or to celebrate Beaujolais Nouveau the third Thursday of November. Fracheboud, who once worked as a researcher for Jacques Delors at the Paris 1X Dauphine University and at the European Parliament, will be there to greet you, that's if he's not touring France seeking out exciting new winegrowers.  There aren't many Doctors in Comparative Politics running restaurants—"it's all my father's fault," he grins, uncorking yet another Pinot Noir. "You'll appreciate this, quelle finesse," he sighs, tasting the Domaine Jacqueson, "Les Cloux" 2007.  And while you're there, ask him to give you a tour of the vineyard, he's a Knight of the Wines of The Republic of Montmartre. And ask why he doesn't have rooms so you can stay longer—trust me, you won't want to leave.
La Bonne Franquette,
Angle 2 rue des Saules:18 rue Rustique 18
T: 01 42 92 02 42
Metro: Abbesses: Blanche: Lamarck Caulaincourt
Take the funicular if you can't face the stairs
Open 7/7
Lunch formula 19€
Dinner 27€
Children's Menu 10€
A La Carte from 30/50€
BUZZ-BUZZ Diary Date:
Sunday 11th April 2010 – L'Hotel Renaissance Paris Arc de Triomphe dedicates the day to Easter and Chocolate with something for all the family. Chef Louis-José Bangard opens the kitchens of Restaurant Makassar for chocolate demos—children welcome and won't leave empty handed. Hunt the hidden eggs in the gardens, chocs by Maison Michel Richart and entry fee of 10€ goes to SOS Villages d'Enfants.
Renaissance Paris Arc de Triomphe
39 Avenue de Wagram 17
www.renaissancearcdetriomphe.com
To make comments, Please register HERE if you need a free Bonjour Paris user name and password.
If you're coming to Paris in the near future, don't forget to use Booking.com to book your accommodation. For a thrilling view of Paris, take a Segway Tour.