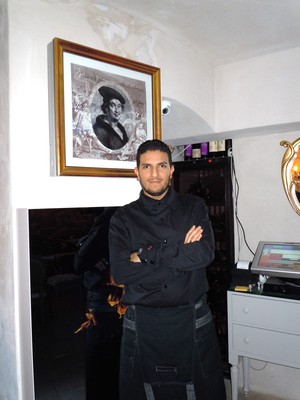 Konfidential Paris, sited in a quiet street off the busy rue de Rivoli, is a new hotel/restaurant concept created by two brothers. The setting is a long, thin 15th-century building, transformed into a six-floor hi-tech boutique hotel. Six suites, one a duplex, represent the history of France. Named for Marie Antoinette, Molière (born in the same rue), Gustave Eiffel. Décor's by artist/designer Robert Clévier, his first hotel project, a triumph. Clévier's cleverly created a modern look, perfect for 2011.
The restaurant is downstairs in the original cellars where poet Franҫois Villon once penned his works. Today it's all LED lights and special effects. A portrait hangs on the wall above the bio-fire. In the kitchen young maverick Akrame Benallal has already been polled "Grand de Demain" 2011 by GaultMillau and received a Gastronomade award. He's influenced by Pierre Gagnaire and Ferran Adria for whom he worked. Until recently you had to go to Tours to taste his cuisine at "Le Notaboo", the restaurant of Château des Sept Tours, Courcelles-de-Touraine: now le tout Tours comes to Paris.
There's no menu, just the inspiration of a young talent, "breaking all the codes" and a small enthusiastic team. Le rocher de pomme de terre et chapelure, potato lollipops to start. Then l'oeuf cuit à 62 degrés et champignons de Paris. Le foie gras vapeur au bouillon d'herbes. La poitrine de pigeon avec déclinaison de carottes et pain brûlée plus riz soufflé. Dessert one day last week was La compression de chocolat à l'huile de pistache. The short wine card includes white Chablis by the glass at 7€ and by bottle, red Saumur Champigny "Domaine de la Perruche" 2006 (35€). You'll be hearing a lot more of this young chef, his bright textures and flavours.
64 rue de l'Arbre Sec, 1st
T: 01 55 34 40 40
L'Atelier d'Akrame,
Lunch – 25€
Dinner – 45€
Tasting Menu – 65€
Shut Sat-Sun
Suite : 490€ per night including breakfast
Duplex : 590€ per night including breakfast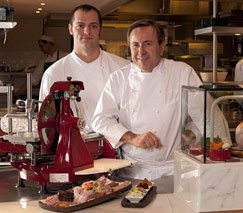 Lyon-born Daniel Boulud's come a long way since he was a finalist in "Best French Culinary Apprentice" aged 15. He then cheffed with Roger Vergé, Michel Guérard and George Blanc, did a stint in Copenhagen (what vision) before moving to NYC and playing to full and enthusiastic houses at the Polo Lounge, The Westbury Hotel, Le Régence at the Plaza Athénée and then creating his eponymous addresses which have become a global brand.
Now he's in London at The Mandarin Oriental (where Heston opens "Dinners" soon) and recently launched Bar Boulud. The menu's designed to bring out the inner Lyon in clients, wines showcased in glass cupboards, walls punctuated with wine memorabilia. The interior's by Adam Tihany, who's given a bright neo-brasserie look to the sprawling below-stairs spaces.
A traditional charcuterie menu by Paris uber-charcutier Gilles Verot includes country pâtés, seasonal game pies, Provenҫal rabbit, dry-cured sausages paired with excellent Burgundy and Rhône Valley wines and a bold selection of artisan beers. Sausages in every shape and form include Boudin Blanc, truffled with mash. There's Coq au Vin, Steak Frites, Volaille à la Paysanne, Croque Monsieur ou Madame (Madame comes topped with a fried egg). And great NY Burgers: choose Yankee, Frenchie or Piggie. Executive chef is Dean Yasharian and desserts (a little too contrived) are by Rodolph Tronc. Cheese comes "Earthy", "Old and Hard", "Stinky", and "Blue" is the English Colston Bassett Stilton.
Eat at the curved bar by the open kitchen (serving until 1am) or in the main space, which has a separate entrance from the hotel. The place is buzzing with suits and gorgeous "ladies who do" so book ahead, staff are delightful. Food is excellent, products are the finest, portions a little miserly—they wouldn't like that in Lyon.  But they would like the 3-course lunch at £20: great value, also served early evening.
66 Knightsbridge, London, SW1X
Menu Prix Fixe 3 courses £20
Served at lunch & between 5.30pm-7pm
Charcuterie Tastings from £14.50
Open 7/7
T: 0207 201 3899
Two Chicago restaurants earned 3-star rating in the first ever Michelin Guide Chicago:  Alinea and L20, although chef Laurent Gras (ex-Ducasse) seems to have left L20. There are three 2-stars: Avenue, Charlie Trotter's and Ria.
"Michelin is showing the world what Chicago residents already know, that this is one of the finest cities in the world to eat", said Jean-Luc Naret, director of Michelin until year's end.
Starred restaurants and 46 Bib Gourmands (meals for less than $40) are only two of the multiple choices. "Breakfast Specialists" highlight 19 restaurants offering a great start to the day and note Chicago is the only city with this category in a Guide Michelin. Sign of the times, there are also 109 restaurants selected offering menus under $25.
Please visit our Amazon affiliate store for your shopping. Bonjour Paris has hand-selected some of our favorite travel gifts and gadgets for our readers… plus many Paris- and France-related books for children, travelers, scholars, and dreamers.

zChocolat: "World's Finest Chocolates by World-Champion Chocolatiers." zChocolat's selection is handmade by world-champion French chocolatiers following a 400-year-old tradition of passion and zealous adherence to purity. A single bite is an instant of pure seduction and sensory bliss one has never experienced before.
Wine.com has one of the biggest selections of wine on the internet, with everything on offer at a great price!