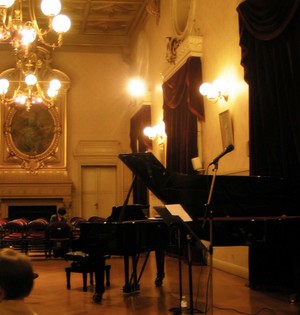 You've never really listened to jazz until you've heard it live in Paris. You've never truly appreciated classical music unless you've been treated to a concert in the City of Light. To make sure everyone can enjoy these pleasures, Integral Distribution has organized a series of free concerts in one of Paris's most prestigious concert venues, the Théâtre du Châtelet.
In the midst of an evening stroll, have you ever drifted past a theater lobby glowing with light and song so warm it seemed not a music house but a music home? As you wander before the closed doors you wonder, naturally, what it takes to participate and play a part in the recital. The good news is, the only investment required here is time and you're guaranteed the time you keep will be good at the Théâtre du Châtelet.
Gabriel Davioud designed the theater as well as her near-twin sister, the Théâtre de la Ville (AKA the Sarah Bernhardt Theater) across the fountain on the Place du Châtelet. You remember Davioud—he was the French architect who designed the amazing fountain at the Place Saint-Michel and served as Baron Haussmann's right-hand architect. Haussmann, the city planner under Napoleon III, had Davioud build both theaters in 1862.
While the concerts aren't held in the theater itself, they are conducted in the foyer, making the elegant showroom, quite literally, a concert hall. The size of the room means the spectator is close to the musicians, while the coffered ceilings, rich artwork and ornate lighting create an intimate ambiance, ideal for appreciating any kind of music.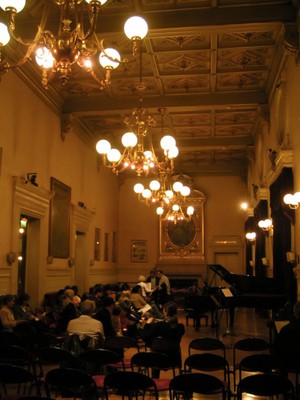 Integral Distribution, who sponsors the concerts, promotes a wide range of musical tastes, from jazz to classical to Armenian folk. The next show (December 2 at 7:30 pm, Théâtre du Châtelet; doors open at 7:00 pm) will be a combination of jazz and, after a short intermission, classical music played on the marimba to texts by Marcel Proust, with Czech classical music just four days later. Even more recitals will be held next year; you can check Integral Distribution's website (French only) for more information.
I was fortunate enough to attend a jazz show one sultry Friday evening in October. The first of the two acts, a Swedish trio fronted by Bobo Moreno (promoting the CD 50 Ways To Leave Your Lover), took the "stage" and provided a very entertaining set of jazz standards and not-so-standards (I'm still not convinced "Hard Day's Night" and "People Get Ready" were ever intended to be jazzed up). The band's tempo was as light and good as their mood, as proved by the 8-year-old girl in the front row whose free-spirited chair dancing had a lot more to say about the bouncy rhythm than anything a jaded old pseudo-journalist like myself could state.
The second group, led by the lovely Tricia Evy, was perhaps a little more "easy" than "listening" for my personal tastes but still a very tight trio. The renditions of "Embraceable You" and "It's All Right With Me" were well executed and they also performed a number of originals off their first CD, Beginning, which also sports invités de marque like Thomas Dutronc.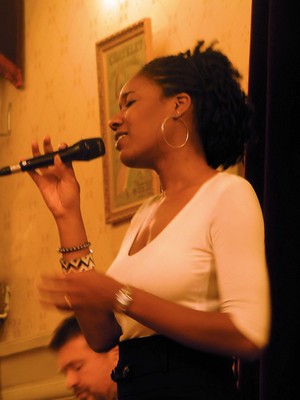 The magical aspects of nights like these flow from the city of Paris which infuses the tunes with a mood all her own and the music itself which makes the City of Light shine that much brighter. An evening spent in the foyer of the Théâtre du Châtelet is priceless, and all the more so because you won't have to pay a thing.
Integral Distribution (French only)
Théâtre du Châtelet (French only)
By Paul Prescott (Paris Inspired Website)
All photos ©Paul Prescott
zChocolat: "World's Finest Chocolates by World-Champion Chocolatiers." zChocolat's selection is handmade by world-champion French chocolatiers following a 400-year-old tradition of passion and zealous adherence to purity. A single bite is an instant of pure seduction and sensory bliss one has never experienced before.
Wine.com has one of the biggest selections of wine on the internet, with everything on offer at a great price!