In the Know in Bordeaux: Dining, Shopping, Market & More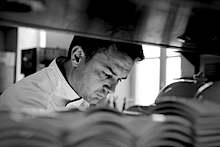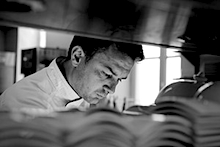 Planning a little jaunt to Bordeaux to sample vintages called some of the best in the region's history,  I rang up Pascal Nibaudeau, exec chef of the five-star Regent Grand Hotel Bordeaux for advice. His restaurant, the Pressoir d'Argent, has 16/20 in the Gault Millau Guide and earned a shiny new Michelin star in 2010. (About the star, Pascal says: "It's been a great challenge to build a fish restaurant in a district that's famous for its red wine!") Here, Pascal serves up some of his favorite local spots.
RESTAURANTS
I love Le Café du Port because of the wonderful view over the Garonne River and the famous Stone Bridge. Most of all, the kitchen is real. You'll experience not pretentious but effective service (tel 05 56 77 81 18).
One Michelin-starred restaurant I would definitely recommend is Le Saint James in the hotel with the same name just 10 kilometers away from Bordeaux in Bouliac. The chef is very friendly and the food is remarkable! The restaurant has a splendid view over Bordeaux (tel 05 57 97 06 00).
La Table de Montesquieu isn't in Bordeaux, but it's very close by, in a city called La Brède. They have one Michelin star (tel 05 56 67 62 80).
To finish with an unusual place, I really enjoy going to a high-quality Chinese restaurant called Au Bonheur du Palais in the heart of the city (tel 05 56 94 38 63).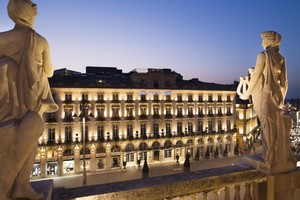 SHOPS
I like Eurasie, the second largest Asian culinary shop in France. You can find very fresh products at a very approachable price. Here you'll find the specific products needed for a gourmet restaurant or home cook, such as Tempura Flour, Kafir lemon, Peking Duck, etc. (tel 05 56 50 24 65).
I also like Fromagerie Jean d'Alos, a fine cheese shop in the very center of the city (tel 05 56 44 29 66).
For chocolate, Maison Georges Larnicol is fantastic…and so close…in our hotel (tel 05 56 58 78 29).
MARKET
Bassens is my favorite because it has products from all over the world (olives, spices, candied fruits…) People come from all over the city to shop there. And there's a very nice fishmonger who comes from where I come from: Les Charentes! Sunday mornings only, 8 a.m. to 1 p.m.
PLACE TO TASTE WINE
I suggest you visit the Centre Interprofessionel des Vin de Bordeaux (tel 05 56 00 22 66), situated in the heart of the city, where you can enjoy some very nice wine tastings from a wide range of vineyards and wineries.
I also like La Winery (tel 05 56 39 04 90), located in the Medoc. It's about 30 minutes away from Bordeaux city center and close to many vineyards. Unique in Europe, La Winery invites visitors to explore their own palates and find corresponding wines that will suit them.
# # #
Photos: The Regent Grand Hotel Bordeaux (perched just opposite the Opera National) and its Michelin-starred chef Pascal Nibaudeau.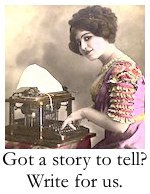 Julie Mautner is an American food, wine and travel writer living most of the year in the South of France. Since 2008, Julie has published ProvencePost, a blog about France.
Want to read more by Julie? We've got her first book,  The Food Network South Beach Wine & Food Festival Cookbook , co-authored with Lee Schrager and published by Random House/Clarkson Potter in November 2010.
Subscribe for free
weekly newsletters with subscriber-only content.
BonjourParis has been a leading online France travel and French lifestyle site since 1995.
Top 100 France-themed books & more: Readers' Favorites. (Please wait for widget to load)
Update your library with these books & DVD to help plan wine tours….click on image for details.
Thank you for using our link to Amazon.com…your purchases support our free site.
Leave a reply
Your email address will not be published. Required fields are marked *