Jean Georges and Georgia on my Mind Buzz
One tranche of black truffle pizza with fontina cheese, the "Black Plate" a Samosa of spicy chicken, yogurt and coriander or steamed sea-bass with herbs, ginger and spring mushrooms and you'll be hooked on Jean-Georges Vongerichten's cuisine. In Paris for one day this week, Jean-Georges celebrates seven years of Market, his East meets West New-York style canteen (in collaboration with Luc Besson and Francois Pinault) on Avenue Matignon, with a wild spicy party. Each guest tasted the entire repertoire, and then he was off to the airport, Atlanta, Georgia bound, where he opens Spice Market to-day. It's part of his new restaurant development, "Culinary Concepts by Jean-Georges". "We're serving Asian street food I've discovered over the years", he explains. Alsace born Vongerichten apprenticed chez Paul Haeberlin at Auberge de L'Ill, chez Paul Bocuse and Louis Outhier at La Napoule. From there it was Asia and The Oriental, Bangkok. "My Alsace palate was transformed by spending most of my 20's in Asia", he admits. "At the restaurants I was cooking French, but during my time off, I was in the street markets tasting all this new food", he recalls. "Ginger", wow! Lemongrass, wow! Chilies. OMG!" In New York there were loud cheers for his spicy, sexy cooking at Drake Swissotel and then, 1991, Jo-Jo launched on the upper East Side (the hottest ticket in town) followed by Vong, which subsequently launched in London, Hong Kong and New York, making Jean-Georges the busiest chef in the world. To-day his luxe take on street food is a brand, does $18 million a year in turnover, not bad for a fusion pioneer from Alsace with a name nobody knows how to pronounce. Along the way Jean-Georges had also discovered his "inner-businessman", which landed him financial partners who would underwrite his restaurants, starting with Jo-Jo including Vong, Jean-Georges, Market, Spice Market…."Maintaining restaurants is hard, a little boring. The fun is the creativity, new menus, new flavours, the "it" products", he says. He doesn't seem to get the same flak for being a globe- trotting chef as Ducasse. "If Chanel and Prada can sell luxury around the world, why can't truffle or foie-gras toting chefs", he reasons. And why not indeed? Jean-Georges sketches diagrams of each dish, his chefs across the world then re-create what he wants. "If I could I'd open a new restaurant every month", he says. "The food is important, but the restaurant business is also about making sure the bathrooms have enough toilet paper!"
www.jeangeorges.com
Forget Natalia Vodianova, the fabulous Georgians who have taken over La Maison Georgienne, now Le Georgien, not only look like supermodels, but know how to run a restaurant. Follow Olga Pancenko who'll greet you at the door, sip vodka in the salon before lunch or dinner Georgian style. The newly decorated datcha/restaurant is on four floors, with a chic lift, no expense spared with elegant décor. The garcons, hunky Georgians will explain Pkhali d'aubergine roulés aux noix fraiches et son Khatchapouris iméruli, pain garni de fromage. That's a crepe stuffed with cheese and grilled, could be topped with caviar. Géorgien fondu or foie gras Georgienne: ravioli stuffed with beef or cheese. Gambas and St. Jacques are lightly fried with spices and vegetables. Salmon is lightly steamed with pomegranate seeds and crunchy vegetables served in a chicory leaf. Cabillaud steamed with fresh coriander. "Starting January we're translating the the menus", promises Olga. In Georgia you're east of the Black Sea, west of Azerbajan, south of Russia, north of Turkey, get the same feeling at this unique maison, on the left-bank, just behind rue de Rennes. OK, without the mountains, but you can't have everything, dorogaya. It's agricutural land, independent from Russia since 1991. We won't talk about you know what, just remember Georgia's the birthplace of winemaking (according to the Georgians) the Georgian word Ghvino may be the root of French "vin" and English "wine". So look for Moukouzani, the grapes are saperavi and Cabernet Sauvignon, dark, tannic, delicious. And, to match the wine, Georgian and French chefs have created exciting menus, are delighted to compose menus just for you. A great way to discover Georgia – without the visa or theschlep to the airport. La Maison Georgien, 3 rue du Sabot (Metro: Saint Sulpice) T: 01 45 48 50 83
www.lamaisongeorgienne.fr
Lunch from 19-24€ + A la Carte Menu Decouverte 29€ A La Carte about 30€ Menu Degustation 59€
SUBSCRIBE
ALREADY SUBSCRIBED?
BECOME A BONJOUR PARIS MEMBER

Gain full access to our collection of over 5,000 articles and bring the City of Light into your life. Just 60 USD per year.

Find out why you should become a member here.

Sign in

Fill in your credentials below.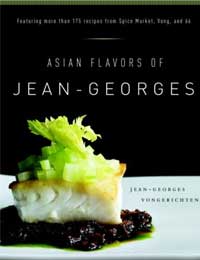 One tranche of black truffle pizza with fontina cheese, the "Black Plate" a Samosa of spicy chicken, yogurt and coriander or steamed sea-bass with herbs, ginger and spring mushrooms and you'll be hooked on Jean-Georges Vongerichten's cuisine.
In Paris for one day this week, Jean-Georges celebrates seven years of Market, his East meets West New-York style canteen (in collaboration with Luc Besson and Francois Pinault) on Avenue Matignon, with a wild spicy party. Each guest tasted the entire repertoire, and then he was off to the airport, Atlanta, Georgia bound, where he opens Spice Market to-day. It's part of his new restaurant development, "Culinary Concepts by Jean-Georges". "We're serving Asian street food I've discovered over the years", he explains.
Alsace born Vongerichten apprenticed chez Paul Haeberlin at Auberge de L'Ill, chez Paul Bocuse and Louis Outhier at La Napoule. From there it was Asia and The Oriental, Bangkok. "My Alsace palate was transformed by spending most of my 20's in Asia", he admits. "At the restaurants I was cooking French, but during my time off, I was in the street markets tasting all this new food", he recalls. "Ginger", wow! Lemongrass, wow! Chilies. OMG!"
In New York there were loud cheers for his spicy, sexy cooking at Drake Swissotel and then, 1991, Jo-Jo launched on the upper East Side (the hottest ticket in town) followed by Vong, which subsequently launched in London, Hong Kong and New York, making Jean-Georges the busiest chef in the world. To-day his luxe take on street food is a brand, does $18 million a year in turnover, not bad for a fusion pioneer from Alsace with a name nobody knows how to pronounce.
Along the way Jean-Georges had also discovered his "inner-businessman", which landed him financial partners who would underwrite his restaurants, starting with Jo-Jo including Vong, Jean-Georges, Market, Spice Market…."Maintaining restaurants is hard, a little boring. The fun is the creativity, new menus, new flavours, the "it" products", he says.
He doesn't seem to get the same flak for being a globe- trotting chef as Ducasse. "If Chanel and Prada can sell luxury around the world, why can't truffle or foie-gras toting chefs", he reasons.
And why not indeed? Jean-Georges sketches diagrams of each dish, his chefs across the world then re-create what he wants. "If I could I'd open a new restaurant every month", he says. "The food is important, but the restaurant business is also about making sure the bathrooms have enough toilet paper!"
Forget Natalia Vodianova, the fabulous Georgians who have taken over La Maison Georgienne, now Le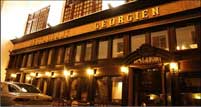 Georgien, not only look like supermodels, but know how to run a restaurant. Follow Olga Pancenko who'll greet you at the door, sip vodka in the salon before lunch or dinner Georgian style.
The newly decorated datcha/restaurant is on four floors, with a chic lift, no expense spared with elegant décor. The garcons, hunky Georgians will explain Pkhali d'aubergine roulés aux noix fraiches et son Khatchapouris iméruli, pain garni de fromage. That's a crepe stuffed with cheese and grilled, could be topped with caviar. Géorgien fondu or foie gras Georgienne: ravioli stuffed with beef or cheese. Gambas and St. Jacques are lightly fried with spices and vegetables. Salmon is lightly steamed with pomegranate seeds and crunchy vegetables served in a chicory leaf. Cabillaud steamed with fresh coriander. "Starting January we're translating the the menus", promises Olga.
In Georgia you're east of the Black Sea, west of Azerbajan, south of Russia, north of Turkey, get the same feeling at this unique maison, on the left-bank, just behind rue de Rennes. OK, without the mountains, but you can't have everything, dorogaya. It's agricutural land, independent from Russia since 1991. We won't talk about you know what, just remember Georgia's the birthplace of winemaking (according to the Georgians) the Georgian word Ghvino may be the root of French "vin" and English "wine". So look for Moukouzani, the grapes are saperavi and Cabernet Sauvignon, dark, tannic, delicious.
And, to match the wine, Georgian and French chefs have created exciting menus, are delighted to compose menus just for you. A great way to discover Georgia – without the visa or theschlep to the airport.
La Maison Georgien,
3 rue du Sabot (Metro: Saint Sulpice)
T: 01 45 48 50 83
Lunch from 19-24€ + A la Carte
Menu Decouverte 29€
A La Carte about 30€
Menu Degustation 59€
---
---