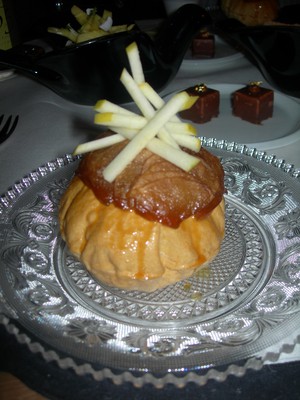 The paint's barely dry at Jean-François Piège, the left-bank restaurant above Brasserie Thoumieux and the dinner service is complet. OK, there're only 20 covers, but how do all these people know about it? He's had little publicity and doesn't have a press person. Word of mouth works like that among French foodistas. "Tu etais chez Piège?" they'll ask as they browse in Berluti, order wine chez Augé, "Mais c'est formidable!"
And it is formidable. When Piège left Le Crillon he was looking for a new adventure which he found at Thoumieux, the classic left-bank brasserie/hotel in need of transformation. Working with Thierry Costes they created a style-oasis which reflects the zeitgeist of today.
Jean-François Piège's eponymous space is in the same building as Thoumieux; with a separate front door, reached by a staircase, it's as though you're visiting a friend's very chic apartment. Cutting-edge cocoon decor's by architect India Mahdavi, who also created Costes' wacky canteen Germain. And soon, reached by a second staircase, the hotel's 17 rooms will re-open, with marble bathrooms and breakfast by Piège.
Piège comes out of his semi-open kitchen and explains: "My goal is keep it simple; we're not at Le Crillon here. In fact we're at the wrong end of the rue, Christian Constant's got the posh end", he jokes.
No menu, just "Les Règles du Jeu", read todays market. Begin with a farandole of snacks (grignotages), jambon-beurre, moules frites, tiny veg from Joel Thièbault, warm liquid deep-fried gobstoppers which burst in your mouth, warm breads. Go on to Diver scallop, Blue Lobster, Turbot from Brittany, Beef "from here and there". La Cour d'Armoise chicken with a reduction of vieux Xérès au parmesan and truffes blanches.  Choose either 1, 2 or 3 "ingredients". Piège interprets your choice; when it's served he comes to table, all starched whites and testosterone, with the appropriate sauce. Cheese is Xavier, the Toulouse affineur. And dessert at present is apple soufflé: a puff of sweet pizza dough reveals apples and cream, how does he do it? (see photo above). And Ferrero Rocher, version Piège is epic.
No sommelier, Audrey advises on wines, perhaps the Vin Naturel white Burgundy from Jean Marie-Berrix at 39€. The elegant Mathieu Foureau takes charge of the salle and the atmosphere's charged with excitement. The dishes are sublime, served on superb tableware you'll want to pop in the Kelly.
"I've invented nothing, I just do it my way", reflects Piège. ""Here I'm chez moi. You'll come and enjoy some excellent wines (1,600 references) and a belle cuisine de proximité made with products from the best suppliers in France".
Loved Frank Sinatra singing his heart out in the loo, loved the discovery of a new style of eating.
79 rue Saint-Dominique, 7th
Metro: Ecole Militaire,
At present dinner only
T: 01 47 05 49 75
Shut Sunday-Monday
Average spend: 70€ 90€ 104€ + wine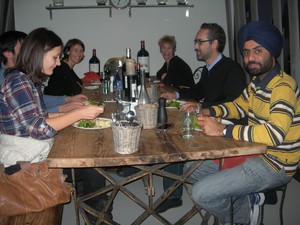 When the grocery store next to Astier, Fredrick Hubig-Schall's popular brasserie in the 11th arrondissement shut, Hubig grabbed it. He's long wanted to create a modern space where people can eat, drink, "pray" (not really, maybe pray at the shrine of Hubig's rotisserie), take-away, have fun. So Jeanne A opened recently, and the place is buzzing. "Comestibles" Hubig's now not only a fine restaurateur but a supplier of comestibles, such a lovely word n'est-ce pas?.
As you walk in the bright contemporary space/place is stuffed with them, hanging from hooks, under glass, in cabinets, read Fortnum & Mason côté Oberkampf. And just like F & M you can eat chez Jeanne A, as Hubig's called it, "after the wife of the founder of Astier", she'd love it bless her, shame she's not here to see it. You can just hear her sigh, "such a bright boy this Hubig".
Wines are served by the glass, bottle or carafe. Le Benjamin de Puech-Haut from the Languedoc (5€) red, white or rosé, mostly they're served from magnums. "It's so festive to see a magnum bottle on the table", says Hubig.
Food is served either on small tables à deux or at the scrubbed wooden table d'hôte where you'll make new best friends. The daily fare is written on blackboards: Salade de Tomates AB varietés anciennes; Manchon de canard rotis, sauce barbecue; Sardines fraiches marinées vinaigrette tomates confites are starters or can be served "tapas style". Mains are Poulet fermier pattes noires de Challans: Dodine de magret de canard à la genièvre and served with creamy gratin dauphinois and green salad. Apple Crumble dessert is the best; there's also a mean Tatin and perfect Raspberry Millefeuille. Is Hubig about to do a Constant and take over the entire rue? Watch this space.
42 rue Jean-Pierre Timbaud, 11
Metro: Parmentier
Shut Tuesday-Wednesday
Average spend 3 courses – 24€
Weekend Brunch
T: 01 43 55 09 49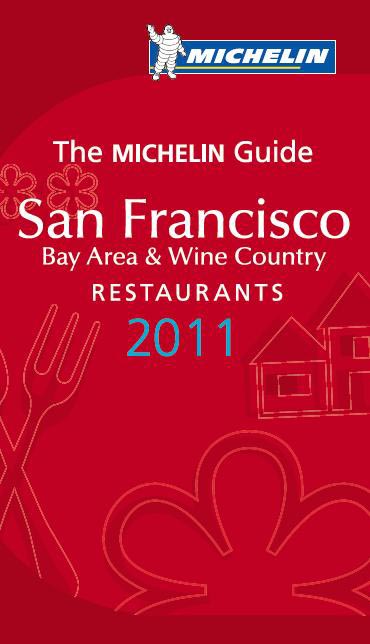 More than one million Michelin Guides are sold yearly. The latest little red book is the 5th edition of San Francisco Bay Area and Wine Country 2011. Exciting! Where will you leave your heart? Michelin divides the guide into six sections: San Francisco City, East Bay, Marin, Peninsula, South Bay and Wine country. Asian and South American cuisines are well represented in South Bay in particular. Mexican cuisine remains a Mission speciality. Forty-three distinct cuisines are represented, showcasing the region's spectacular culinary diversity. 71 hotels from boutique style to resorts are listed as well as 23 new restaurants earning BIB Gourmand status this year. There are two 3-stars: The French Laundry is now joined by The Restaurant at Meadowood, "a beautiful cottage devoted to culinary magic".
Let's hear it for the San Francisco Giants v Texas Rangers.
Michelin Guide – San Francisco, Bay Area & Wine Country Restaurants 2011 – $12.91 at Amazon.com
If you're coming to France (or for that matter anywhere) you can reserve your hotel here. To rent a car, Bonjour Paris recommends Auto Europe.