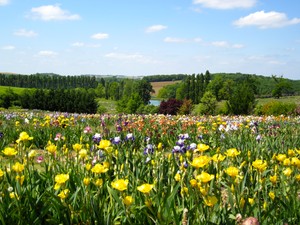 One sunny, spring afternoon, I decided to take a drive towards Agen, forty-five minutes from where I live, where I heard there was an iris farm in the village of Laplume.  Driving through the lovely, hilltop hamlet I looked for signs for the Iriseraie de Papon, but didn't see one until I was on the main road again, just outside of the village proper. After thinking to myself that the locals had hidden this treasure for themselves, I was dazzled as I drove around a curve and saw fields of color in the distance.  The Iriseraie de Papon, a collection of 2500 different varieties of iris, is breathtaking. There are 5 fields – one for walking through and 4 for selecting from. Should you decide to buy some iris for your own garden, a very happy man will follow you around while you choose, a long handled spiked tool in one hand and bags in another. He will tell you how to plant and care for the iris you've selected.  What makes the iris a perfect addition to your garden is that they are resistant to frost and drought if planted correctly and only decay when too much fertilizer, herbicide or water are used.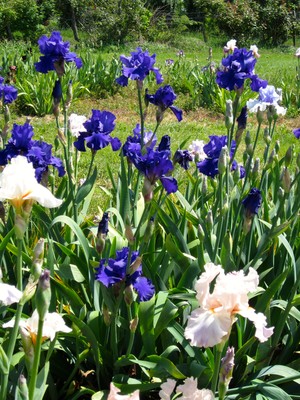 The iris, contrary to popular folklore, does not change color, but the color variations are endless. If iris are left to hybridize wild in your garden, they will stop blooming after 3 years.  It's at this point that they should be divided and replanted, mindful never to plant them in the shade (they are full sun lovers) or cover the rhizomes with soil. The iris is calcareous and prefers loose soil.  They can be fed carbonate of lime and magnesium before winter, particularly if they are planted in clay soils. An organic fertilizer is the best. Though iris are drought tolerant, they should be watered during very dry periods. The only real maintenance work is weeding and slug abatement. Iris should be planted from May till September to ensure the new roots don't get too cold before they take. The rhizomes, should see the sun and can be planted on mounds to avoid excess water. Do not cut the leaves as it's from the base of them that the new flowers will grow. Let the old leaves turn yellow and brown before you pull them away.
The history of the iris began with the Greeks who named the flower after the messenger of the gods who had golden wings and traveled on a rainbow.  It continued with King Tut III of Egypt when he conquered Syria where irises grew in wild profusion.  Tut then immortalized them in sculptures at his Temple of Amon.  Irises stand for the renewal of life and was aptly applied to the Egyptian idea of the afterlife.  The iris plant has been used throughout history for medicinal purposes. It also was and still is used in perfumery, its scent originally, however, applied as an offering to the gods.  Clovis I, the Frankish king, was the first to decorate with the symbol of the iris, then KIng Louis VII and King Charles V, ensuring its popularity as the symbol of France- the fleur-de-lis.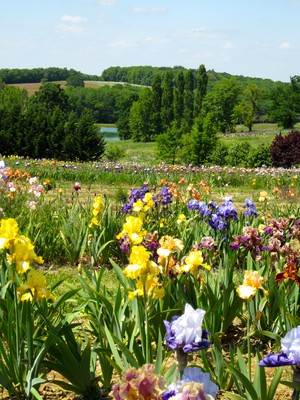 I chose 5 very different colors – black, crimson, sepia, gold and beige tinged with a bit of the palest purple.  They are priced at 6 euros per plant, 6 for 30 euros or 12 for 60 euros. To make a beautiful bouquet, I was told to cut the flowers in the early morning and put them in a vase with a small amount of wet sand.  I was reminded not to use water or they will rot very quickly.  There is enough water in their long stems to last a week.  The Iriseraie de Papon offers shady spots for picnics and a water bowls for thirsty dogs.  They are open May through October and can be found online.  As I sat under the shade of an old oak tree with the subtle scent of iris carried on a gentle breeze, I imagined myself in Giverny, amongst the same palette of colors Monet so often painted.

Subscribe for
FREE

weekly newsletters.
BonjourParis has been a leading France travel and French lifestyle site since 1995.
Readers' Favorites: Top 100 Books, imports & more at our Amazon store
We update our daily selections, including the newest available with an Amazon.com pre-release discount of 30% or more. Find them by starting here at the back of the Travel section, then work backwards page by page in sections that interest you.
Current favorites, including bestselling Roger&Gallet unisex fragrance Extra Vieielle Jean-Marie Farina….please click on an image for details.
Click on this banner to link to Amazon.com & your purchases support our site….merci!
Leave a reply
Your email address will not be published. Required fields are marked *