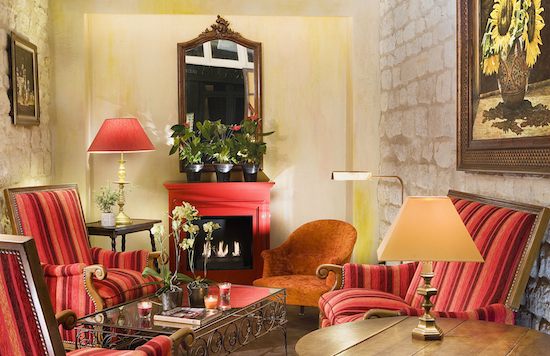 Valerie Benigno, Directrice d'Hébergement de Hotel Saint-Paul Rive Gauche, recalls receiving a large envelope postmarked from the UK. Inside was a huge porte clef to room 12. "It was a heavy, old fashioned key," Valerie says. "Probably 50 years old." We are in the sitting room which has a large bay window, Haute Epoque furniture, and a bio-ethanol crimson fireplace, part of the hotel's commitment to operating a green establishment. The room's exposed stone walls were a part of the foundation of defense that surrounded Paris at the time of Philippe Auguste.
The key, a more recent artifact, was among the effects of an elderly gentleman, and his son was returning it to its rightful home on rue Monsieur le Prince.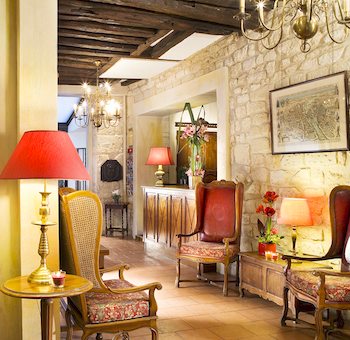 Judging from the massive guest book, visitors' attachment to Saint-Paul Rive-Gauche has been an ongoing affair. When John Hawkins, a Brit, married into the French hotelier family during World War II, servicemen found a rare English speaking haven and often stayed for weeks. Some of those guests still return. Franciscan monks lodged here, likely in the 17th century. This sense of a sanctuary remains, a feeling of peaceful homecoming that begins when you enter the lobby.
I looked hard for snafus, but found not one. Saint-Paul Rive-Gauche is impeccable in its attention to historic detail, comfort, and cleanliness. The red hallway rugs, embossed with fleur de lys, are immaculate, the banisters polished, the hallways are papered and stenciled. There are freshly laundered curtains in gauze, wide plaid or striped high quality cotton. (The same chambermaids have worked for this family for nearly 20 years.)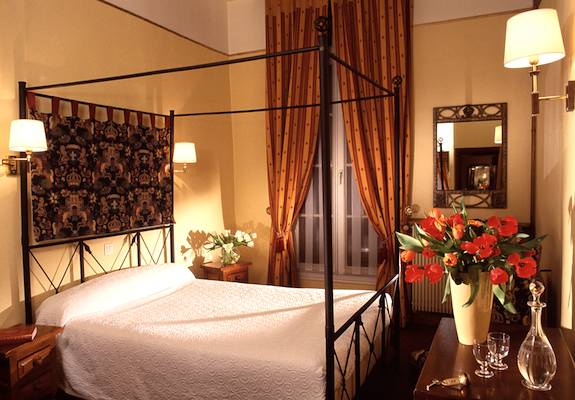 Each of the 31 rooms is distinct in décor and warmth. Each has its particular charm: a tapestry, hand painted wallpaper, a trompe–l'oeil, a flower box of geraniums. Except for the two new ground floor rooms, all the rooms have oak beams, and most have high windows. The ground floor rooms face an enclosed courtyard, which has two flower-filled Anduze vases and decorative laurel trees.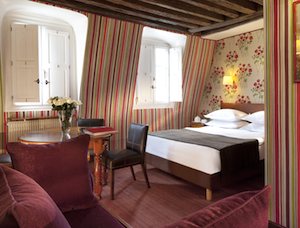 Room 13 is one of the most romantic with its four poster, wrought iron bed and tapestry headboard, beamed ceilings, and de rigueur French windows (double paned to ensure quiet).
In room 35, there's a fresco of former house cat, Sputnik, perched on a bookcase. (Skype is the new resident kitty.) The bathrooms are impeccable; one has a Jacuzzi. The towels are standard, not lush, but who's complaining when the hot water is instant, and there are Roger&Gallet soaps by the sink?
My top-floor room 53 (the lift goes to the fifth floor where the owners once lived) feels like an enchanted attic with its beamed slanted ceiling. Garret windows overlook rooftops that are cast in amber as the sun sets. Every room has the requisite nod to modernity: flat widescreen TVs, Wi-Fi, and a handy mini bar (essential for cooling une bouteille or deux). The hotel offers laundry service, but there is a laundromat directly across the street.
But most astonishing is the breakfast room.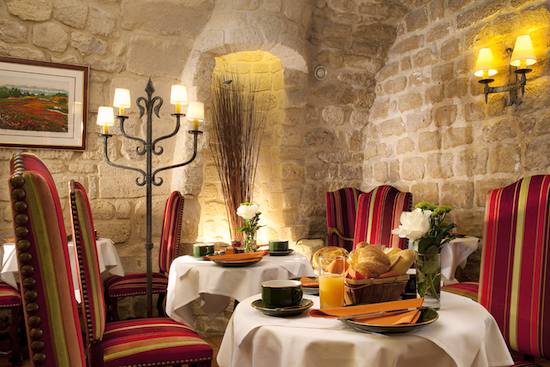 Descend several winding stone steps and you enter a room with stone walls and vaulted stone ceiling. In deference to a striking bit of antiquity—an ancient well set into the stone—the hotel was once named Hôtel du Réservoir. The breakfast buffet is sumptuous by Continental standards: fresh croissants, yeasty rolls, all sorts of breads, thick jams, fresh fruit, yogurt, cheeses, herbal teas, and coffee.
If you can bear to leave this gem, step outside and enter the heart of the Latin Quarter. Order an espresso at any café near the Sorbonne, which is at the end of the street, and you might overhear a discussion of analytical geometry. You'll find one of the best bakeries and chocolates by Gérard Mulot at 76, rue de Seine. You may head straight for the Cluny Museum or linger in the Luxembourg Gardens, a four-minute walk from the hotel, if you don't get sidetracked by the San Francisco Book Company that sells English language books, randomly and rather seductively stacked for browsing.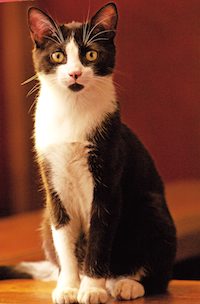 Editor's update: Black and white cats are the traditional "greeters" at Hôtel Saint-Paul Rive-Gauche. Perkins was the first; he retired in 1999 at age 16. Then Sputnik, who arrived in the year 2000. He was a celebrity with a personal email address, but he retired in the year 2010 after 12 years of devoted service. Today Skype is on duty and you can learn more about him at the hotel's Facebook page.
PRACTICAL INFORMATION:
43, rue Monsieur le Prince, Paris 6th
Métro: Lines 4 & 10, Odéon; Line 10, Cluny-la-Sorbonne
RER: Line B, Luxembourg or Line C, St Michel-Notre Dame
Bus: 21, 27, 38, 58, 63, 70, 84, 85, 86, 87, 89, 96
Online route maps for Paris Métro, RER, bus, SNCF (Transilien)
Vélib' bike rental station maps
Arrondissement-by-arrondissement guide to Paris

Subscribe for
FREE

weekly newsletters with subscriber-only content.
BonjourParis has been a leading France travel and French lifestyle site since 1995.
Readers' Favorites: Top 100 Books, imports & more at our Amazon store
Get to know the neighborhood before you go..click on an image for details.
Thank you for using our link to Amazon.com…we appreciate your support of our site.