Holiday Entertaining with French Wine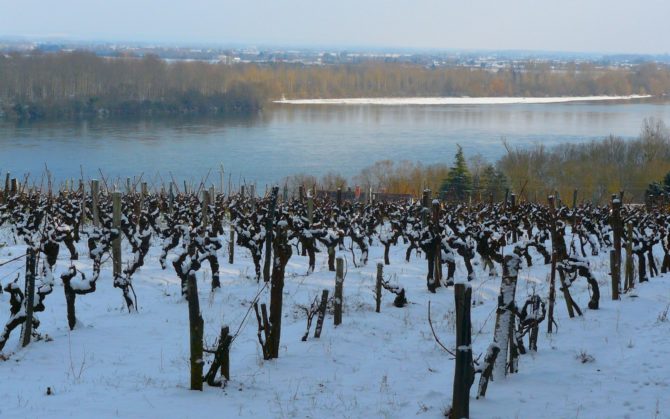 Loire Valley in December. Photo by Cathy Henton Every December as Christmas nears, we anticipate the pleasure of spending time with family and friends over a traditional meal. Here in France families traditionally eat their celebration meal on Christmas Eve after midnight—a wonderful meal that will include oysters and seafood, foie gras, roast lamb or guinea fowl, perfectly ripe cheeses and a whole host of dried fruits, nuts and sweet treats for dessert as well as the famous bûche de Noël. Care will be taken to choose wines that complement each course. The conversation will typically be dominated talk about the ingredients, method of cooking and origins of each item. Some guidelines for pairing food and wine Food and wine pairing can be a tricky business but a few simple guidelines will put you on the right track. If you're starting with seafood, choose a wine that's fresh and crisp. The zingy acidity acts just like a squeeze of fresh lemon that brings a dish to life. Champagne is always a winner but if that's not within your budget then look for a Crémant (made by the same method). Match weight with weight. If you have a really robust dish with lots of strong flavors, be bold and choose a robust wine with lots of flavor. Consider a rich Cabernet Sauvignon from Bordeaux, a chunky Syrah-based red from the Rhone valley or a spicy Minervois from the Languedoc. If you're serving something a little more delicate, you can tone your wine down a little and opt for something a little lighter, like a Cabernet Franc from the Loire Valley (Chinon, Bourgueil) or a Pinot Noir from Burgundy. Cheeses can be tricky. We have always been led to believe that red is the answer, but if you're serving a cheeseboard with several different types of cheese, beware or you can have a clash on your hands. Chalky goat's cheeses are high in acidity and go brilliantly with Sauvignon Blanc-based wines such as Sancerre. Hard cheeses like aged Cheddar, Comté and Beaufort are wonderful with red, but strong, smelly cheeses like époisses clash horribly with red wine. Blue cheeses are heavenly served with a sweet white such as a Coteaux du Layon or Sauternes—the salty, sweet combination brings out the best of both of them. When it comes to dessert the key is to match sweetness with sweetness.  You need to choose a wine that is at least as sweet as your dessert or it will seem dry in comparison. Think of Sauternes or Muscat de Beaumes de Venise with fruity-based desserts, or a really rich Chenin Blanc from the Layon with ginger, orange and apricot tarts. Consider a sparkling red or port with chocolate puddings. If you're thinking of making a curry with all that leftover chicken or turkey the following day, look for an aromatic wine like a Riesling, Pinot Gris or Gewurztraminer from Alsace.  Something with a little sweetness on the palate works very well with spicy food. A Chenin Blanc with a little sweetness on the palate, such as a Vouvray, can be excellent, too. When adding your seasoning, bear in mind that salt exaggerates the tannin in red wines (tannin is the component in wine that makes your mouth dry). Above all, choose wines that you like—it's very easy to get weighed down making the right choices. Wine is meant to be fun and enjoyed by everyone so don't let it become too much of a chore. Finally, here are a few matches made in heaven to please the most experienced wine drinker and the novice alike. Classic French holiday food and wine pairings Smoked salmon and Champagne, Crémant or white Burgundy (unoaked or lightly oaked Chardonnay) Grilled goat's cheese salad with a Sancerre or a Sauvignon Blanc-based white Foie gras with a glass of sweet Coteaux du Layon or Sauternes Oysters and mussels with Muscadet de Sèvre et Maine sur Lie, a dry wine not to be confused with the Muscat grape which makes sweet wines.  This wine is a minerally white that has been aged on its yeasty deposit. Cold meats and salami with a Gamay de Touraine or a Beaujolais (Gamay grape again) Pork-based pâtés and terrines with a Chenin Blanc from Vouvray or Montlouis Poached salmon with a delicate, dry rosé from Provence Chicken with cream and leeks with a lightly oaked white such as Anjou Chenin Blanc or Burgundy Crispy duck confit and lentils with a Pinot Noir from Sancerre or Burgundy A rich beef casserole with a spicy Cabernet blend, such as a Bordeaux or a Minervois from the Languedoc region of France Traditional roast turkey with all the trimmings with a Cabernet Franc from St Nicolas de Bourgueil Dark chocolate puddings with sparkling red and Maury, a port-style Grenache-based wine from the South of France. A final comment would be to mention that wines from the South of France tend to have more fruit expression then those from further north, so if you are accustomed to drinking wines from the "New World," this is a good place to start. Above all, enjoy yourself and remember that there are no rules, only guidelines. All decisions are subjective and rightly so.  With so many wines from so many different regions in the world, we can certainly have some fun trying out different…
SUBSCRIBE
ALREADY SUBSCRIBED?
BECOME A BONJOUR PARIS MEMBER

Gain full access to our collection of over 5,000 articles and bring the City of Light into your life. Just 60 USD per year.

Find out why you should become a member here.

Sign in

Fill in your credentials below.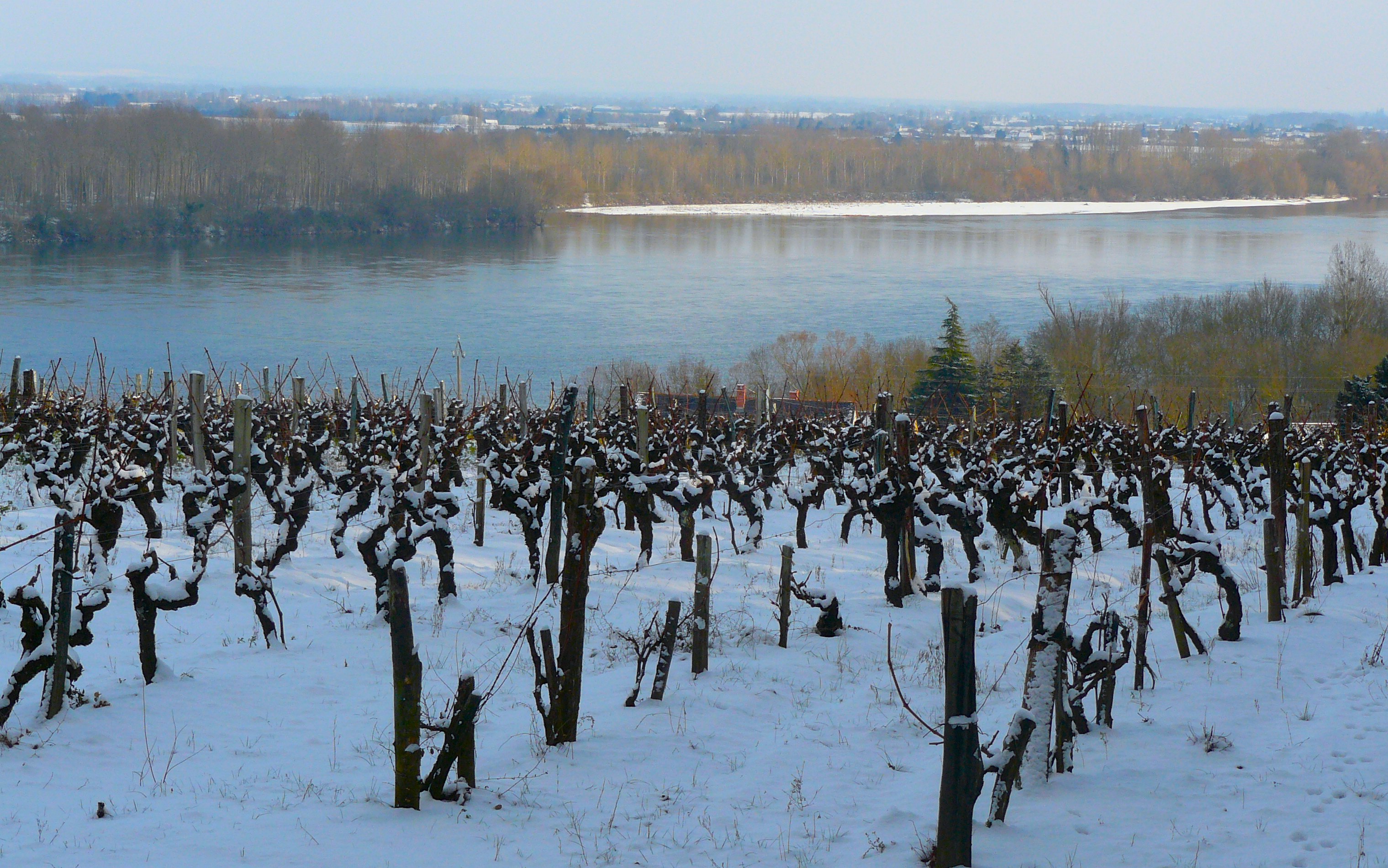 Loire Valley in December. Photo by Cathy Henton
Every December as Christmas nears, we anticipate the pleasure of spending time with family and friends over a traditional meal.
Here in France families traditionally eat their celebration meal on Christmas Eve after midnight—a wonderful meal that will include oysters and seafood, foie gras, roast lamb or guinea fowl, perfectly ripe cheeses and a whole host of dried fruits, nuts and sweet treats for dessert as well as the famous bûche de Noël. Care will be taken to choose wines that complement each course. The conversation will typically be dominated talk about the ingredients, method of cooking and origins of each item.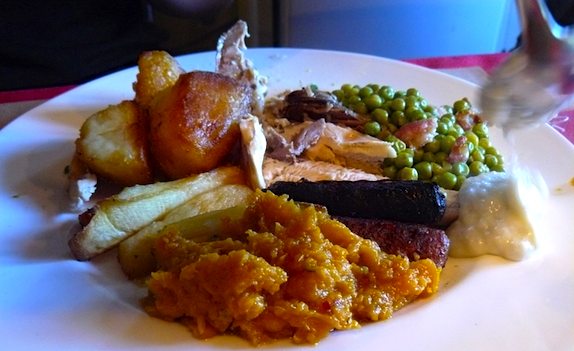 Some guidelines for pairing food and wine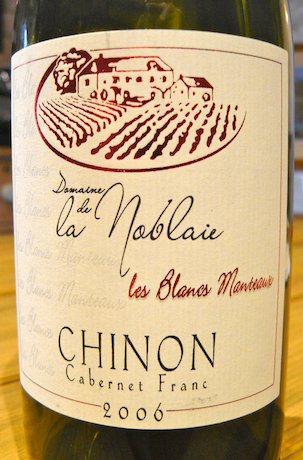 Food and wine pairing can be a tricky business but a few simple guidelines will put you on the right track.
If you're starting with seafood, choose a wine that's fresh and crisp. The zingy acidity acts just like a squeeze of fresh lemon that brings a dish to life. Champagne is always a winner but if that's not within your budget then look for a Crémant (made by the same method).
Match weight with weight. If you have a really robust dish with lots of strong flavors, be bold and choose a robust wine with lots of flavor. Consider a rich Cabernet Sauvignon from Bordeaux, a chunky Syrah-based red from the Rhone valley or a spicy Minervois from the Languedoc.
If you're serving something a little more delicate, you can tone your wine down a little and opt for something a little lighter, like a Cabernet Franc from the Loire Valley (Chinon, Bourgueil) or a Pinot Noir from Burgundy.
Cheeses can be tricky. We have always been led to believe that red is the answer, but if you're serving a cheeseboard with several different types of cheese, beware or you can have a clash on your hands. Chalky goat's cheeses are high in acidity and go brilliantly with Sauvignon Blanc-based wines such as Sancerre.
Hard cheeses like aged Cheddar, Comté and Beaufort are wonderful with red, but strong, smelly cheeses like époisses clash horribly with red wine. Blue cheeses are heavenly served with a sweet white such as a Coteaux du Layon or Sauternes—the salty, sweet combination brings out the best of both of them.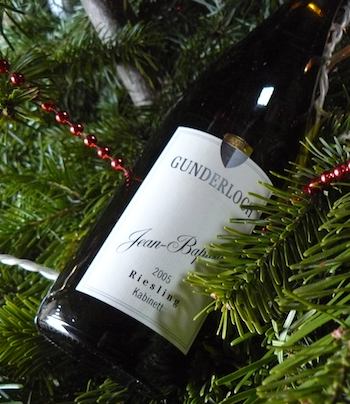 When it comes to dessert the key is to match sweetness with sweetness.  You need to choose a wine that is at least as sweet as your dessert or it will seem dry in comparison. Think of Sauternes or Muscat de Beaumes de Venise with fruity-based desserts, or a really rich Chenin Blanc from the Layon with ginger, orange and apricot tarts. Consider a sparkling red or port with chocolate puddings.
If you're thinking of making a curry with all that leftover chicken or turkey the following day, look for an aromatic wine like a Riesling, Pinot Gris or Gewurztraminer from Alsace.  Something with a little sweetness on the palate works very well with spicy food. A Chenin Blanc with a little sweetness on the palate, such as a Vouvray, can be excellent, too.
When adding your seasoning, bear in mind that salt exaggerates the tannin in red wines (tannin is the component in wine that makes your mouth dry).
Above all, choose wines that you like—it's very easy to get weighed down making the right choices. Wine is meant to be fun and enjoyed by everyone so don't let it become too much of a chore.
Finally, here are a few matches made in heaven to please the most experienced wine drinker and the novice alike.
Classic French holiday food and wine pairings
Smoked salmon and Champagne, Crémant or white Burgundy (unoaked or lightly oaked Chardonnay)
Grilled goat's cheese salad with a Sancerre or a Sauvignon Blanc-based white
Foie gras with a glass of sweet Coteaux du Layon or Sauternes
Oysters and mussels with Muscadet de Sèvre et Maine sur Lie, a dry wine not to be confused with the Muscat grape which makes sweet wines.  This wine is a minerally white that has been aged on its yeasty deposit.
Cold meats and salami with a Gamay de Touraine or a Beaujolais (Gamay grape again)
Pork-based pâtés and terrines with a Chenin Blanc from Vouvray or Montlouis
Poached salmon with a delicate, dry rosé from Provence
Chicken with cream and leeks with a lightly oaked white such as Anjou Chenin Blanc or Burgundy
Crispy duck confit and lentils with a Pinot Noir from Sancerre or Burgundy
A rich beef casserole with a spicy Cabernet blend, such as a Bordeaux or a Minervois from the Languedoc region of France
Traditional roast turkey with all the trimmings with a Cabernet Franc from St Nicolas de Bourgueil
Dark chocolate puddings with sparkling red and Maury, a port-style Grenache-based wine from the South of France.
A final comment would be to mention that wines from the South of France tend to have more fruit expression then those from further north, so if you are accustomed to drinking wines from the "New World," this is a good place to start.
Above all, enjoy yourself and remember that there are no rules, only guidelines. All decisions are subjective and rightly so.  With so many wines from so many different regions in the world, we can certainly have some fun trying out different combinations.
May your Christmas be full of good food, wonderful wines and happy times.

Cathy Henton and her husband own Le Tasting Room in the Loire Valley. Please click on her name to learn more about joining them for wine tours the next time you're in Paris or the Loire.
Subscribe for free
weekly newsletters with subscriber-only content.
BonjourParis has been a leading online France travel and French lifestyle site since 1995.
Top 100 France-themed books & more: Readers' Favorites.
Update your library with these selections….click on image for details.
Thank you for using our link to Amazon.com…your purchases support our free site.
---
---