Guédelon – Building a 13th Century Castle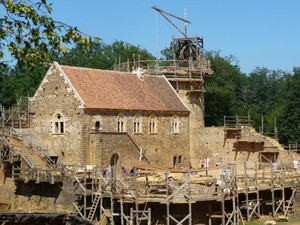 13th century manor house, main tower and ramparts A thousand years of history in the making Two hours south of Paris, and eighteen miles east of the town of Auxerre in the Yonne, the 1,000 year old red brick St Fargeau château, one of the biggest châteaux in France, contrasts sharply with the deep greens of the surrounding forest. It was while renovating the run down castle, that owner, Michel Guyot, found remnants of even older stone walls beneath the brick. Squirrel cages used as foot powered cranes Deeply in love with history, an obsession with this original building kept trotting in his head until Guyot finally latched onto the unique and improbable idea of actually building a medieval castle. He sat down with some local artist-oriented craftsmen whom he thought could eventually apply their talents to build a fortress. Of course it takes more than knowing how to cut down trees, pulling up stones and mixing old local adobe clay for roofing tiles to build a castle. Help showed up in the form of Jacques Moulin, head architect with the national Historical Monuments Board and expert in medieval construction. It was Moulin who came up with an original idea. Instead of the castle being the attraction, why not have the craftsmen create their own tools, use 12th century techniques and concentrate, not on the final product, but on the actual building of the citadel? The wood, stone and water necessary were found in an old quarry located in the nearby Guédelon forest. "But you should have seen the expression on people's faces when we walked into the mayor's office here in Treigny and said, 'We want to file building plans for a 13th-century castle,'" a rope maker told me during a recent visit. "Of course, they all thought we were mad!" No actual ruins existed on site at the quarry, but Moulin knew that there was a standardised model of architecture used in the 12th and 13th centuries, similar to that used in the building of the original Louvre fortress in 1190 under King Philippe II Augustus. Moreover, a few rare models could still be found and counted on for reference in places like Dourdon (1222) or in nearby Ratilly (1270). Another key figure would also enter into the project, today's managing director Maryline Martin. Originally from nearby Auxerre and a former student of the Ecole du Louvre, Martin was also passionately in love with archaeology, history and actually laying stones herself. She would be invaluable in bringing together architects, archaeologists and the necessary funds from public and private resources, in addition to the administrative management, necessary for the project. Masons placing a key stone at intersecting arches When the first stone was laid in July 1997, Guédelon attracted little more than sceptical sneers from locals, but curiosity also reigned. Today, fifteen years later, the site is open to the public from mid March to the beginning of November with more than 300,000 visitors annually. Some 30 to 50 employees, including quarry workers, roofers, lumberjacks, carpenters, bricklayers, ironworkers, blacksmiths, stone cutters, tile layers, cart drivers, basket weavers, rope makers and cloth dyers, exchange with the public, attend to administrative tasks, answer questions and demonstrate their skills in order to bring Guédelon into a historic reality. But there is still also an academic advisory committee of historians, architects and archaeologists working behind the scenes. Want to be a part of the experience yourself? If you are interested in visiting Guédelon alone or with family and friends, you will find dates, times and more information in English on this
site
.  (Adults €10, 5 to 17 years old €8.50, -5 free). You can always join a guided tour in French or in English when you buy your ticket at the ticket office, but you don't have to follow a guide to visit Guédelon. You can wander freely, ask participants question and just take it all in. And you can bring your own picnic or have a drink, snack or a hot lunch (€4 to €12) inside the gates. There are even a free beginner's workshops in stone cutting for the children. But if you want to actually become a part of some 700 people who actively participate in the Guédelon experience for anything from four days to one week each season, the same site has the information necessary and links to the online application process. At Guédelon, carpenters work as a team Participating as an apprentice "master builder" can certainly be a great French immersion opportunity, "building" lasting memories outside the tourist vein. The hands-on experience only costs an initial €10, then €6 per day, all payable once you arrive at Guédelon to avoid bank costs.  Note that attendance is limited to a maximum of two weeklong registrations per season. Of course French is the main language used on the building site, but they do welcome English speakers and what a great immersion experience. Visitors do love to ask questions though.  Guédelon recommends that participants have at least enough basic French so that, if you can't answer a question yourself, you can send the person to someone who can. You don't have to have any special skills, either. Participants work under a craftsman's supervision and master mason and foreman Florian Renucci does his best to match your talents to the Guédelon project. Only the blacksmith and weaving positions are limited to outsiders with previous professional know-how. Each "apprentice builder" participates in three different tasks. They may, for example, build walls, quarry stones, make oak shingles or mould and bake clay roofing tiles, cut and dress stone, hoist loads, card wool or do green woodwork. Though minimum age is 18, younger people can participate, but they must be at least 16 and accompanied by an adult. The workday runs from 10am to 1pm and 2pm to 6pm. Participants choose between a hot meal at cost price for €6.50 or bringing their own…
SUBSCRIBE
ALREADY SUBSCRIBED?
BECOME A BONJOUR PARIS MEMBER

Gain full access to our collection of over 5,000 articles and bring the City of Light into your life. Just 60 USD per year.

Find out why you should become a member here.

Sign in

Fill in your credentials below.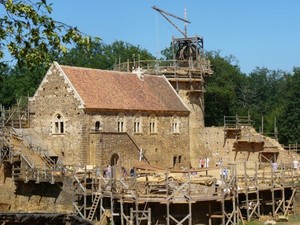 13th century manor house, main tower and ramparts
A thousand years of history in the making
Two hours south of Paris, and eighteen miles east of the town of Auxerre in the Yonne, the 1,000 year old red brick St Fargeau château, one of the biggest châteaux in France, contrasts sharply with the deep greens of the surrounding forest. It was while renovating the run down castle, that owner, Michel Guyot, found remnants of even older stone walls beneath the brick.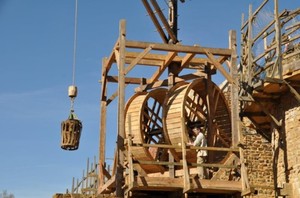 Squirrel cages used as foot powered cranes
Deeply in love with history, an obsession with this original building kept trotting in his head until Guyot finally latched onto the unique and improbable idea of actually building a medieval castle. He sat down with some local artist-oriented craftsmen whom he thought could eventually apply their talents to build a fortress. Of course it takes more than knowing how to cut down trees, pulling up stones and mixing old local adobe clay for roofing tiles to build a castle. Help showed up in the form of Jacques Moulin, head architect with the national Historical Monuments Board and expert in medieval construction. It was Moulin who came up with an original idea. Instead of the castle being the attraction, why not have the craftsmen create their own tools, use 12th century techniques and concentrate, not on the final product, but on the actual building of the citadel? The wood, stone and water necessary were found in an old quarry located in the nearby Guédelon forest. "But you should have seen the expression on people's faces when we walked into the mayor's office here in Treigny and said, 'We want to file building plans for a 13th-century castle,'" a rope maker told me during a recent visit. "Of course, they all thought we were mad!"
No actual ruins existed on site at the quarry, but Moulin knew that there was a standardised model of architecture used in the 12th and 13th centuries, similar to that used in the building of the original Louvre fortress in 1190 under King Philippe II Augustus. Moreover, a few rare models could still be found and counted on for reference in places like Dourdon (1222) or in nearby Ratilly (1270). Another key figure would also enter into the project, today's managing director Maryline Martin. Originally from nearby Auxerre and a former student of the Ecole du Louvre, Martin was also passionately in love with archaeology, history and actually laying stones herself. She would be invaluable in bringing together architects, archaeologists and the necessary funds from public and private resources, in addition to the administrative management, necessary for the project.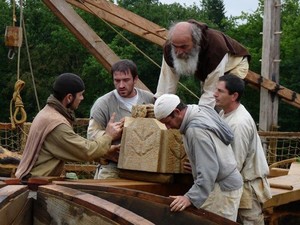 Masons placing a key stone at intersecting arches
When the first stone was laid in July 1997, Guédelon attracted little more than sceptical sneers from locals, but curiosity also reigned. Today, fifteen years later, the site is open to the public from mid March to the beginning of November with more than 300,000 visitors annually. Some 30 to 50 employees, including quarry workers, roofers, lumberjacks, carpenters, bricklayers, ironworkers, blacksmiths, stone cutters, tile layers, cart drivers, basket weavers, rope makers and cloth dyers, exchange with the public, attend to administrative tasks, answer questions and demonstrate their skills in order to bring Guédelon into a historic reality. But there is still also an academic advisory committee of historians, architects and archaeologists working behind the scenes.
Want to be a part of the experience yourself?
If you are interested in visiting Guédelon alone or with family and friends, you will find dates, times and more information in English on this site.  (Adults €10, 5 to 17 years old €8.50, -5 free). You can always join a guided tour in French or in English when you buy your ticket at the ticket office, but you don't have to follow a guide to visit Guédelon. You can wander freely, ask participants question and just take it all in. And you can bring your own picnic or have a drink, snack or a hot lunch (€4 to €12) inside the gates. There are even a free beginner's workshops in stone cutting for the children. But if you want to actually become a part of some 700 people who actively participate in the Guédelon experience for anything from four days to one week each season, the same site has the information necessary and links to the online application process.
At Guédelon, carpenters work as a team
Participating as an apprentice "master builder" can certainly be a great French immersion opportunity, "building" lasting memories outside the tourist vein. The hands-on experience only costs an initial €10, then €6 per day, all payable once you arrive at Guédelon to avoid bank costs.  Note that attendance is limited to a maximum of two weeklong registrations per season.
Of course French is the main language used on the building site, but they do welcome English speakers and what a great immersion experience. Visitors do love to ask questions though.  Guédelon recommends that participants have at least enough basic French so that, if you can't answer a question yourself, you can send the person to someone who can. You don't have to have any special skills, either. Participants work under a craftsman's supervision and master mason and foreman Florian Renucci does his best to match your talents to the Guédelon project. Only the blacksmith and weaving positions are limited to outsiders with previous professional know-how.
Each "apprentice builder" participates in three different tasks. They may, for example, build walls, quarry stones, make oak shingles or mould and bake clay roofing tiles, cut and dress stone, hoist loads, card wool or do green woodwork. Though minimum age is 18, younger people can participate, but they must be at least 16 and accompanied by an adult. The workday runs from 10am to 1pm and 2pm to 6pm. Participants choose between a hot meal at cost price for €6.50 or bringing their own lunches since no vegetarian meals exist. You will need to apply at least three weeks in advance.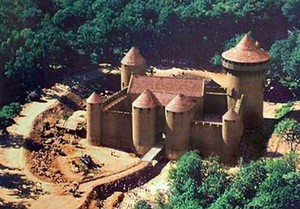 What Guédelon will look like in 2025
Where to stay
At "Les Chouettes" in the village of Treigny, two miles from Guédelon, retired cook Alain Richier and his family offer rooms for 4 at only €30 a night or €160 a week (small supplement for additional beds). Opening dates coincide with those of Guédelon and the owners tell me that, since their busy season is April to May, they often give 20% to 30% of the rental cost from June to Sept. There is, of course, breakfast, but the offer also includes dinner for €79 a week with a choice of ten menus! A hot lunch can be had, but picnic lunches are also possible on request at €9 and even babysitting (€7).  The family speaks some English, but all of the sites are in French. Just type "Les Chouettes Treigny, l'Yonne" for photos.
Another option nearby, a little more expensive, is the campground at the Lac de Bourdons Lake 5 miles southwest of Guédelon (open mid April to end of September.) Located across from a supervised beach, we often took the children there to camp, fish, swim, and windsurf (rental possible)and if you're not into tenting, the campground rents three house trailers, sleeping 3 to 4 people, for under €500 per week.
For those interested in participating in the Guédelon experience and who have children ages 6 to 18, the lake's "la Ferme des Grilles"  also offers riding lessons with English speaking monitors plus swimming and other activities in July and August from 8:45am to 6:30pm for €50 (-12) to €55 per day. They assure weeklong sleepovers in tepees with riding lessons, trail rides and other activities for €560 (-12) and €594 everything included. Les Grilles also rents fully equipped cottages for families. Moreover, Guédelon furnishes a list of local accommodations to those who apply for their hands-on experience.
If all goes well the basic fortress will be finished in 2025, but the project won't stop there. Because of the prevalence to fire in medieval times, most of the oldest villages in France never go back beyond the 15thcentury. Plans for Guédelon currently aim at building an entire 13th century village including a large medieval town hall for concerts. In short, the association is looking at a century-long endeavour.
Special thanks for photos to Delphine Bourselot, in charge of communication at Guédelon, to Nicolas Gasseau for the photo Guédelon in 2025, and to Sarah Preston, official English guide at Guédelon, for her invaluable help in assuring the accuracy of the contents.
More in French history, Guédelon, history, St Fargeau château
---
---