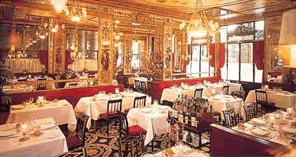 "Come in, come in", Guy Martin is out front welcoming guests to The Grand Vefour, 'though he has one eye on the guests, one on the stove! His restaurant is unique, not only because of its romantic history (founded 1812 by Jean Vefour) but because of Martin. The passion gleams in his handsome dark eyes, he's talking to you but you get the feeling he's creating a seductive new dish, based perhaps on the colour of your eyes/dress/skin your Annick Goutal fragrance. 
And, one lunchtime last week, Martin had good news for chic n'cher BUZZ readers. "I'm opening another restaurant!" No way, how come? "It was really the last thing on my mind", he admits. "But, when my friend Francoise Dépee called recently decided to move from chez Dominique, her Russian restaurant, I didn't hesitate. When staff leave Grand Vefour they usually say to me, "if you ever have a new project, we're there". So, with young chef Rémi Petershem in mind SENSING will replace chez Dominique. It will become a conduit for culinary experiments and discoveries, a totally different type of cuisine to Grand Vefour we'll offer fantastic quality/price, an adventure in contemporary eating. We're putting in a state-of-the-art Charvet induction oven, which I helped design, the kitchen is by Gilles Tallagrand of Cuisine & Concept. It's very exciting!" 
Two young architects, Jerome Faillant-Dumas and Hubert de Malherbe, are working with Martin on knock out edgy décor, think bar for PICKING, an area for TASTING, and FILMING, read projections on the walls of the chefs' favourite films, artists, locations; whatever. "My concept will give new meaning to la cuisine, I'm inspired by the FOODING movement which is spontaneous and sensual". Martin says that he will still be spending most of his time at Grand Vefour, and gives van Peteshem carte blanche to follow his brilliant instincts.
A few ideas are Tuna and nori ratatouille, Sea-bass with coquillages jus and beans, veal tongue in a herb crust, "forgotten" vegetables with tofu and Panna Cotta with Granny smith ice cream. 
Martin's a dynamo, if he's not sketching new dishes on scraps of paper, he's writing books, try La Routes des Etoiles, La Cuisine des Martin, written "four-handed" with his father. "My inspiration, he gave me my first cigar, a Davidoff, when I was 17, taught me to appreciate life's riches". There's also the fine reference of his well researched Dictionaire des Mots de la Cuisine. Come on, please get them translated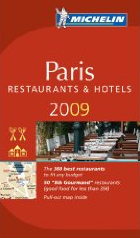 into English, Hachette! 
But try Grand Vefour for a real experience of how a 3-star should be. Lunch at 78€ won't break the bank. Worth it to sit where once sat Cocteau, Victor Hugo, Colette and Coco Chanel: to taste Legumes du marché à la vinaigrette de celery, tomate parfumée à la cardomane. Daurade poeléé, jus de ratatouille, aubergine légèrement acidulée. The best cheese, including the difficult to fin Bleu de Termignon from the Savoie, then Palet Noisette et chocolat au lait, glace au caramel brun et prise de sel de Guérande. Grandmother's Gateau de Savoie must not be ignored, neither the petits fours or the home-made chocolates. Here is a fine lesson in the "Art de Recevoir". 
Grand Vefour shuts in August, time for the Martins to discover new treasures, new secrets, visit friends such as Karine Hairion who has a tiny restaurant and serves lunch in her charming stone house at Maussane. "It's an address both ordinary and sublime, where fresh market produce is transformed into say, carpaccio of violet artichokes with local olive oil and home baked bread", he says. "My ideal summer is spent in the Savoie area, where I was born, or sitting under an olive tree in Provence, with a glass of wine, a book and my family. "In a violent world where everything moves so fast, cooking is a great way of communicating, of holding out a hand", smiles Martin.
Le Grand Vefour,
17 rue de Beaujolais, 1st (Metro: Palais Royal)
T: 01 42 96 56 27
www. relaischateaux.com/vefour
From September:
SENSING,
19 rue de Bréa, 6th. (Metro:Vavin)
T: 01 43 27 08 80 (from September)
Karen Hairion @ Restaurant La Vallée,
15 avenue de la Vallée des Baux,
Mausanne-les-Alpilles 13520,
T: 04 90 54 54 00.