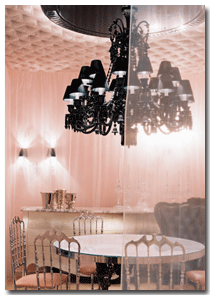 "I hate this place from A to Z," the rather attractive Italian gent (Valentino suit, Tod's and no sox) is saying to his three lunchtime companions at the recently opened Cristal Room Baccarat restaurant. Now that's a good sign, a new maison should bring out the emotion in you, and Baccarat has "le tout Paris" chattering on–everyone has an opinion, every one different.
The handsome former mansion of Charles and Marie-Laure Noailles, in the 16th arrondissement, has been transformed into Baccarat's new headquarters, incorporating a boutique, with a mini-concept store for those little impulse buys, a gallery-museum, restaurant, and the Grand ball room, a perfect setting for runway shows and private parties. The Noailles (now both in that great Chateau in the sky) would approve, continuing their non-stop habit of wacky theme balls/parties/dinners thrown for their rich, famous and talented friends such as Salvador Dali, Jean Cocteau, Luis Bunuel, Schapiarelli, Chanel and Man Ray.
Philippe Starck, called in to orchestrate the pile, has transformed it from a 16th century monument into a 21st century surrealistic crystal palace to show off "the best of Baccarat." Welcome to the "talk of the town," Alice would not believe it. In through the giant doors, past two silver fireplaces faux logs a flicker, follow the red carpet, implanted with fiber-optic sparkle, up the grand staircase, turn right and you've reached the restaurant. Look up, check out the chandeliers, who on earth is going to clean those?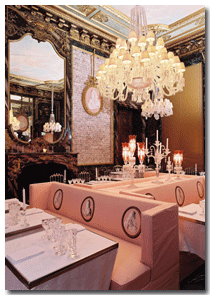 The restaurant, located in the Noailles' former dining-room, features high ceilings, frescoed and chandeliered; fireplaces, original carved wood-panelling, starck bare-brick walls and Starck's fantasy furniture. The table settings show off Baccarat glassware, and the private dining room (which can be booked by the likes of you and me) features a stupendous low-slung jet- black shiny chandelier, the room leads onto a terrace for summer eating. "The interplay of light and crystal turns into mental and poetic games in which everything is relative and subject to illusion," Starck explains.
No doubt about it this place is about to be plastered with awards; don't be surprised if Michelin give it a macaroon immediately. Starck already picked up the "Fooding d'Honneur" (think gastronomic Oscar) for most original restaurant décor of 2003/4.
So what about the food?
You'll remember the chef, talented Thierry Burlot, from Armani Caffe. He's created a menu that suits, but does not detract from, Starck's décor. It's early days, but old no-sox (see above) seems to be enjoying the food, in spite of the detested décor. Burlot's simple silver-edged menu includes one of the most delicious starters I've tasted for a long time. In a preserve jar organic eggs are lightly boiled, mixed with chunks of fragrant Alba truffles and topped with a mini-mountain of egg white. Served with toast soldiers "petits 'bio' parmesan et truffes blanches, quelques mouillettes" is divine with a glass of Taittenger (they own Baccarat).
Did you know that Baccarat is the name of the village, where, in 1764, the King of France Louis XV granted the Bishop of Metz, a charter to create a glass-making establishment, where the factory was subsequently built? Nor did I.
I always say any old plonk, served in a Baccarat glass, tastes divine. Now that doesn't mean that Burlot doesn't have a splendid wine-list; he does. None of the New World poncey imports for him, but a nice selection of French, fly the flag stuff. From Chateau Petrus Pomerol–1997 at 1423€ to a Pauillac Lacoste Borie 1997 at 52€ or even a glass, it's all très drinkable, just don't drop the glass, dear.
"The repertoire of dishes is small and changes every month, according to the season," explains Burlot. Certainly his Poule Faisan très classique cuite en cocotte with chestnuts and crushed potatoes was perfect for a chill autumn day. Try Tempura de Blettes (the year's chic vegetable) et cochon. Or there's pasta, oysters, risotto, foie gras and Omble Chevalier croustillant. Full marks to Burlot for a menu to suit all, even old no-sox who is very silent, suddenly. Eight desserts to choose from, or the fab Tete de Moine cheese, served with a crunchy pear. Service is very attentive, try and get Laetitia, she'll look after you like a baby!
Starters 11-22€ Mains 24-33€ Desserts 9-11€
Tea is served on Saturday from 4pm.
Cristal Room at Baccarat,
11 place des Etats-Unis, 16th Metro:Kleber
T: 01 40 22 11 10
Shut Sunday
Valet parking.
Have a smashing time.