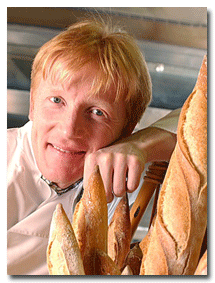 Have you noticed the crazy prices for New Year's Eve? Don't they know there's a crisis going on? It seems not, check out Les Ambassadeurs at the Hotel de Crillon where erstwhile superchef Dominique Bouchet tells BP 700€ only buys dinner, no wine. Bouchet won't even be cooking, he's out of there, about to take a long vacation before taking up another post, and Jean Francois Piege, Bouchet's replacement, doesn't even go into the kitchens of Le Crillon until lst February. I suppose you could always slum it in L'Obelisque, the second canteen, at 275€ + wine. Le Cinq at The Four Seasons is a good buy at 550€ + wine. The Ritz, 1950€ with wine. If you really must go out, Buzz suggests La Table d'Anvers. Not a lot of people know that Christian Conticini sold it and the new chef is hot to trot. Give Philippe Colin (and peace) a chance. 70€ + wine but with a glass of Billecourt-Salmon rosé thrown in. 2 place d'Anvers (near all the sex-shops) 9th. T: 01 48 78 35 21
In the meantime you'll need a superb Bûche de Noel, and Eric Kayser's are probably the best. A fifth-generation artisan miller and baker, Kayser hails from Alsace, the home not only of the Christmas tree, but also La Bûche de Noël, the mouthwatering Christmas Log, without which no traditional French Christmas is complete.
Kayser confesses to a sentimental weakness for the basic signature "Bûche Kayser". He has delicious memories of the chocolate-filled sponge cake, rolled and shaped like a log, filled with cream and chocolate, topped with sprigs of holly, miniature Father Christmases, robins and ribbons. "My father and grandfather used to make them for me, as I watched in their tiny village bakery; that's when I decided I wanted to be a baker. I was six years old and have never changed my mind! I think they used to make about 200; now we make thousands", says Kayser who, aged only 38, has eponymous shops in Paris, Israel, Greece, Italy, Guadeloupe and Japan. In Paris, Isabel Adjani, Ines de la Fressange, Sacha Distel, pop stars and politicians, are regular bûche and Galette des Rois affidionadoes.
Slim as a baguette, with hair the colour of ripe wheat, Kayser says his favourite season is Christmas, and, for ten days between 20th December and 1st January, his bakeries (each with their own in-house ovens) assemble feathery Bûches de Noël, and other seasonal delicacies. "We've revised and corrected the Bûches, made them lighter, changed the basic cake from a genoise sponge to a mixture with the soft texture of velvet. Our flour is organic, flour is not the same everywhere, its' quality depends on the harvest," he explains. Kayser's reputation as the best is based on his skill for using, and inventing, modern techniques and technology that produces breads and cakes with textures his great-grandfather would recognize and enjoy.
Chez Kayser, there are 5 different Bûches to choose from; prices start at €3.80. A delicious introduction has to be the original 40's "Kayser," still made with a butter cream and coffee filling or the traditional coffee butter bûche. Prefer something more sophisticated? Try "Charlotte"–mousse of crème brûlée, chocolate mousse, dark chocolate and caramel. Or "Marron," chocolate and chestnut, a light cream filling punctuated with chestnut pieces, and spiked with old Armagnac.
Legend has it that the log (bûche) is an ancient symbol associated with Christmas, from way back before the French were Christians. Logs were used to make the wedge for the plough bringing good luck to the harvest and, later in the year, farmers burned them at a special festival in December, called Yule. As iron stoves replaced giant hearths in the 1800's Yule logs became decorative, were decorated with evergreens and candles, and used as centrepieces on the Christmas table. It was not long before cooks began creating pastry Yule logs and the edible versions have remained on festive Gallic tables–the perfect end to Christmas feasts–ever since.
Today, Kayser's beautiful Bûches come in individual sizes, as well as for 4, 6, 8, 10 people. "After that they become too difficult to transport," says Kayser. Les Galettes des Rois (twelth night puff pastry wonders) follow soon after; be careful not to break a tooth on the hidden porcelain do-dads which proclaim you "roi" for the night.
"Bûches are far too complicated to make at home," comments Brigitte Namour, waiting patiently in line for her favourite–Bûche Rabelais, filled with vanilla mousse, crème brûlée, coffee-flavoured praline, and topped with macaroons and festive glitz. "Nobody I know makes them, they're much too complicated. Just try to roll one up and you'll see what I mean. They say they do, but they don't," she laughs. "I tried once and everything ended up on the floor!"
Eric Kayser,
8 & 14 rue Monge, 75005
Metro: Maubert
Tel: 01 44 07 17 81
—
Born in Britain and now based in Paris, Margaret Kemp graduated from The Cordon Bleu and spent a year working and watching in the kitchens of top chefs from Sydney, Australia via Bangkok, Hong Kong, California, New York and France. Realising she would never win the coveted 3-Michelin stars, she decided to write about the people who do, the "disciples of Escoffier".