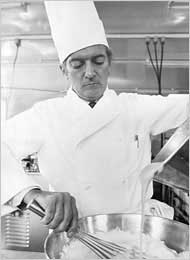 Gaston Lenôtre, founder of Lenôtre, which became a luxury brand, like Chanel, died 8th January, aged 88. It was the big C that took the life of the man who followed in the brilliant culinary footsteps of Antonin Careme, Escoffier, Jules Gouffé and Chiboust. He created the Opera, the Succes, an almond merangue with nougatine and almond praline, taught BUZZ how to make macaroons (as well as Pierre Hermé). And so much more. From humble beginnings, born on a small farm in Normandy, he began selling home-made chocolates from his bicycle for pocket-money.  
With his innovative ideas Lenôtre built a brand acquired by hotel group, Accor in 1985. By 2008, Lenôtre's revenues were north of $162 million and, before he became too ill, Monsieur L was still hands-on; making sure the 60 purple-themed designer boutiques in 12 countries were turning out perfection. Immaculate spaces, pandering to every taste from a simple Bostock to sumptuous dinners for Nicholas, Carla and Co.  
There's also the Michelin *** Pre Catalan. "Monsieur Lenôtre will be sadly missed", says Pre Catalan's superchef, Frederic Anton. The Lenôtre dynasty continues with second wife Catherine, grand and great grand-children. Nephew Patrick is a chef in Paris and grandson Serge Gilles-Naves is chef/owner of L'Hostellerie du Val de Sault, in Provence. They're in for a delicious time in heaven, rest in peace cher monsieur. 
Have you seen The Duchess? No, not Camilla darling, the costume drama movie about Georgiana, Duchess of Devonshire (who was related to Diana Spencer). In a parallel situation, the exquisite Duchess lived with three in her marriage, never really found love. 
With Rachel Portman's music ringing in my ears I headed off to The Bristol, in honour of Georgiana, who had a passionate affair with Earl Grey (yes, darling the tea).
The Duchess stars Ralph Fiennes as the Duke of Devonshire, Keira Knightly as the Duchess and Charlotte Rampling, the formidable Lady Spencer. I could just see them all arriving at The Bristol (where else?). Come to think of it chef Eric Frechon does have that 18th century look in his eye. Apparently the President and First Lady are there all the time, Frechon's used to doffing his toque to the likes of Meryl Streep, de Niro, DiCaprio, Paul McCartney, Mick Jagger. Recently Sarko dubbed him with the "Legion d'Honneur" at The Elysee Palace, wonder who cooked lunch?  
See what I mean, the Devonshires would love it. Even the Fashion High Teas held on Saturdays. Not only a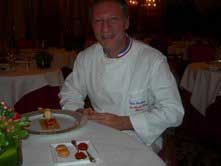 rooftop pool, an Anne Semonin Spa, Fitness Centre and Bastien Gonzalez pedicures. With staff-guest ratio of two to one, they needn't even bring their own butler.  
From October to April they'd love the Winter Dining Room, Hungarian Oak, 18th century tapestries. Baccarat crystal chandeliers and Gustave-Louis Jaulmes' magnificent gold ceiling depicting the four seasons. From May-September the Summer Dining Room has views of the gardens to remind them of Chatsworth. Both have Eric Frechon's exquisite menus. Ex-Taillevent, Byblos Andaluz, Tour d'Argent, Crillon (with Christian Constant) then he opened his own highly successful and buzzy bistro La Verrière in the 19th arrondissement. Having once worked at The Bristol, when the owners (the Oetker family) called him he decided to return because, "I always said I'd return as Executive Chef, it was my goal", he grins.  
Of his style he says: "I'm bringing back products that were unfairly taken out of the gastronomic vocabulary. It's a style based on France's culinary culture which is changing constantly, like language: I create a cuisine that combines flavours, spices fresh herbs." . And you can put a fiver on at Honest Jacques your local bookie that he gets his 3rd star when the 2009 Michelin comes out in March.  
What products then? Starters such as:
Macaroni stuffed with black truffles, artichoke and foie gras, flashed under the grill at the last minute to melt the mature Parmesan. Purple Sea Urchins, simmered in their shells, sea urchin broth and a light creamy oursin mousse. Roscoff pink onions cooked carbonara style. Mackeral cooked in white wine and blackcurrent marinade, a touch of horseradish.  
Mains include game (in season) dishes with venison, pheasant, whatever the market provides. "I'm not a hunter, so I rely on my suppliers", admits Frechon. For the Devonshires it would have to be "A Bresse Hen" (2 people) cooked in a bladder with crayfish, à la royale, giblets and black truffle. Or Rack and saddle of spit roasted lamb, chick peas puréed with cumin, brick paper wrap of candied lamb shoulder. Sea Bass from the Isle of Yeu, lemon and coriander, purple artichokes with cockles and razor shells sauce. Blue Lobster has a anchovy flavoured crostini bread, and home-made basil flavoured potato crisps. And talking bread, baker Wesley Tulwa is the main bakerman. He bakes about 11 different breads daily, look for sunflower, millet, 6 oat and 4 grain, wheat, sourdough, black and green olives, beer, blue flower. And don't hold back on the Bordier butter. 
Pastry Chef Laurent Jeannin worked at Fauchon with Pierre Herme so the dessets are extraordinary. A "Mikan tangerine with a souffle in a vintage Grand Marnier, iced and poached in honey for the Duke. A snowball of litchis, rose, pear and lemon perfumed meringue for The Duchess.  
The Bristol.
112 Faubourg Saint Honore
Metro: Miromesnil/Champs Elysees Clemenceau
T: 01 53 43 43 40
www.lebristolparis.com
Open 7/7  
Lunch 95€-210€
Dinner 210€
Books by Frechon – Everything you must taste at least once in your lifetime
Editions Du Chene.
The Education Gourmande de Flaubert – Editions Minerva
—————————————
zChocolat: "World Finest Chocolates By World Champion Chocolatiers"
The French are known for their superb wines and exquisite cuisine. French chocolate is no exception: it is chocolate in its purest form, without preservatives or fat other than the natural cocoa butter. zChocolate's selection is handmade by world-champion French chocolatiers following a 400-yearold tradition of passion and zealous adherence to purity. One single bite is an instant of pure seduction and sensory bliss one has never experienced before. zChocolat.com unveils a new way of giving the best chocolates in the world through an original, luxurious, and customizable handcrafted gift.