Good Things Come in Small Packages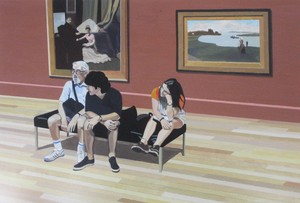 Being of short stature, I was often the recipient of the reassuring sentiment that good things come in small packages. I myself have used this timeless cliché in countless scenarios and situations. It came to mind again when I was comparing various museums during a recent visit to Paris. Perhaps my 5'2" frame has shaped my opinion that "less is more" when it comes to art as well. Smaller, more intimate museums can be just as enriching as some of the oversized museums-cum-art warehouses which should provide complimentry golf carts along with every entrance ticket purchase. As an artist, it is no surprise that art-gazing often places first on my to-do list when I visit Paris, or any other city for that matter. But few activities can prove quite as draining as a visit to a museum. Shopping malls come in at a close second. Researchers in museums have found that 10 to 30 seconds is the average range of time visitors spend in front of works of art. With that sort of pace, it is no wonder we soon succumb to a bad case of sensory overload. While our brain is taking in the concepts and our eyes are gorging on the visual feast, our feet are rapidly getting tired and sore. We soon find ourselves worn out and distracted. The very thought of the Louvre's 35,000 (!) works on exhibit makes me numb with exhaustion. I painted this familiar scene at the Tate in London a few years ago. So how does one overcome the mental and physical fatigue which seems to accompany a visit to a museum?  Phil Terry of Creative Good Inc., a New York firm, has taken up this challenge by launching the first
Slow Art Day
way back in August 2009 at New York's MOMA. The movement to be "inspired not tired" has taken off worldwide. Michelle Moon, assistant director at the Peabody Essex Museum (one of Slow Art Day's participants) explains that museum visitors may often be in a hurry to accommodate a crowd behind them, particularly at blockbuster shows where entrance may be timed. Or likewise, they may be rushed by a sense of obligation to take in every painting in every wing once they have paid the entrance fee. These behaviors prevent us from really looking at the art and actually enjoying it. Rather than trying to conquer a museum, we should try to lower our expectations and get rid of the guilt in order to fully savor the experience. Slow Art Day encourages focusing on five or six works and spending ten minutes on each work to experience a different type of museum visit. Another way to counteract the museum blues is to opt for smaller, more intimate museums which can provide just the right amount of culture and pleasure. Three of my favorite small to mid-sized Paris museums are the
Musée Bourdelle
, the Musée Maillol and the Musée Jacquemart-André.  For a cozy and classy museum experience the
Musée Jacquemart-André
is worth a visit. One of the perks of this museum is the Old World café with its Brussels tapestries and Tiepolo-frescoed ceiling. So by all means visit museums both large and small, keeping in mind the maxim "less is more" in order to be assured of an enjoyable experience rather than an exhausting chore. Photo credits: Lilianne Milgrom Museum Blues (gouache on board) Nicholas Rubenstein:  Mickey is also a rat Daniel Spoerri: The Lioness and the Hunter
Fat Tire Bike Tours
are great for seeing Paris in a different light. You'll see more, have more fun, and not feel tired at the end of it. These are highly recommended and truly a great thing to do during your stay.
SUBSCRIBE
ALREADY SUBSCRIBED?
BECOME A BONJOUR PARIS MEMBER

Gain full access to our collection of over 5,000 articles and bring the City of Light into your life. Just 60 USD per year.

Find out why you should become a member here.

Sign in

Fill in your credentials below.
Being of short stature, I was often the recipient of the reassuring sentiment that good things come in small packages. I myself have used this timeless cliché in countless scenarios and situations. It came to mind again when I was comparing various museums during a recent visit to Paris. Perhaps my 5'2" frame has shaped my opinion that "less is more" when it comes to art as well. Smaller, more intimate museums can be just as enriching as some of the oversized museums-cum-art warehouses which should provide complimentry golf carts along with every entrance ticket purchase.
As an artist, it is no surprise that art-gazing often places first on my to-do list when I visit Paris, or any other city for that matter. But few activities can prove quite as draining as a visit to a museum. Shopping malls come in at a close second. Researchers in museums have found that 10 to 30 seconds is the average range of time visitors spend in front of works of art. With that sort of pace, it is no wonder we soon succumb to a bad case of sensory overload. While our brain is taking in the concepts and our eyes are gorging on the visual feast, our feet are rapidly getting tired and sore. We soon find ourselves worn out and distracted. The very thought of the Louvre's 35,000 (!) works on exhibit makes me numb with exhaustion. I painted this familiar scene at the Tate in London a few years ago.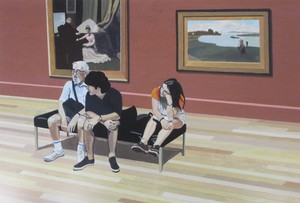 So how does one overcome the mental and physical fatigue which seems to accompany a visit to a museum?  Phil Terry of Creative Good Inc., a New York firm, has taken up this challenge by launching the first Slow Art Day way back in August 2009 at New York's MOMA. The movement to be "inspired not tired" has taken off worldwide. Michelle Moon, assistant director at the Peabody Essex Museum (one of Slow Art Day's participants) explains that museum visitors may often be in a hurry to accommodate a crowd behind them, particularly at blockbuster shows where entrance may be timed. Or likewise, they may be rushed by a sense of obligation to take in every painting in every wing once they have paid the entrance fee. These behaviors prevent us from really looking at the art and actually enjoying it. Rather than trying to conquer a museum, we should try to lower our expectations and get rid of the guilt in order to fully savor the experience. Slow Art Day encourages focusing on five or six works and spending ten minutes on each work to experience a different type of museum visit.
Another way to counteract the museum blues is to opt for smaller, more intimate museums which can provide just the right amount of culture and pleasure. Three of my favorite small to mid-sized Paris museums are the Musée Bourdelle , the Musée Maillol and the Musée Jacquemart-André.  For a cozy and classy museum experience the Musée Jacquemart-André is worth a visit. One of the perks of this museum is the Old World café with its Brussels tapestries and Tiepolo-frescoed ceiling.
So by all means visit museums both large and small, keeping in mind the maxim "less is more" in order to be assured of an enjoyable experience rather than an exhausting chore.
Photo credits: Lilianne Milgrom Museum Blues (gouache on board)
Nicholas Rubenstein:  Mickey is also a rat
Daniel Spoerri: The Lioness and the Hunter

Fat Tire Bike Tours are great for seeing Paris in a different light. You'll see more, have more fun, and not feel tired at the end of it. These are highly recommended and truly a great thing to do during your stay.
More in bourdelle museum, musee bourdelle, Paris art museums, Paris museums, Slow Art Day
---
---