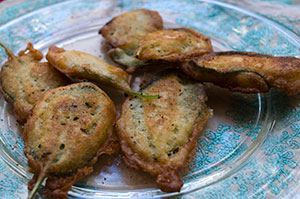 I was given a little patch of earth at a neighborhood garden in Paris where this year I planted and am now harvesting Russian kale, collards, and multicolored Swiss chard. The sense of the miraculous!
There happens to be a very exuberant sage bush adjacent to my plot, and the other day I excitedly plucked a generous handful of large healthy sage leaves, took them home, whipped up a tempura batter, dipped them in and fried them up. Absolutely scrumptious!  Give it a try.
And please take a look at my website La Cucina di Terresa. Feel free to subscribe to my Conscious Palate Newsletter. 
Fried Sage Leaves (from the Giallo Zafferano website)
125 ml (1/2 cup) cold light beer
100 (1 cup) gr flour
1 tBsp extra virgin olive oil
Pinch of unrefined sea salt
20 or so large sage leaves
1 egg white at room temperature
Place the flour in a bowl and whisk in the beer. Stir in the olive oil and a pinch of salt. Cover the bowl with a kitchen towel and set aside for 30 minutes.
Wash the sage leaves and lay them out to dry on a clean kitchen towel.
When the batter has rested for 30 minutes, stiffly beat the egg white along with a pinch of salt ; then gently fold into the batter.
Heat grape seed or peanut oil in a skillet (about ¼-inch deep). Generously dip the sage leaves into the batter and gently place them in the hot oil. Cook on both sides until golden brown. Transfer to paper towels to drain.
Place on a serving dish, garnish with a couple twists of the Pepper mill, and serve.
——————–
Please post your comments and let them flow. Register  HERE to do so if you need a user name and password.