French Wine My Way Part II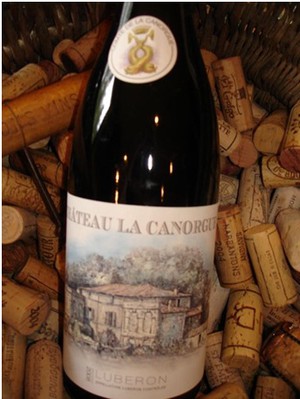 Today, let's  take three of my favorites poured in our last Wine Appreciation Class this November. They all have their own characters and they're all great values. Santé! Variations on a Theme: Three Rhône Southern Valley Reds First, let's look at a little basic history. In the dawn of the Roman Empire, the Rhône River was used to transport wine from Rome, to trade with local tribes. Throughout the 13th to 16th centuries, the Châteauneuf-du-Pape region in Avignon established a new credibility with the local Syrah grape variety, as the monasteries developed and improved the vineyards, creating major competition with Burgundy. Even Bordeaux wine merchants eventually jumped into the fray, recognizing the "miracle" varietal, and used Syrah to improve the quality of their Cabernet Sauvignon and Merlot blends. It became the Wild, Wild Rhône until the government stepped in and defined the boundaries of the North and South Valleys, specified varietals grown, and laid out rules for Châteauneuf-du-Pape production, creating the first appellation contrôlée system that would eventually form the specific wine regions of France. The Rhône Valley became respected and successful. Robert Parker's appreciation of Rhône wines gave them the prestige that had been reserved for the great Bordeaux reds. The Rhône Valley entered the 21st century in the catbird seat. Our first Rhône is a simple basic blend of unfiltered 70% Syrah and 30% Grenache from the Southern Valley, directly under the village of Bonnieux. This 2008 Chåteau La Canorgue Côtes du Lubéron is produced by Jean-Pierre and Martine Margan, who work sixty acres of terraced 30-year-old organic and biodynamic vineyards that have abundant water sources, truffle oak and cherry trees, surrounded by wild herbs.  This prestigious wine has become popular in Europe, thanks to Peter Mayle's book, A Year in Provence, which is set in the area around the estate. Now on to what we are here for. Let's get our nose and mouth into this wine. First give the glass a swirl and get some aeration, which is going to smooth out some of the acidity and alcohol. Take a generous mouthful and pull the air back over your tongue. Do you get a hint of thyme or rosemary or a bit of pepper and leather? How is the balance for you? I find the tannins are well balanced with just the right acidity. There is a strong mid-palate, no drop-off at the finish, and  a peppery reaction on the tongue. I get what the French call "garrigue", a general sense of herbaceousness, but nothing specific. I am enjoying what I would call a subtle hint of dried dark cherry, but massive fruit flavor, which makes me think of how good this would be with "pastas, grilled lamb, hearty stews and just about anything that screams for a big, bold red wine with plenty of finesse," as Michael Sullivan of
Beaune Imports
states on his website. Any grilled food would be in a happy marriage with this wine. Given the price of $18, I would say that this is a red wine that should be in everyone's cellar, closet or kitchen wine rack as a staple. Our second Southern Rhône red is the 2008 Domaine de la Bastide Côtes du Rhône "Cuvée Les Figues" (roughly translated "The Fig Vintage"). This organically farmed blend is 60% Syrah, 20% Grenache and 20% Carignan and is also from the valley that stretches towards Provence. The vineyard is near Avignon, in a small village named Visan, where the Knights Templar developed wine growing within their "Enclave des Papes" of four enclosed villages. The Bastide was built on a Roman village, turned farm by the Templars until the French Revolution. Skilled winemakers Bernard and Nicole Boyer have over 500 years of family history in farming and winemaking. Their stony soil vineyards are uniquely historic and their family tradition is preserved and continued with great pride. A few words about Carignan: It is originally from Spain and its purpose is to give color, tannin and acidity in blends common to the Rhône, Provence and the Languedoc regions. The "Concours des Vins d'Orange 2010" awarded this wine their "Médaille d'Or". Let's find out why. First, check the aroma and the flavor for the "garrigue" that is supposed to give a hint of the Mediterranean. Or is the "garrigue" only in the taste? The importer
Casa Viñedo
claims that the nose shows an abundance of ripe berries, violets and a hint of anise. In the mouth, the flavor is dominated by red berries, with a little herbes de provence. You will find that this is a very deep, robust, red-berry-dominated wine in body and taste, and without aggressive chalky tannins. It has  a smooth acidity on the mid-palate, and a slight dried herb "awareness" on the very lengthy finish. Quelle Horreur, I missed the violets. But the good news is that this wine is a bargain at $18 and will be the wine of choice at any barbeque. Our third and final wine is a 2007 Domaine Richaud Cairanne Côtes du Rhône Villages, organically farmed and crafted by the talented hands of master vintner Marcel Richaud. His Southern Valley vineyards are located near the village of Cairanne, which almost touches Provence, and is bordered by the Ardèche to the West and Alpine foothills to the East. Richaud's wines are a favorite of Paris bistros, including Willy's Wine Bar, which receives special bottlings exclusive to the bar/restaurant. This exceptional vintage is a formidable blend of 38% Mourvèdre, 36% Grenache, 18% Syrah, and 8% Carignan. Michael Sullivan of
Beaune Imports
writes that Richaud "has coaxed the true essence out of both his terroir and his grapes in this truly exceptional vintage." Let's see. But first, a few words about the blending grape Mourvèdre:It is spicy and an integral part of a red Châteauneuf-du-Pape. This grape, cautiously blended by a talented winemaker, can…
SUBSCRIBE
ALREADY SUBSCRIBED?
BECOME A BONJOUR PARIS MEMBER

Gain full access to our collection of over 5,000 articles and bring the City of Light into your life. Just 60 USD per year.

Find out why you should become a member here.

Sign in

Fill in your credentials below.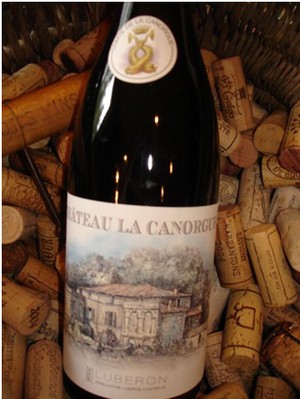 Today, let's  take three of my favorites poured in our last Wine Appreciation Class this November. They all have their own characters and they're all great values. Santé!
Variations on a Theme: Three Rhône Southern Valley Reds
First, let's look at a little basic history. In the dawn of the Roman Empire, the Rhône River was used to transport wine from Rome, to trade with local tribes. Throughout the 13th to 16th centuries, the Châteauneuf-du-Pape region in Avignon established a new credibility with the local Syrah grape variety, as the monasteries developed and improved the vineyards, creating major competition with Burgundy. Even Bordeaux wine merchants eventually jumped into the fray, recognizing the "miracle" varietal, and used Syrah to improve the quality of their Cabernet Sauvignon and Merlot blends.
It became the Wild, Wild Rhône until the government stepped in and defined the boundaries of the North and South Valleys, specified varietals grown, and laid out rules for Châteauneuf-du-Pape production, creating the first appellation contrôlée system that would eventually form the specific wine regions of France. The Rhône Valley became respected and successful. Robert Parker's appreciation of Rhône wines gave them the prestige that had been reserved for the great Bordeaux reds. The Rhône Valley entered the 21st century in the catbird seat.
Our first Rhône is a simple basic blend of unfiltered 70% Syrah and 30% Grenache from the Southern Valley, directly under the village of Bonnieux. This 2008 Chåteau La Canorgue Côtes du Lubéron is produced by Jean-Pierre and Martine Margan, who work sixty acres of terraced 30-year-old organic and biodynamic vineyards that have abundant water sources, truffle oak and cherry trees, surrounded by wild herbs.  This prestigious wine has become popular in Europe, thanks to Peter Mayle's book, A Year in Provence, which is set in the area around the estate.
Now on to what we are here for. Let's get our nose and mouth into this wine. First give the glass a swirl and get some aeration, which is going to smooth out some of the acidity and alcohol. Take a generous mouthful and pull the air back over your tongue. Do you get a hint of thyme or rosemary or a bit of pepper and leather? How is the balance for you? I find the tannins are well balanced with just the right acidity. There is a strong mid-palate, no drop-off at the finish, and  a peppery reaction on the tongue. I get what the French call "garrigue", a general sense of herbaceousness, but nothing specific. I am enjoying what I would call a subtle hint of dried dark cherry, but massive fruit flavor, which makes me think of how good this would be with "pastas, grilled lamb, hearty stews and just about anything that screams for a big, bold red wine with plenty of finesse," as Michael Sullivan of Beaune Imports states on his website. Any grilled food would be in a happy marriage with this wine. Given the price of $18, I would say that this is a red wine that should be in everyone's cellar, closet or kitchen wine rack as a staple.
Our second Southern Rhône red is the 2008 Domaine de la Bastide Côtes du Rhône "Cuvée Les Figues" (roughly translated "The Fig Vintage"). This organically farmed blend is 60% Syrah, 20% Grenache and 20% Carignan and is also from the valley that stretches towards Provence. The vineyard is near Avignon, in a small village named Visan, where the Knights Templar developed wine growing within their "Enclave des Papes" of four enclosed villages. The Bastide was built on a Roman village, turned farm by the Templars until the French Revolution. Skilled winemakers Bernard and Nicole Boyer have over 500 years of family history in farming and winemaking. Their stony soil vineyards are uniquely historic and their family tradition is preserved and continued with great pride.
A few words about Carignan: It is originally from Spain and its purpose is to give color, tannin and acidity in blends common to the Rhône, Provence and the Languedoc regions.
The "Concours des Vins d'Orange 2010" awarded this wine their "Médaille d'Or". Let's find out why. First, check the aroma and the flavor for the "garrigue" that is supposed to give a hint of the Mediterranean. Or is the "garrigue" only in the taste? The importer Casa Viñedo claims that the nose shows an abundance of ripe berries, violets and a hint of anise. In the mouth, the flavor is dominated by red berries, with a little herbes de provence. You will find that this is a very deep, robust, red-berry-dominated wine in body and taste, and without aggressive chalky tannins. It has  a smooth acidity on the mid-palate, and a slight dried herb "awareness" on the very lengthy finish. Quelle Horreur, I missed the violets. But the good news is that this wine is a bargain at $18 and will be the wine of choice at any barbeque.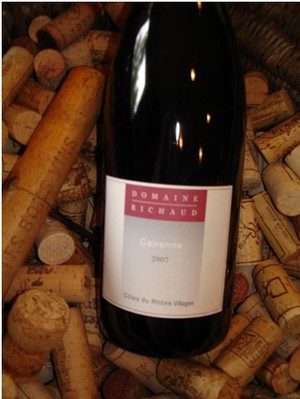 Our third and final wine is a 2007 Domaine Richaud Cairanne Côtes du Rhône Villages, organically farmed and crafted by the talented hands of master vintner Marcel Richaud. His Southern Valley vineyards are located near the village of Cairanne, which almost touches Provence, and is bordered by the Ardèche to the West and Alpine foothills to the East. Richaud's wines are a favorite of Paris bistros, including Willy's Wine Bar, which receives special bottlings exclusive to the bar/restaurant. This exceptional vintage is a formidable blend of 38% Mourvèdre, 36% Grenache, 18% Syrah, and 8% Carignan. Michael Sullivan of Beaune Imports writes that Richaud "has coaxed the true essence out of both his terroir and his grapes in this truly exceptional vintage." Let's see.
But first, a few words about the blending grape Mourvèdre:It is spicy and an integral part of a red Châteauneuf-du-Pape. This grape, cautiously blended by a talented winemaker, can add depth and character to this wine.
The glass is poured, swirled and we hold it to the light. The color is a deep purple. The nose is fresh with primal dark red berries, and the first taste brings forward velvety ripe fruit moving into silky ripe tannins mid-palate.  ou may taste some leather or earthiness, and perhaps some heady aromatics and a long complex and layered taste. Take your time—you will be rewarded. So, what is Marcel Richaud's secret formula? Why are his wines so complex yet clear on the palate? Beside the fact that he is a master at his craft, his recipe for success includes short pruning (the stress on the grapes causes them to become more intense in flavor, thus influencing the ripeness and tannin balance), natural fertilizer, and keeping the yields down on vines that are never older than 25 years.
The results are what we call "magic in a glass". And it is worth every penny of $32.50 to experience it. Think of this investment as "continuing education" for your palate. With such interesting layers of flavor, complexity and balance, the potential for food pairing possibilities is endless. Food choices need to be as intense as this wine, like Rosette de Lyon, rich garlicky soupe à l'oignon, or a pepper-pot interpretation of ratatouille, or simply roasted meats, even barbequed ribs. Something big and flavorful, mais chacun à son goût!
Final Tasting Thoughts
Here's a good thought to consider. Can you find a common thread in these wines or do they stand apart? Notice that one additional grape was added as we continued. Certainly, their blends give them individual character. Each is unique in its own way. And most importantly, will you enjoy them? Remember, they are not "sipping" wines. Think of pouring these wines into a carafe or decanter and turning it slowly  for a few minutes. This will allow enough aeration to soften the tannins and mellow the fruit for a softer taste.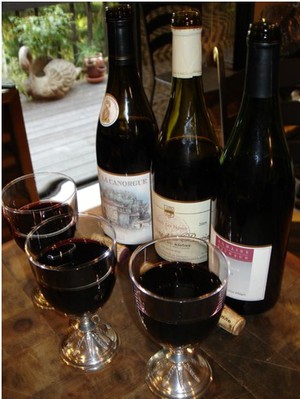 Final Comments: The Price of Retail Wine
I wanted to address the issue of wine pricing in general. As a wine retailer, we are asked all the time about this. We all have computers and we all have the ability to search wines and compare prices. You may have noticed that there is different pricing for the same wine almost everywhere. Is the merchant gouging? What is going on? Why are the larger chain operations or wine websites offering such lower prices? Why are they not all the same?
It is really very simple math. The price of retail wine is based on the number of wholesale case purchased. In practice, the more a retailer buys from a wholesaler, the lower his or her cost and thus the price for customers. Wine websites without brick and mortar operations often have wines shipped from the importer's warehouse. You can't tell how well the wine has been handled in transit. The markup is not 100% or 50%, but around 25% to 35%. Champagne can be higher. Highly allocated wines of limited availability that are doled out in small amounts can be priced at whatever the market can bear. And the actual cost of doing business in a wine shop can vary, and therefore so will prices per bottle. So before you gasp in horror and swear to never return to that bleeping wine retailer again, think about what I have just said. Maybe it wil make the price of wine easier on the palate.
The Pepé Le Pew Factor: Pardoonez-ma, ow du ewe zay zis ween?
With regard to French wines, I have been asked how one can handle the pronunciation of wine when requesting it in a wine shop or restaurant without total embarrassment and reducing your communication skills to pointing. Because most experienced American wine merchants cannot speak perfect French unless they are native-born, I have a few suggestions. First, remember they may not get the vineyard or proprietor name perfectly either. In a wine shop, put it on the proprietor by either showing him or her your personal notes or a printout from a website. Ask first, "Do you carry this wine?" Looking back at the Rhône wines just discussed, I am betting that you could all go for it and be 90% correct or close enough. Or ask the sommelier or wine merchant, for example, "What French Burgundy Pinot Noir producers and wines do you like?" And get THEM talking!
Sallie Robbins-Druian along with her husband Jay Druian are the owners of The French Cellar in Los Gatos, California. They sell regional wines and objects from France. She began her writing career at the age of eight, when she submitted her first story to "Aunt Elsie's Corner" in the Oakland Tribune. Awarded the coveted Scottie Dog Pencil Box for her winning poems and stories, she was motivated to write even more. She wanted more pencil boxes.
Please feel free to contact her with any questions or comments at [email protected].
If you're coming to France (or for that matter anywhere) you can reserve your hotel here. To rent a car, Bonjour Paris recommends Auto Europe.
More in Bill Shepard, Bonjour Paris, buying wine, Food Wine, French wine
---
---