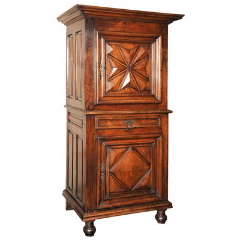 Parlez-vous la langue des meubles? Do you speak French furniture? If you're like me, you might only think you do—French furniture terms can be downright mystifying. Perhaps the armoire is the best-known piece of French furniture worldwide, but did you know that if an armoire only has one door then it is not called an "Armoire"? Instead, it is a bonnetière, a name derived from the rounded top that looks like the shape of a bonnet worn by "Breton" ladies—the women from Brittany in northern France. Of course, as soon as you think you understand, the name changes. Sometimes you'll see this bell-shaped armoire top also referred to as a chapeau de gendarme, or a policeman's hat. But if that bonnetière is divided by a drawer, then this piece is now called an homme debout (or "standing man")—this latter type of furniture is perfect for those of you wishing to convert an armoire to store your TV! This beautifully carved walnut Homme Debout can be yours from
1st Dibs Garden Court Antiques
As Anglophones, when we hear the word commode we think of a toilet, but in France a "Commode" is not usually in the loo – instead it is a chest of drawers and is considered to be the finest piece of furniture made for a house! While Anglophones tend to use "chest of drawers" for storing clothes, the French would use a coffre. We might be familiar with the term buffet used as a side table in the dining room, but did you know a true buffet is higher than a commode, with 2 doors on the bottom and two at the top? Meanwhile, a buffet à deux corps is literally a cabinet with two bodies. The bottom is usually traditional, but then a 2nd upper half is placed on top. However, if the top part has a plate rack, instead of doors, then the entire piece is renamed and called a vaisselier. This Louis XV Style Commode in kingwood & tulipwood, c. 1850 is available online at
1st Dibs – William Word Fine Antiques
A shelf (or even a floor in an apartment) is called an étage but if it is a furniture piece whose sole purpose is shelving, then it is called a étagère. However, if you're storing books on that etagère and it has enclosed sides, then it is called a bibliothèque, which happens to be the same word for library in France. Wouldn't it be confusing to ask how many bookshelves a certain library has? All this thinking in a foreign language probably leaves you tired. You might as well take a siège! No, don't attack a foreign city, instead take a seat – in fact, this word is a general term for canapés, fauteuils or chaises. You might know chair is chaise in French, but are you familiar with "Fauteuils"? This is nothing more than an armchair from any period. But if that armchair is upholstered, has an exposed wood frame and enclosed sides, then it is considered a bergère. While you might be hungry don't assume you'll get an hors-d'oeuvre when you hear the word canapé mentioned – for a French man is probably asking you to sit on an antique wood-framed couch or love seat! If you want to kick back and relax, you won't find a Lazy Boy in France, but instead you will find a chaise longue, a chair long enough to support your legs! But if the "Chaise Longue" has a back rest at both ends it is known as a récamier. Meanwhile, a grand chair with matching ottoman would be called a duchess brisée. If a chair has a footstool but it doesn't match, that's un pouf. Of course, if you're looking for a chair that looks like a stool to sit at the side of a chair but not sit your feet on, then that's a tabouret. While to you and me the tabouret might appear to be a simple stool, in 17th century France it was a seat of honor. In the court of Louis XIV one who sat in the presence of the royal family sat on a tabouret that was carried into the room by a liveried and wigged servant! This three-piece Louis XV style Duchesse Brisee was made in 1870 and is available online from
1st Dibs.com  Vendor: Alhambra Antiques
You won't find any wigged servants today – well, unless you're watching Disney's classic film Beauty and the Beast – in this cartoon, "Lumière" is the dancing candelabra. It's always nice to light a "bougie" or candle to add ambiance to a room, but did you know that while chandelier sure sounds like a French word to me, the French do not use this term – instead, they call their chandeliers lustre. Finally, we come to something simple – a lamp is just une lampe, but that's where simple stops! If I were to say appliques what would you think it means? Me? I think of an embroidery or iron-on patch, but in French this is the word for a sconce!   I don't know about you – but that's about enough French vocabulary lesson for today! I'm going to bed, which in French is"Lit" pronounced "lee".  Bonne Nuit! Toma Clark Haines is The Antiques Diva™, author of the blog
Antiques Diva
and Chief Executive Diva of
The Antiques…
SUBSCRIBE
ALREADY SUBSCRIBED?
BECOME A BONJOUR PARIS MEMBER

Gain full access to our collection of over 5,000 articles and bring the City of Light into your life. Just 60 USD per year.

Find out why you should become a member here.

Sign in

Fill in your credentials below.
Parlez-vous la langue des meubles? Do you speak French furniture? If you're like me, you might only think you do—French furniture terms can be downright mystifying. Perhaps the armoire is the best-known piece of French furniture worldwide, but did you know that if an armoire only has one door then it is not called an "Armoire"? Instead, it is a bonnetière, a name derived from the rounded top that looks like the shape of a bonnet worn by "Breton" ladies—the women from Brittany in northern France. Of course, as soon as you think you understand, the name changes. Sometimes you'll see this bell-shaped armoire top also referred to as a chapeau de gendarme, or a policeman's hat. But if that bonnetière is divided by a drawer, then this piece is now called an homme debout (or "standing man")—this latter type of furniture is perfect for those of you wishing to convert an armoire to store your TV!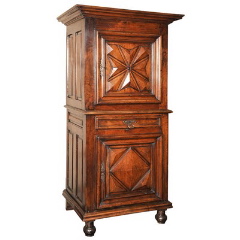 This beautifully carved walnut Homme Debout can be yours from 1st Dibs Garden Court Antiques
As Anglophones, when we hear the word commode we think of a toilet, but in France a "Commode" is not usually in the loo – instead it is a chest of drawers and is considered to be the finest piece of furniture made for a house! While Anglophones tend to use "chest of drawers" for storing clothes, the French would use a coffre. We might be familiar with the term buffet used as a side table in the dining room, but did you know a true buffet is higher than a commode, with 2 doors on the bottom and two at the top? Meanwhile, a buffet à deux corps is literally a cabinet with two bodies. The bottom is usually traditional, but then a 2nd upper half is placed on top. However, if the top part has a plate rack, instead of doors, then the entire piece is renamed and called a vaisselier.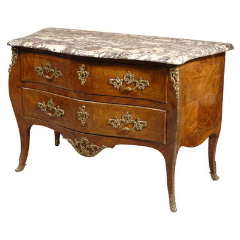 This Louis XV Style Commode in kingwood & tulipwood, c. 1850 is available online at 1st Dibs – William Word Fine Antiques
A shelf (or even a floor in an apartment) is called an étage but if it is a furniture piece whose sole purpose is shelving, then it is called a étagère. However, if you're storing books on that etagère and it has enclosed sides, then it is called a bibliothèque, which happens to be the same word for library in France. Wouldn't it be confusing to ask how many bookshelves a certain library has?
All this thinking in a foreign language probably leaves you tired. You might as well take a siège! No, don't attack a foreign city, instead take a seat – in fact, this word is a general term for canapés, fauteuils or chaises. You might know chair is chaise in French, but are you familiar with "Fauteuils"? This is nothing more than an armchair from any period. But if that armchair is upholstered, has an exposed wood frame and enclosed sides, then it is considered a bergère. While you might be hungry don't assume you'll get an hors-d'oeuvre when you hear the word canapé mentioned – for a French man is probably asking you to sit on an antique wood-framed couch or love seat!
If you want to kick back and relax, you won't find a Lazy Boy in France, but instead you will find a chaise longue, a chair long enough to support your legs! But if the "Chaise Longue" has a back rest at both ends it is known as a récamier. Meanwhile, a grand chair with matching ottoman would be called a duchess brisée. If a chair has a footstool but it doesn't match, that's un pouf. Of course, if you're looking for a chair that looks like a stool to sit at the side of a chair but not sit your feet on, then that's a tabouret. While to you and me the tabouret might appear to be a simple stool, in 17th century France it was a seat of honor. In the court of Louis XIV one who sat in the presence of the royal family sat on a tabouret that was carried into the room by a liveried and wigged servant!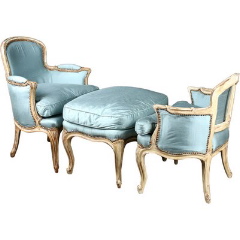 This three-piece Louis XV style Duchesse Brisee was made in 1870 and is available online from 1st Dibs.com 
Vendor: Alhambra Antiques
You won't find any wigged servants today – well, unless you're watching Disney's classic film Beauty and the Beast – in this cartoon, "Lumière" is the dancing candelabra. It's always nice to light a "bougie" or candle to add ambiance to a room, but did you know that while chandelier sure sounds like a French word to me, the French do not use this term – instead, they call their chandeliers lustre. Finally, we come to something simple – a lamp is just une lampe, but that's where simple stops! If I were to say appliques what would you think it means? Me? I think of an embroidery or iron-on patch, but in French this is the word for a sconce!  
I don't know about you – but that's about enough French vocabulary lesson for today! I'm going to bed, which in French is"Lit" pronounced "lee".  Bonne Nuit!
Toma Clark Haines is The Antiques Diva™, author of the blog Antiques Diva and Chief Executive Diva of The Antiques Diva™ European Shopping Tours.  The Antiques Diva™ is the In-House Antiques Expert for Bonjour Paris. Bonjour Paris Premium Members will receive a 10% discount with the Antiques Diva.
© The Antiques Diva™
Join some classic walks through Paris and to reserve a hotel, please access Booking.com.
More in cultural differences, France, French etiquette, Paris, Paris sightseeing, Paris tourism, Paris tourist tips, Shopping
---
---