Favorite French Flea Market Interview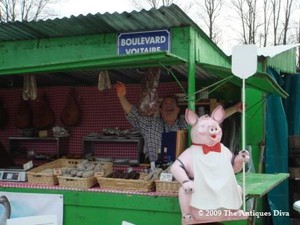 Bonjour Paris:  Visiting La Foire Nationale à la Brocante et aux Jambons is practically a rite of passage for Parisians and you, dear Antiques Diva, are the Queen of the Fair! Would you tell Bonjour Paris readers about your favorite flea market in France, what makes it so special and how you became La Reine du Jambon? The Antiques Diva:  I must admit, I take after Napoleon and crowned myself The Ham Queen after I realized that I had antique shopped at the National Fair of the Flea Market and Ham nearly 100 times in less than 10 years!  This fair is France's largest antiques and gourmet food fair and it's held twice a year in the Parisian suburb of Ile de Chatou—and as a matter of fact, it's going on March 11-20, 2011 and again next fall in September. Bonjour Paris: All this talk of ham has my mouth watering… do they really sell both ham and antiques? How in the world did this tradition get started? The Antiques Diva: You honed in on a key word—tradition.  In France everything is based on tradition (key the music for Fiddler on the Roof). What I love about this fair, aside from the plethora of antiques, is that it is an opportunity to eat ham like it's going out of style.  While at first I thought the odd combo of selling pork and antiques was a marketing ploy to get reluctant husbands to go brocanting, the fair's origins date back to the Moyen Age. Bonjour Paris:  Only in Paris would a shopping tradition date back so far! The Antiques Diva: Today over 800 vendors from toute la France bring the best assortment of antiques I have ever seen in one locale.  But the way this particular market started is a great story. In the Middle Ages, during Holy Week, pork butchers came to Paris selling their products. One year an enterprising butcher decided that he wanted to "bring home more bacon" so he started selling not only braised ham but the equipment for making it as well! The other vendors caught on to the idea and started bringing more items, focusing on specialties from their region, namely furniture, pottery and antiques. Before they knew it, a festival celebrating both the flea market and ham was born. Bonjour Paris:  And at some point this annual ham and flea market fair became a twice-annual event? The Antiques Diva: Exactly!  Originally the Ham & Flea Market Fair was held in Paris proper but about 40 years ago they moved to their present location in the Parisian suburbs—the Ile de Chatou—which is easily accessible from Paris via the RER A.   But did you know that the fair location is haunted?  Bonjour Paris: Mais, non! C'est pas possible!    The Antiques Diva: I'm certain the spirits of the Impressionists weave their way through the crowds shopping for antiques and stealing bites off patrons' plates!  The island where the fair is located is famous for being the setting where Monet, Manet, Sisley, Pissarro, Caillebotte, and Renoir painted.    For those of you who don't want to eat at the fair, you can always eat at the nearby Maison Fournaise which Renoir immortalized in his painting "Luncheon of the Boating Party". Bonjour Paris: Diva, you're making me hungry!  Can you tell us about some of your purchases? The Antiques Diva: A tour through my home finds souvenirs from Chatou in every room. From the €3 hand-painted Russian tray hanging in my stairwell to the €2000 pair of 18th century bergères in my salon, Ham Fair purchases dictate my décor. In the winter I wear my €45 1950s fox fur stole and dinner parties have me pulling out the set of €200 turn-of-the-century majolica knife rests where I set my €75 early 20th-century mother-of-pearl and sterling couteaux à poisson. Bonjour Paris:  That's some price range – from €3 up to €2000… is that normal? The Antiques Diva: Prices at Chatou are not low, and sadly they aren't as low as they were before the Euro. But Chatou vendors expect to bargain. I always ask for a 30% discount and typically receive at least 20%. But if you hate bargaining, there is a magic question to softball pitch: "Est-ce que c'est votre meilleur prix?" Trust me, though the vendor might not "parler anglais" they will understand the question, "Is this your best price?" For those living in the Ile de France, the vendor will often include delivery in the purchase price. Bonjour Paris: What if you live abroad? Will they still ship? The Antiques Diva:  The fair works with local transporters and I'm certain the vendors can refer you to a reputable shipper—however, shipping will be at your own cost. Bonjour Paris: I can't wait to shop La Foire Nationale à la Brocante et aux Jambons—but I have a question, can I shop with you?  The Antiques Diva: Of course! I run an antiques shopping tour company—The Antiques Diva Tours—offering private and group tours of this flea market as well as several other flea markets in Holland, Belgium, France and Germany.    Bonjour Paris:  Merci for joining us in today's interview! And, by the way, we're …
SUBSCRIBE
ALREADY SUBSCRIBED?
BECOME A BONJOUR PARIS MEMBER

Gain full access to our collection of over 5,000 articles and bring the City of Light into your life. Just 60 USD per year.

Find out why you should become a member here.

Sign in

Fill in your credentials below.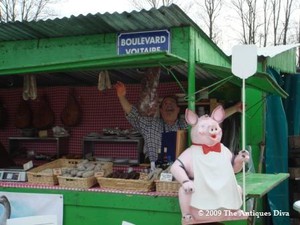 Bonjour Paris: 
Visiting La Foire Nationale à la Brocante et aux Jambons is practically a rite of passage for Parisians and you, dear Antiques Diva, are the Queen of the Fair! Would you tell Bonjour Paris readers about your favorite flea market in France, what makes it so special and how you became La Reine du Jambon?
The Antiques Diva: 
I must admit, I take after Napoleon and crowned myself The Ham Queen after I realized that I had antique shopped at the National Fair of the Flea Market and Ham nearly 100 times in less than 10 years!  This fair is France's largest antiques and gourmet food fair and it's held twice a year in the Parisian suburb of Ile de Chatou—and as a matter of fact, it's going on March 11-20, 2011 and again next fall in September.

Bonjour Paris:
All this talk of ham has my mouth watering… do they really sell both ham and antiques? How in the world did this tradition get started?
The Antiques Diva:
You honed in on a key word—tradition.  In France everything is based on tradition (key the music for Fiddler on the Roof). What I love about this fair, aside from the plethora of antiques, is that it is an opportunity to eat ham like it's going out of style.  While at first I thought the odd combo of selling pork and antiques was a marketing ploy to get reluctant husbands to go brocanting, the fair's origins date back to the Moyen Age.
Bonjour Paris: 
Only in Paris would a shopping tradition date back so far!
The Antiques Diva:
Today over 800 vendors from toute la France bring the best assortment of antiques I have ever seen in one locale.  But the way this particular market started is a great story. In the Middle Ages, during Holy Week, pork butchers came to Paris selling their products. One year an enterprising butcher decided that he wanted to "bring home more bacon" so he started selling not only braised ham but the equipment for making it as well!
The other vendors caught on to the idea and started bringing more items, focusing on specialties from their region, namely furniture, pottery and antiques. Before they knew it, a festival celebrating both the flea market and ham was born.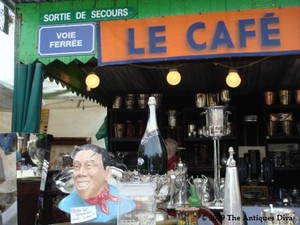 Bonjour Paris: 
And at some point this annual ham and flea market fair became a twice-annual event?
The Antiques Diva:
Exactly!  Originally the Ham & Flea Market Fair was held in Paris proper but about 40 years ago they moved to their present location in the Parisian suburbs—the Ile de Chatou—which is easily accessible from Paris via the RER A.   But did you know that the fair location is haunted? 
Bonjour Paris:
Mais, non! C'est pas possible!   
The Antiques Diva:
I'm certain the spirits of the Impressionists weave their way through the crowds shopping for antiques and stealing bites off patrons' plates!  The island where the fair is located is famous for being the setting where Monet, Manet, Sisley, Pissarro, Caillebotte, and Renoir painted.   
For those of you who don't want to eat at the fair, you can always eat at the nearby Maison Fournaise which Renoir immortalized in his painting "Luncheon of the Boating Party".
Bonjour Paris:
Diva, you're making me hungry!  Can you tell us about some of your purchases?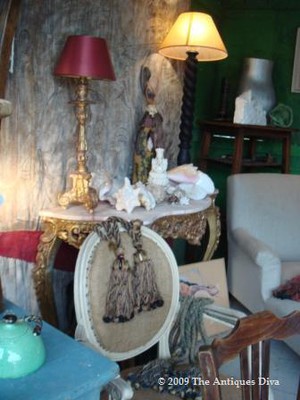 The Antiques Diva: A tour through my home finds souvenirs from Chatou in every room. From the €3 hand-painted Russian tray hanging in my stairwell to the €2000 pair of 18th century bergères in my salon, Ham Fair purchases dictate my décor.
In the winter I wear my €45 1950s fox fur stole and dinner parties have me pulling out the set of €200 turn-of-the-century majolica knife rests where I set my €75 early 20th-century mother-of-pearl and sterling couteaux à poisson.
Bonjour Paris: 
That's some price range – from €3 up to €2000… is that normal?
The Antiques Diva: Prices at Chatou are not low, and sadly they aren't as low as they were before the Euro. But Chatou vendors expect to bargain. I always ask for a 30% discount and typically receive at least 20%. But if you hate bargaining, there is a magic question to softball pitch: "Est-ce que c'est votre meilleur prix?" Trust me, though the vendor might not "parler anglais" they will understand the question, "Is this your best price?" For those living in the Ile de France, the vendor will often include delivery in the purchase price.
Bonjour Paris:
What if you live abroad? Will they still ship?
The Antiques Diva: 
The fair works with local transporters and I'm certain the vendors can refer you to a reputable shipper—however, shipping will be at your own cost.
Bonjour Paris:
I can't wait to shop La Foire Nationale à la Brocante et aux Jambons—but I have a question, can I shop with you? 
The Antiques Diva:
Of course! I run an antiques shopping tour company—The Antiques Diva Tours—offering private and group tours of this flea market as well as several other flea markets in Holland, Belgium, France and Germany.   

Bonjour Paris: 
Merci for joining us in today's interview! And, by the way, we're delighted you've agreed to come on board as part of the team at Bonjour Paris as our In-House Antiques Expert. 
The Antiques Diva:
Stay tuned for more antique shopping tips and trip recommendations.  Email me [email protected] if you'd like me to answer your French flea market questions in the Bonjour Paris newsletter!
To find out more information about Antiques Diva Shopping Tours, visit our company website:
http://www.antiquesdiva.com/
Join some classic walks through Paris and to reserve a hotel, please access:  Booking.com
If you're coming to France and want to remove the stress out of any and all planning, dynamo  Lisa Buros-Hutchins of www.YourParisExperience.com can arrange anything and everything, including planning your honeymoon and/or making dinner reservations. Nothing is beyond her.  Say Bonjour Paris referred you and put her to the test of making your stay in France perfect.
More in Antiques shopping, Bonjour Paris, Brocantes, Flea markets France, Paris, Shopping
---
---