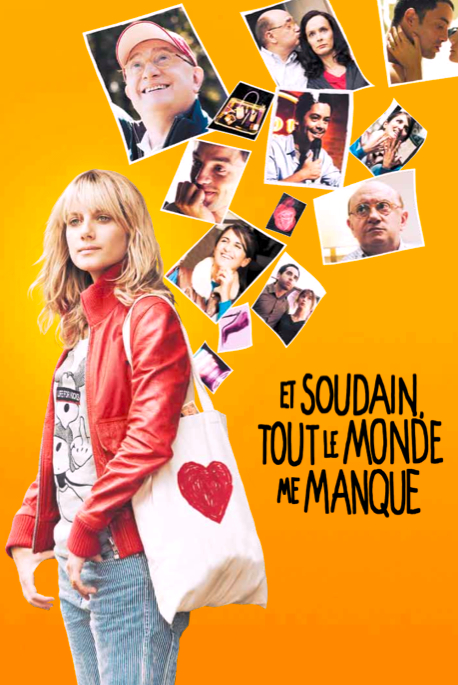 "And Suddenly I Miss Everybody," the English translation for the title of this spiky French dramatic comedy, is the reason Eli gives for stopping his career as a touring jazz musician to become a textile dealer in the Paris Sentier garment district.
Film set-up and cast
Michel Blanc, great actor of understated comedy, plays Eli, a 60-year-old French Jew with a younger second wife and two adult daughters from his first marriage. The family's uneasy equilibrium is overturned when Eli and Suzanne (Claude Perron) announce they're expecting a child. While Dom (Florence Loiret-Caille) and her husband are distraught at being unable to have children, Justine (Mélanie Laurent ) is the most upset of the two daughters. She's had a string of boyfriends and failed attempts to find a substitute father; we meet her driven to yet another, a shoe salesman and part-time boxer.
The movie follows the pregnancy's chronology, focusing on Eli coming to grips with the coming event and Justine with her personal life. On a deeper level it's about the tortuous route to reconciliation between a father who's hoarded his love and a daughter who's nursed her hurts since childhood.
Director Jennifer Devoldère creates an emotional mosaic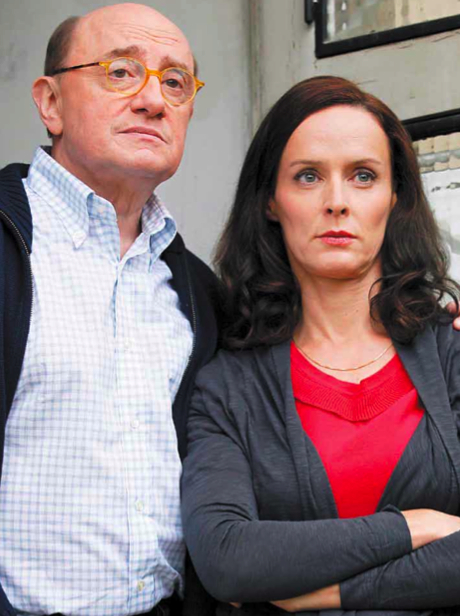 Director Jennifer Devoldère evokes the Paris melting pot that most tourists miss. Sometimes she wears her multiculturalism on her sleeve, but the movie never descends into ethnic comedy. The movie is more of an emotional mosaic, a miniature version of a Robert Altman film; and Devoldère is assured moving from one narrative strand to another. She shamelessly uses sitcom and tearjerker conventions, but it's really a way to structure the scenes. Curiously they don't draw laughs so much as a wry sense of recognition. Even more curious is the way scenes go off on tangents, not playing out as convention demands.
The young director's technique isn't perfect. She sometimes resorts to highfalutin camera movements that make us want to shout, "You're not in film school anymore!" She also resorts to that omnipresent crutch of American movies and TV: plaintive indie-crooning to cue the audience when to choke up. The characters don't need it, and neither do the actors playing them.
Blanc and Laurent make it work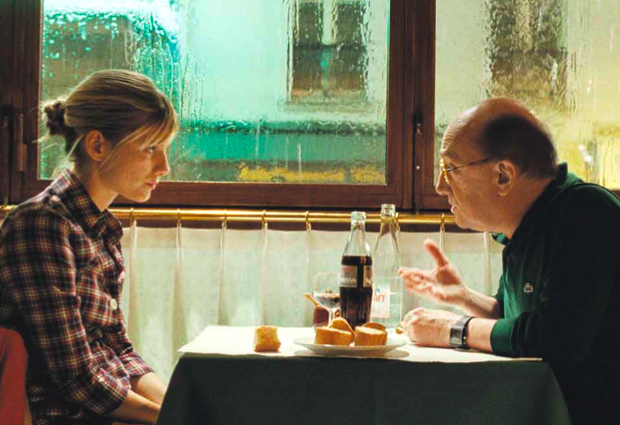 At first, Blanc seems partially miscast. He looks like a world-weary Ashkenazi, but seems out of place among the Sentier's Sephardic wheeler-dealers. But Blanc is so expert at plucking the strings of his role that he brings it off. Eli might be selfish and gaffe-prone, but Blanc makes him funny and sympathetic. Laurent, whom Americans saw in Quentin Tarantino's 2009 release, Inglourious Basterds, movingly captures Justine's sweetness and anguish, as well as her skittishness. The rest of the cast is on the saccharine side but the director brings out their humanity. One problem is that Suzanne, the future Mom and the movie's catalyst, is mostly absent. She's depicted as nearly an invalid except for her visits to the sound-imaging lab. There is both a birth and a death in Et soudain. For all the comédie humaine, we might feel that it's not quite anchored to normal living; those huge events bring the characters to earth. They also fittingly close out a film, which, for all the gimmicks it exploits, is refreshingly attuned to life.
Et soudain tout le monde me manque is not to be missed.
Paris-based film critic Dimitri Keramitas has reviewed several films for BonjourParis, including Ma Part du Gâteau.
Watch the movie trailer on youtube.com
Practical Information
Original Title:    Et soudain tout le monde me manque
A movie by:      Jennifer Devoldère
Starring:          Mélanie Laurent, Michel Blanc, Géraldine Nakache, Manu Payet, Guillaume Gouix, Florence Loiret-Caille, Claude Perron, Sébastien Castro
Studio:             Vertigo; UGC Distribution  
Category:         Dramatic Comedy
Release date:   April 2011
Country:           France
Now showing in Paris; US film release not yet announced.