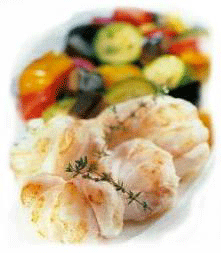 "Comme elle est laide!" There is no doubt about it; the monkfish is an ugly fish. Call it what you want: "poor man's lobster," goosefish, lotte, allmouth, monktail, etc., it is not a beautiful sight. But, boy, is it good! It's called the "tenderloin of the sea" for the wonderful texture and taste of the meat. Some say this fish was named because of its popularity with the monks of the Middle Ages. At that time, European fishermen sometimes encountered a bizarre-looking fish in their nets. More head than anything else, it was thrown back into the ocean. But what the fishermen didn't want, the hungry monks began to enjoy. Others say that the brown and flappy skin of the fish looks like the robe of a monk as it washes in the waves of the ocean.
Lotte is very popular in France. It can be found around the globe from the US Atlantic to the waters of Brazil and Mexico. It can get to be as large as 100 pounds and has a very big head. The only edible portions are its muscular tail and its liver. The tail meat is delicious: very sweet and tender. Monkfish can be prepared in a number of ways, including poaching, sautéing, grilling, broiling, blackening, and frying. It's low fat, low cholesterol and a wonderful source of vitamin B and protein.
Lotte à la provençale
Monkfish provençale
For 4 persons
Cooking time: 30 minutes
4 tbsp. Olive oil

1-½ lbs. Monkfish, sliced thickly

2 red peppers, cut into thin slices

2 tomatoes, peeled and diced

2 onions, chopped

2 garlic cloves, chopped

½ tsp. Cayenne pepper

½ cup dry white wine

salt and pepper, to taste

8 basil leaves, chopped
In a skillet heat the oil and brown the monkfish on both sides (4 minutes each side). Remove from the pan and set aside. Add the onions, peppers, tomatoes and garlic. Season with salt, pepper and cayenne. Add the white wine and cook over low heat for 15 minutes. Add the monkfish, cover and cook for 10-12 minutes. Sprinkle with basil and serve immediately.
Lotte Persillade

Monkfish, Garlic and Parsley
For 4 persons
Cooking time: 20 minutes
4 cloves garlic, minced
8 branches parsley, chopped
2 tbsp. butter
1 tbsp. oil
1 ½ lbs. Monkfish, sliced
¼ cup flour
1 lemon, cut in wedges
Mix together the garlic and parsley to make a "persillade." Set aside. Heat the butter and oil in a skillet. Dust the monkfish with the flour. Cook over medium-high heat for 5 minutes on each side. At the last moment, sprinkle with garlic and parsley. Serve immediately. Garnish with the lemon wedges.
Et voilà!
---
Ready for some Monkfish from the source? We bet you are. Check out these great French discounts from Avis — plus: no online payment obligation, no cancellation fees, very convenient if you use the train, and a pick up in main train stations.
---
April Paute moved to France over 10 years ago with her husband Jean Michel and 2 Siamese cats. Armed with only a dictionary and hand signals, she took on the challenge of requesting the local boucher decapitate a chicken for her. After living in Paris and Antibes, April & co. have settled in Toulouse, where she draws inspiration from her herb garden.