French Cooking: Crevettes au pastis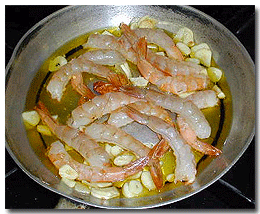 The liqueur called "pastis" is the direct descendent of the infamous absinthe, the favorite drink of  fin de siècle Paris. Cafés were so jammed with people drinking it that the time between 5-7 pm became known as l'heure verte (absinthe was nicknamed the "green fairy"). The flavor comes from licorice and seeds of the star anise plant. Hippocrates recommended absinthe for jaundice and rheumatism. Modern absinthe was allegedly invented in 1792 by a French doctor, Pierre Ordinaire. He lived in the Swiss town of Couvet (canton of Neufchatel) and was self-exiled for political reasons. He discovered the plant wormwood (Artemisia absinthium) while traveling in Val-de-Travers. He mixed wormwood with herbs and created his 136 proof elixir. It became a panacea—cure all! On his death, he supposedly left his recipe to Mademoiselle Grand-Pierre, who sold it to two Henroid sisters of Couvet. In 1797, the sisters re-sold the recipe to a Frenchman named Major Dubied. That same year, the Major's daughter (Emilie) married Henri-Louis Pernod. The Major, his son (Marcellin) and Pernod opened the first absinthe distillery in Couvet. In 1805 Pernod opened an even larger factory in Pontarlier, France (Maison Pernod Fils). By 1850 their factories were producing 20,000 liters of absinthe per day! But the "green muse" was said to cause insanity in many (including van Gogh) and is perhaps the reason that Verlaine shot Rimbaud. Finally, in 1915 absinthe was declared illegal in France. The demand was high for this apéritif so the distilleries developed a substitute: pastis. It is made in the same manner but with a lower alcohol level and without the dangerous wormwood. Paul Richard's father was a Marseille wine merchant who distilled his own pastis sold to bistrot owners. Mr. Richard joined with Mr. Pernod in 1975 and today they are a worldwide distiller of pastis. Pastis remains one of the most popular apéritifs in France (especially in Provence). It is delicious when used in dishes with fish, shellfish, pork and chicken. This week's "French Cooking without a Fuss" features a recipe for Shrimp Pastis. The dish is quick and easy to make and will impress all your guests! Crevettes au Pastis (Shrimp Pastis) For 4-6 persons Cooking time: 20 minutes 2 tbsp. olive oil 1 cup tomatoes (skinned and diced) 1 tbsp. garlic (minced) 24 large shrimp (peeled and deveined) 2 tbsp. pastis liqueur (Pernod or Ricard) ½ cup heavy cream salt and pepper, to taste 1 stick butter (unsalted) ¼ cup chives (rinsed and finely chopped) Put the olive oil in a pan over medium high heat and add the garlic and tomatoes. Cook for about 5 minutes. Add the shrimp and sauté for 2 minutes. Remove pan from the heat and add the pastis. Return the pan to the stove. It might flame up and if it does, wait until the flame subsides. Then add the cream, salt and pepper. Reduce by half. (approximately 5 minutes). Add the butter and stir constantly until the mixture thickens. Sprinkle with chives and serve immediately. Et voilà! April Paute moved to France over 10 years ago with her husband Jean Michel and 2 Siamese cats. Armed with only a dictionary and hand signals, she took on the challenge of requesting the local boucher decapitate a chicken for her. After living in Paris and Antibes, April & co. have settled in Toulouse, where she draws inspiration from her herb garden.   French chefs worth their fleur de sel consider
Larousse Gastronomique: The World's Greatest Culinary Encyclopedia (2009)
their kitchen bible–get your own with a quick click!
SUBSCRIBE
ALREADY SUBSCRIBED?
BECOME A BONJOUR PARIS MEMBER

Gain full access to our collection of over 5,000 articles and bring the City of Light into your life. Just 60 USD per year.

Find out why you should become a member here.

Sign in

Fill in your credentials below.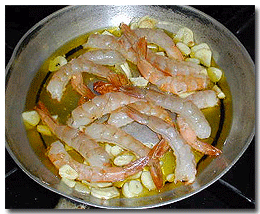 The liqueur called "pastis" is the direct descendent of the infamous absinthe, the favorite drink of  fin de siècle Paris. Cafés were so jammed with people drinking it that the time between 5-7 pm became known as l'heure verte (absinthe was nicknamed the "green fairy"). The flavor comes from licorice and seeds of the star anise plant.
Hippocrates recommended absinthe for jaundice and rheumatism. Modern absinthe was allegedly invented in 1792 by a French doctor, Pierre Ordinaire. He lived in the Swiss town of Couvet (canton of Neufchatel) and was self-exiled for political reasons. He discovered the plant wormwood (Artemisia absinthium) while traveling in Val-de-Travers. He mixed wormwood with herbs and created his 136 proof elixir. It became a panacea—cure all!
On his death, he supposedly left his recipe to Mademoiselle Grand-Pierre, who sold it to two Henroid sisters of Couvet. In 1797, the sisters re-sold the recipe to a Frenchman named Major Dubied. That same year, the Major's daughter (Emilie) married Henri-Louis Pernod. The Major, his son (Marcellin) and Pernod opened the first absinthe distillery in Couvet. In 1805 Pernod opened an even larger factory in Pontarlier, France (Maison Pernod Fils). By 1850 their factories were producing 20,000 liters of absinthe per day!
But the "green muse" was said to cause insanity in many (including van Gogh) and is perhaps the reason that Verlaine shot Rimbaud. Finally, in 1915 absinthe was declared illegal in France. The demand was high for this apéritif so the distilleries developed a substitute: pastis. It is made in the same manner but with a lower alcohol level and without the dangerous wormwood. Paul Richard's father was a Marseille wine merchant who distilled his own pastis sold to bistrot owners. Mr. Richard joined with Mr. Pernod in 1975 and today they are a worldwide distiller of pastis.
Pastis remains one of the most popular apéritifs in France (especially in Provence). It is delicious when used in dishes with fish, shellfish, pork and chicken. This week's "French Cooking without a Fuss" features a recipe for Shrimp Pastis. The dish is quick and easy to make and will impress all your guests!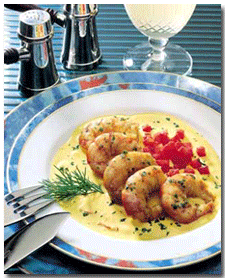 Crevettes au Pastis (Shrimp Pastis)
For 4-6 persons
Cooking time: 20 minutes
2 tbsp. olive oil
1 cup tomatoes (skinned and diced)
1 tbsp. garlic (minced)
24 large shrimp (peeled and deveined)
2 tbsp. pastis liqueur (Pernod or Ricard)
½ cup heavy cream
salt and pepper, to taste
1 stick butter (unsalted)
¼ cup chives (rinsed and finely chopped)
Put the olive oil in a pan over medium high heat and add the garlic and tomatoes. Cook for about 5 minutes. Add the shrimp and sauté for 2 minutes. Remove pan from the heat and add the pastis.
Return the pan to the stove. It might flame up and if it does, wait until the flame subsides. Then add the cream, salt and pepper. Reduce by half. (approximately 5 minutes). Add the butter and stir constantly until the mixture thickens. Sprinkle with chives and serve immediately.
Et voilà!
April Paute moved to France over 10 years ago with her husband Jean Michel and 2 Siamese cats. Armed with only a dictionary and hand signals, she took on the challenge of requesting the local boucher decapitate a chicken for her. After living in Paris and Antibes, April & co. have settled in Toulouse, where she draws inspiration from her herb garden.
French chefs worth their fleur de sel consider Larousse Gastronomique: The World's Greatest Culinary Encyclopedia (2009) their kitchen bible–get your own with a quick click!
More in Absinthe, Bonjour Paris, Crevettes au Pastis, Food Wine, France, French cuisine, French history, French recipes
---
---